NSU Newsroom
SharkBytes
Horizons
This version of NSU News has been archived as of February 28, 2019. To search through archived articles, visit nova.edu/search. To access the new version of NSU News, visit news.nova.edu.
This version of SharkBytes has been archived as of February 28, 2019. To search through archived articles, visit nova.edu/search. To access the new version of SharkBytes, visit sharkbytes.nova.edu.
NSU University School Grand Opening and Dedication of Noël P. Brown Sports Center
Facility New Location for Special Olympics Broward County
FOR IMMEDIATE RELEASE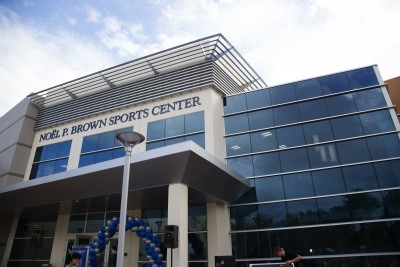 FORT LAUDERDALE/DAVIE, Fla. – NSU University School celebrated the grand opening and dedication ceremony of the newly expanded Noël P. Brown Sports Center on Friday Dec. 2 at 4 p.m.
 Located next to the Aquatics Complex on Nova Southeastern University's (NSU) Fort Lauderdale/Davie campus, the anticipated Gold LEED certified building addition spans 59,000-square-feet and includes state-of-the-art training and fitness rooms for student-athletes participating in 15 different sports; a gymnasium for basketball, volleyball, and other activities; a general purpose activity room for use by students as young as junior kindergarten; offices for athletic department staff; and locker room facilities for aquatics and visiting athletes; and an office suite for Special Olympics Broward County.  To complement the project, the original sports center received refurbishments to enhance classroom and programming areas. With these new resources, NSU University School together with NSU is creating a sense of community while also addressing a need for quality space for students.
 The naming of the Noël P. Brown Sports Center is in appreciation of NSU Board of Trustee Keith Brown and his family's recent gift to the university, which supports scholarships for undergraduate studies. Three of Mr. Brown's children were NSU University School students, and he chose to name the sports center in honor of their mother.
 "The Noël P. Brown Sports Center is a reflection of the value NSU places on student wellness as an essential component of student success," said Dr. George L. Hanbury, President and CEO of Nova Southeastern University. "We are also honored to provide a home for Special Olympics of Broward County as a reflection of our core values of diversity and community and the belief that everyone can model the character of a champion and strive to realize tremendous potential."
 NSU is the only private university in the country with a local Special Olympics chapter on its campus, now being housed permanently in the NSU University School sports center.  This partnership was made possible by the late Don Taft, who was committed to supporting special-needs children and young adults. A generous gift from the Taft Foundation contributed to the expansion of the facility.
 Most recently, David and Cindi Samson named the Samson Family Fitness Center, which will help students learn and experience the benefits of aerobic and strength training.  Mr. Samson is the President of the Miami Marlins.  Two of Samson's children graduated from NSU University School, and a third child currently attends. Wife, Cindi Samson is a member of the Head of School's Board of Advisors, and a very active leader in the parent community.
 "The expansion of the Nöel P. Brown Sports Center provides our students with remarkable opportunities to enhance their physical well-being and foster camaraderie," said Head of School William Kopas. "I am incredibly thankful to Dr. Hanbury, the late Don Taft, The Taft Foundation, the Brown family, the Samson family, and all our donors and friends in our community who have helped complete this project for our NSU University School students."
 Additional donors to the project, as of this date, include Lauren and Steven Geduld, The Sam Berman Charitable Foundation, the Kopas family, the Steiner family, and the Avellanet family.
 Financial gifts for the Noël P. Brown Sports Center advance Realizing Potential, NSU's first comprehensive fundraising campaign. This is the largest philanthropic campaign in its history which aims to raise $250 million for student, faculty, and 21st century education initiatives.
 Be sure to sign up for NSU's RSS feed so you don't miss any of our news releases, guest editorials and other announcements. Please sign up HERE.
 ##
 About NSU University School: NSU University School is a junior kindergarten through twelfth grade, independent college preparatory school that provides a challenging and personalized education within a supportive environment for students of average to gifted abilities. Our students are prepared for productive lives and leadership roles through a program that focuses on academic excellence, extracurricular participation and service to others. For more information visit www.uschool.nova.edu.
About Nova Southeastern University (NSU): Located in beautiful Fort Lauderdale, Florida, Nova Southeastern University (NSU) is a dynamic research institution dedicated to providing high-quality educational programs at the undergraduate, graduate, and first-professional degree levels. A private, not-for-profit institution, NSU has campuses in Fort Lauderdale, Fort Myers, Jacksonville, Miami, Miramar, Orlando, Palm Beach, and Tampa, Florida, as well as San Juan, Puerto Rico, while maintaining a presence online globally. For more than 50 years, NSU has been awarding degrees in a wide range of fields, while fostering groundbreaking research and an impactful commitment to community. Classified as a research university with "high research activity" by the Carnegie Foundation for the Advancement of Teaching, NSU is 1 of only 50 universities nationwide to also be awarded Carnegie's Community Engagement Classification, and is also the largest private, not-for-profit institution in the United States that meets the U.S. Department of Education's criteria as a Hispanic-serving Institution. Please visit www.nova.edu for more information about NSU and realizingpotential.nova.edu for more information on the largest fundraising campaign in NSU history.
December 5, 2016
Contact:
Vera Mandilovitch | Office of Public Relations
954-262-5309 (office) | 954-882-3570 (cell)
vmandilovitch@nova.edu
---
---