NSU Newsroom
SharkBytes
Horizons
This version of NSU News has been archived as of February 28, 2019. To search through archived articles, visit nova.edu/search. To access the new version of NSU News, visit news.nova.edu.
This version of SharkBytes has been archived as of February 28, 2019. To search through archived articles, visit nova.edu/search. To access the new version of SharkBytes, visit sharkbytes.nova.edu.
NSU University School Appoints William Kopas as Head of School
Kopas will begin his duties on July 1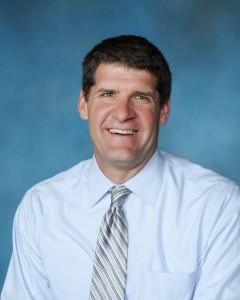 FORT LAUDERDALE-DAVIE, Fla.- Nova Southeastern University (NSU) president and CEO George L. Hanbury II, Ph.D., announced the appointment of NSU University School Upper School Director William Kopas as the next Head of School effective July 1, 2015.  Kopas will succeed Jerome Chermak, Ed.D., who is retiring June 30 after 33 years with University School, including 16 years as Headmaster.
Kopas was selected following a national search overseen by a committee comprised of University School parents, faculty members, administrators and NSU representatives.
During the past five years as Upper School Director, he led the school in the development of innovative programs that earned national and state recognition in areas such as robotics, mathematics, writing and science research.  Similarly, the Upper School garnered national recognition in the arts during Kopas' tenure.  Student art and writing received numerous national Scholastic Gold Key awards, and one student's art piece was included in the prestigious national AP Studio Art student exhibit.
"Mr. Kopas is extremely well-qualified to take NSU University School to the next level of recognition and achievement as one of the country's premier JK-12 independent schools.  His stellar background and extensive experience ensure that, under his leadership, University School will continue to flourish as a high level educational institution. I would also like to recognize and thank Dr. Jerome Chermak for his excellent leadership and service to NSU University School for the past 33 years, "said NSU president and CEO George L. Hanbury II, Ph.D.
Kopas initiated the Summit on Human Dignity which brings together nationally recognized speakers on social issues to NSU University School campus on an annual basis.  Under his leadership, NSU University School athletes won numerous district and region titles, two team state championships and five individual state championships.  Also, the school's speech and debate team won two state titles and is recognized in the top one percent nationally.
"With his successful tenure as NSU University School Upper School Director, Mr. Kopas is uniquely qualified to be our next Head of School," said University School Headmaster Jerome S. Chermak, Ed.D. "He has earned my confidence and the respect of our school community. I trust that he will build upon University School strengths to enhance our programs and reputation."
Before coming to NSU's University School, Kopas served as a teacher, coach and administrator at Brophy College Preparatory in Phoenix, and Canisius High School in Buffalo, N.Y.  As principal at Canisius, Kopas led a multi-million dollar renovation that included a new science center, gymnasium and off-campus athletic fields.  At Brophy, Kopas instituted one of the earliest one-to-one computer programs for students through a grant with Toshiba and Intel.  Kopas's coaching career includes 15 state swim titles, a national championship and designation as Coach of the 20th Century in Arizona.
Kopas has a Bachelor's from the University of Michigan in Ann Arbor (where he was a member of four Big Ten Championship swim teams, an individual Big Ten Champion, and conference scholar-athlete),a Master's in Education from Northern Arizona University and is a candidate to receive his Doctor of Education from Nova Southeastern University in 2015.
###
About Nova Southeastern University (NSU): Located in beautiful Fort Lauderdale, Florida, NSU is a dynamic research institution dedicated to providing high-quality educational programs at the undergraduate, graduate and first-professional degrees levels.  An independent, not-for-profit institution with approximately 25,000 students, NSU has campuses in Fort Lauderdale, Fort Myers, Jacksonville, Miami, Miramar, Orlando, Palm Beach and Tampa, Florida as well as  San Juan, Puerto Rico and online globally.  For more than 50 years, NSU has been awarding degrees in a wide range of fields, while fostering groundbreaking research and an impactful commitment to community. Classified as a research university with "high research activity" by the Carnegie Foundation for the Advancement of Teaching, NSU is one of only 37 universities nationwide to also be awarded Carnegie's Community Engagement Classification. For more information, please visit http://www.nova.edu/
About University School of Nova Southeastern University: University School is a junior kindergarten through twelfth grade, independent college preparatory school that provides a challenging and personalized education within a supportive environment for students of average to gifted abilities. Our students are prepared for productive lives and leadership roles through a program that focuses on academic excellence, extracurricular participation and service to others. For more information visit http://www.uschool.nova.edu/.
Media Contact:
Vera Mandilovitch | Office of Public Affairs
954-262-5309 (office)
954-882-3570 (cell)
---
---