NSU Newsroom
SharkBytes
Horizons
This version of NSU News has been archived as of February 28, 2019. To search through archived articles, visit nova.edu/search. To access the new version of NSU News, visit news.nova.edu.
This version of SharkBytes has been archived as of February 28, 2019. To search through archived articles, visit nova.edu/search. To access the new version of SharkBytes, visit sharkbytes.nova.edu.
NSU Takes Bold Step to Address Teacher Shortage Crisis & Provide Employment for Graduates
New Program Involves the Palm Beach and Broward County School Districts
FOR IMMEDIATE RELEASE
FORT LAUDERDALE/DAVIE, Fla. – They are two of the biggest challenges facing public school districts and institutions of higher learning: the ever-growing public school teacher shortage and helping college/university graduates find gainful employment.
In one fell swoop, Nova Southeastern University (NSU) has taken a bold step to address these challenges.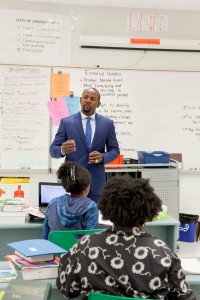 Working with both the Palm Beach and Broward County public school districts, NSU's Abraham S. Fischler College of Education is embarking on a program that will provide its students who are in their last year internships as substitute teachers, or other educational support roles. In turn, the school districts then will guarantee these graduates job offers as teachers, with the goal that many will accept the offer and make their way into South Florida classrooms.
"If there ever was an example of a true 'win-win situation,' this is it," said Dr. George Hanbury, NSU's President and CEO. "The teacher shortage is a huge issue that our public schools are dealing with, and this program can help address some of that need. At NSU, we've made it a priority to help all of our students enter the workplace after graduation, so this fits in perfectly with those efforts. While this is starting off local, the potential is there for this to be replicated at the national level – we're just getting started."
Hanbury said that he and his staff are also working with the Miami Dade County public school system to implement a similar program as well, making it truly a South Florida, tri-county partnership.
The newly adopted program in Broward County focuses in two areas – one for current NSU students and another for current school district paraprofessionals or substitute teachers. As mentioned above, current NSU students will gain the opportunity to become pool substitute teachers in the nation's fifth-largest (Broward) and 12th largest (Palm Beach) school systems, gaining valuable knowledge and experiences to help prepare them to enter a classroom.
In terms of current district paraprofessionals or substitute teachers, this new program will help better define a career path for them to obtain their Florida Teaching Certificate and earn their Bachelor's degree (these individuals must have at least 60 undergraduate credits to qualify.)
"NSU's Fischler College of Education truly embodies the spirit of its namesake, Dr. Abraham S. Fischler," Hanbury said. "He was a pioneer in the realm of education, having championed what in the early 1970s was called distance learning as a way to reach even more students and help them realize their educational dreams. Doing things in new and unique ways is at the heart of the Fischler College of Education – we'll never stop innovating and trying new things if it will help our students."
Be sure to sign up for NSU's RSS feed so you don't miss any of our news releases, guest editorials and other announcements. Please sign up HERE.
###
About Nova Southeastern University (NSU): Located in beautiful Fort Lauderdale, Florida, Nova Southeastern University (NSU) is a dynamic research institution dedicated to providing high-quality educational programs at the undergraduate, graduate, and first-professional degree levels. A private, not-for-profit institution, NSU has campuses in Fort Lauderdale, Fort Myers, Jacksonville, Miami, Miramar, Orlando, Palm Beach, and Tampa, Florida, as well as San Juan, Puerto Rico, while maintaining a presence online globally. For more than 50 years, NSU has been awarding degrees in a wide range of fields, while fostering groundbreaking research and an impactful commitment to community. Classified as a research university with "high research activity" by the Carnegie Foundation for the Advancement of Teaching, NSU is 1 of only 50 universities nationwide to also be awarded Carnegie's Community Engagement Classification, and is also the largest private, not-for-profit institution in the United States that meets the U.S. Department of Education's criteria as a Hispanic-serving Institution. Please visit www.nova.edu for more information about NSU and realizingpotential.nova.edu for more information on the largest fundraising campaign in NSU history.
May 8, 2017
Joe Donzelli | Office of Public Affairs
954-262-2159 (office) | 954-661-4571 (cell)
jdonzelli@nova.edu | www.nova.edu
---
---