NSU Newsroom
SharkBytes
Horizons
This version of NSU News has been archived as of February 28, 2019. To search through archived articles, visit nova.edu/search. To access the new version of NSU News, visit news.nova.edu.
This version of SharkBytes has been archived as of February 28, 2019. To search through archived articles, visit nova.edu/search. To access the new version of SharkBytes, visit sharkbytes.nova.edu.
NSU Swimming Earns CSCAA Scholar All-America Distinction
FOR IMMEDIATE RELEASE
FORT LAUDERDALE/DAVIE, Fla. – The College Swimming and Diving Coaches Association of America (CSCAA) has named 710 teams to its Scholar All-America list for the Spring 2018 Semester. The teams represent 476 institutions from across all NCAA, NAIA and NJCAA Divisions. The CSCAA recognizes teams with the Scholar All-America Award for achieving a team GPA of 3.0 or higher.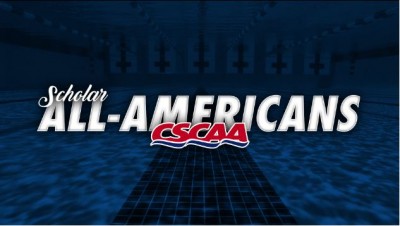 In conjunction with the Scholar All-American team announcement, the CSCAA has selected a record 1,069 swimmers and divers for its Scholar All-America team. The award recognizes students that have achieved a grade point average of 3.50 or higher and competed at their respective NCAA/NAIA/NJCAA Swimming and Diving Championships.
In addition to the 1,069 first-team selections, 1,137 students were named as Honorable Mentioned selections. These students have similarly achieved a GPA of 3.50 and achieved a "B" time standard or competed at an NCAA Regional or Zone Diving qualifier.  In total, 289 teams placed at least one individual on the First or Second teams.
As a team, the women finished with an overall GPA of 3.30, while the men posted a 3.12, the fourth consecutive semester above a 3.0 GPA for both teams under head coach Ben Hewitt's tutelage.
"I'm delighted in our team's continued success and academic performance in earning another team CSCAA Scholar All-American Award," boasted Hewitt. "It is the result of a collective team commitment to pursuing their goals in the classroom, taking advantage of the resources available to them and setting a high standard for themselves. I'm especially pleased with the number of individuals who were able to earn CSCAA Scholar All-American status individually, as they delivered high caliber performances in the pool along with their achievements in the classroom."
A total of 15 NSU swimmers earned the CSCAA Scholar All-America distinction. From the men's team, two were named to the First Team and five were selected as Honorable Mentions. On the women's side, three earned First Team honors and five earned Honorable Mention honors.
"Our team is committed to NSU's core values and worthy of this honor," explained Hewitt. "This group continues to exceed expectations and I'm excited to see how we grow and improve academically over the next year."
Below is a complete list of all NSU CSCAA Scholar All-Americans:
Women's Team
Liza Buluchevskaya (HM)
Lindsay Craig (HM)
Courtney Deveny
Laurel Fink (HM)
Jenna Johns
Hannah Pariseault (HM)
Alina Schulhofer (HM)
Malin Westman
Men's Team
Bernardo Abascal (HM)
Julian Coster
Malique Elder
David Hudson (HM)
Matteo Masiero (HM)
Jonathon Yanello (HM)
Eddie Zacka (HM)
# # #
Be sure to sign up for NSU's RSS feed so you don't miss any of our news releases, guest editorials and other announcements. Please sign up HERE.
About Nova Southeastern University (NSU): Located in beautiful Fort Lauderdale, Florida, NSU is ranked among U.S. News & World Report's Top 200 National Research Universities and is a dynamic, private research university providing high-quality educational and research programs at the undergraduate, graduate, and first-professional degree levels. Established in 1964, NSU now includes 16 colleges, the 215,000-square-foot Center for Collaborative Research, a private JK-12 grade school, the Mailman Segal Center for Human Development with specialists in Autism, the world-class NSU Art Museum Fort Lauderdale, and the Alvin Sherman Library, Research and Information Technology Center, which is Florida's largest public library. NSU has campuses in Fort Lauderdale, Fort Myers, Jacksonville, Miami, Miramar, Orlando, Palm Beach, and Tampa, Florida, as well as San Juan, Puerto Rico, while maintaining a presence online globally. Classified as a research university with "high research activity" by the Carnegie Foundation for the Advancement of Teaching, NSU is one of only 50 universities nationwide to also be awarded Carnegie's Community Engagement Classification, and is also the largest private institution in the United States that meets the U.S. Department of Education's criteria as a Hispanic-serving Institution. For more information, please visit www.nova.edu.
June 28, 2018
Media Contact:
Tasha Yohan
954-262-2172
tyohan@nova.edu
---
---