NSU Newsroom
SharkBytes
Horizons
This version of NSU News has been archived as of February 28, 2019. To search through archived articles, visit nova.edu/search. To access the new version of NSU News, visit news.nova.edu.
This version of SharkBytes has been archived as of February 28, 2019. To search through archived articles, visit nova.edu/search. To access the new version of SharkBytes, visit sharkbytes.nova.edu.
NSU Sweeps SSC Swimmer of the Week Awards
The pair earn their second honors this season
FOR IMMEDIATE RELEASE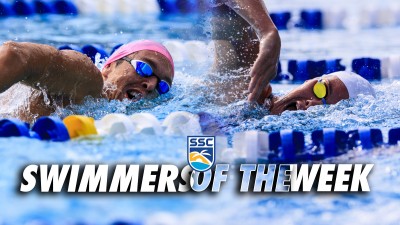 FORT LAUDERDALE/DAVIE, Fla. – For the fourth time this season, Nova Southeastern swimmers have taken home both sides of the Swimmer of the Week laurels handed out by the Sunshine State Conference. Emma Sundstedt earns her second honor of her rookie season, while Franco Lupoli collects his second, third of his career.
In a tri-meet against William Jewel and Grand Valley State at the NSU Aquatic Center this past Tuesday, the pair both picked up two first-place finishes as well as helped their respective 400 freestyle relay teams to victories.
In the 200 yard freestyle, Sundstedt claimed the win in 1:51.59, going on to take the 500 freestyle in 5:02.64. Both of Sundstedt's times were good enough for NCAA B-Cut standards.
Lupoli earned his award after taking first-place in the 200 freestyle on the men's side, finishing in 1:42.03. He also earned the win in the 500 freestyle in 4:39.71.
The Sharks will return to Sunshine State Conference competition on Saturday, Jan. 13, as they travel to Lakeland, Fla. to compete in a dual meet against Florida Southern. On the men's side, the Mocs are currently ranked 19th, while the women are receiving votes.
# # #
About Nova Southeastern University (NSU): Located in beautiful Fort Lauderdale, Florida, NSU is ranked among US News & World Report's Top 200 National Research Universities and is a dynamic, private research university providing high-quality educational and research programs at the undergraduate, graduate, and first-professional degree levels. Established in 1964, NSU now includes 16 colleges, the 215,000-square-foot Center for Collaborative Research, a private JK-12 grade school, the Mailman Segal Center for Human Development with specialists in Autism, the world-class NSU Art Museum Fort Lauderdale, and the Alvin Sherman Library, Research and Information Technology Center, which is Florida's largest public library. NSU has campuses in Fort Lauderdale, Fort Myers, Jacksonville, Miami, Miramar, Orlando, Palm Beach, and Tampa, Florida, as well as San Juan, Puerto Rico, while maintaining a presence online globally. Classified as a research university with "high research activity" by the Carnegie Foundation for the Advancement of Teaching, NSU is one of only 50 universities nationwide to also be awarded Carnegie's Community Engagement Classification, and is also the largest private institution in the United States that meets the U.S. Department of Education's criteria as a Hispanic-serving Institution. Please visit http://www.nova.edu/ for more information about NSU and realizingpotential.nova.edu for more information on the largest fundraising campaign in NSU history.
January 9, 2018
Contact Information:
Jameson Carter
Athletics Communications
954-262-8275 (office)
jcarter1@nova.edu
---
---