NSU Newsroom
SharkBytes
Horizons
This version of NSU News has been archived as of February 28, 2019. To search through archived articles, visit nova.edu/search. To access the new version of NSU News, visit news.nova.edu.
This version of SharkBytes has been archived as of February 28, 2019. To search through archived articles, visit nova.edu/search. To access the new version of SharkBytes, visit sharkbytes.nova.edu.
NSU Shepard Broad College of Law Launches Master of Laws Program
For Immediate Release
FORT LAUDERDALE/DAVIE, Fla. – Nova Southeastern University (NSU) Shepard Broad College of Law has launched a Master of Laws (LL.M.) program designed for attorneys to enhance the knowledge and skills needed in today's climate of fast-paced technological and economic growth. This graduate level program is designed to be highly flexible, so lawyers can participate online or on campus at convenient times to build the scope of their legal practice areas and increase overall success without putting their careers on hold.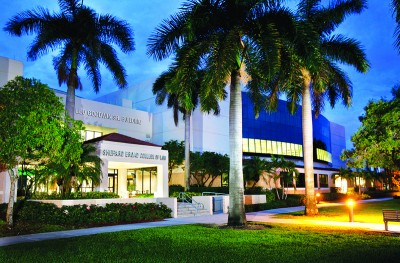 "We are delighted to offer attorneys this opportunity to transform their law practices, help their clients solve problems, and build value in an entrepreneurial legal environment," said NSU Law Dean, Jon M. Garon. "Our LL.M. students understand the importance of an innovative approach to the business of law, which is our hallmark."
The NSU Law LL.M. program is a one-year full-time or two-year part-time program of study offering online, on campus, or hybrid options. The program is designed with flexibility in mind, providing focused schedules that concentrate on highly valuable practice areas. NSU Law faculty and subject matter authorities with a genuine commitment to student success will teach all LL.M. classes.
LL.M. students may select their own course of study or choose one of NSU's areas of focus, which include Business and Entrepreneurial Counseling, Health Law, Intellectual Property, Cybersecurity, and Technology Law, International Law, and Litigation and Dispute Resolution. All focus areas incorporate leadership, strategic planning, fiscal literacy, and technology as core competencies for practicing attorneys.
Associate Dean of Graduate and Online Programs, Susan H. Stephan, points out that "with the addition of the LL.M. to our J.D. and our four M.S. in Law programs, we now offer practical, graduate-level studies to all professionals. The LL.M. is a key progression of legal education for lawyers, who must navigate a rapidly changing practice."
Through the LL.M. degree program, NSU Law strives to bring tangible value to the legal community, with benefits apparent for law firms and individual students. NSU Law is now accepting applications for the inaugural class, set to begin in Fall 2018. To apply or to find more information about NSU Law LL.M., please visit: https://www.law.nova.edu/llm/index.html or contact Dean Susan Stephan at LLMAdmissions@nova.edu or 1-800-326-3660.
For additional information, contact Kathleen Perez at Kperez1@nova.edu or 954-262-6295.
Be sure to sign up for NSU's RSS feed so you don't miss any of our news releases, guest editorials and other announcements. Please sign up HERE.
# # #
Shepard Broad College of Law: Nova Southeastern University's College of Law offers a cutting edge, skills-centered academic program in three-year full-time and four-year part-time divisions. With its recently redeveloped clinical programs, every NSU Law student is guaranteed a live-client experience. In-house clinical studies are supplemented by full-time field placement opportunities practicing law in Florida, across the United States, or select locations throughout the globe. To solidify student success after graduation, NSU Law pioneered a curriculum on the business of lawyering through the NSU Law Leadership Academy. NSU Law students have a myriad of curricular opportunities, including a rich, diverse curriculum, concentrations in International Law, Health Law or IP, Technology and Cybersecurity; dual degree programs abroad in Rome, Barcelona, or Prague; dual degree programs at many of NSU's other 17 colleges; and much more.  For more information, please visit www.law.nova.edu.
About Nova Southeastern University (NSU): Ranked among U.S. News & World Report's Top 200 National Research Universities and located in beautiful Fort Lauderdale, Florida, Nova Southeastern University (NSU) is a dynamic research institution dedicated to providing high-quality educational programs at the undergraduate, graduate, and first-professional degree levels. A private, not-for-profit institution, NSU has campuses in Fort Lauderdale, Fort Myers, Jacksonville, Miami, Miramar, Orlando, Palm Beach, and Tampa Bay, Florida, as well as San Juan, Puerto Rico, while maintaining a presence online globally. For more than 50 years, NSU has been awarding degrees in a wide range of fields, while fostering groundbreaking research and an impactful commitment to community. Classified as a research university with "high research activity" by the Carnegie Foundation for the Advancement of Teaching, NSU is 1 of only 50 universities nationwide to also be awarded Carnegie's Community Engagement Classification, and is also the largest private, not-for-profit institution in the United States that meets the U.S. Department of Education's criteria as a Hispanic-serving Institution. Please visit www.nova.edu for more information about NSU.
June 7, 2018
---
---