NSU Newsroom
SharkBytes
Horizons
This version of NSU News has been archived as of February 28, 2019. To search through archived articles, visit nova.edu/search. To access the new version of NSU News, visit news.nova.edu.
This version of SharkBytes has been archived as of February 28, 2019. To search through archived articles, visit nova.edu/search. To access the new version of SharkBytes, visit sharkbytes.nova.edu.
NSU Sharks Continue to be Recognized for Academic Excellence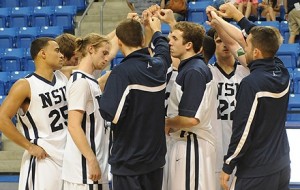 FORT LAUDERDALE, Fla. – Nova Southeastern University's (NSU) student-athletes received accolades for achieving high academic excellence. NSU's men and women's swimming and diving teams received the Team Scholar All-America Award from the College Swimming Coaches Association of America (CSCAA). In addition, the men's basketball program was honored for its hard work in the classroom, as the team received the National Association of Basketball Coaches (NABC) Team Academic Excellence Award.
Presented twice annually, the Team Scholar All American Award is presented to the college or university swimming and diving teams, who have achieved a cumulative grade point average of 3.0 or higher. The women's team has become a staple on the honoree list, as it has received the award in all three years of the program's existence. The Sharks held a 3.28 team GPA during the 2012-13 season. The Sunshine State Conference (SSC) was highly recognized, with six conference schools in the field of honorees. The men had their best season academically, receiving the honor for the first time. The Sharks held a 3.19 team GPA this season, the eighth-best mark in the nation and the second among the five SSC schools honored.
Moreover, the Men's Basketball team was the only team in the Sunshine State Conference to be honored for academic excellence by the NABC, and only men's collegiate squad in the state of Florida, to receive this distinction. The Sharks finished the year with a cumulative GPA of 3.24. Of the 13 players on the roster in the spring, seven had a winter GPA of over a 3.0.
"Other than winning a national championship, this recognition may be the most important that any intercollegiate athletic team could receive," said head coach Gary Tuell. "And it would be easy to argue that this is a higher award than a national championship. Certainly our faculty, administrators and the parents of our players would say that. I'm so very proud of our team. When you consider what they accomplished on the court and in the classroom, you can't help but stick your chest out and be proud of the entire group."
For updates on all Shark sports, visit NSU Shark Athletics.
About Nova Southeastern University
Situated on 300 beautiful acres in Ft. Lauderdale, Florida, Nova Southeastern University (NSU) is a dynamic fully accredited research institution dedicated to providing high-quality educational programs at all levels.  NSU is a not-for-profit independent institution with 27,000 students. NSU awards associate's, bachelor's, master's, specialist, doctoral and first-professional degrees in a wide range of fields. NSU is classified as a research university with "high research activity" by the Carnegie Foundation for the Advancement of Teaching, and it's one of only 37 universities nationwide to also be awarded Carnegie's Community Engagement Classification. For more information on NSU, visit: www.nova.edu
###
Contact:
Eugene Canal, Manager of Athletic Communications
Phone: (954) 262-8275
---
---