NSU Newsroom
SharkBytes
Horizons
This version of NSU News has been archived as of February 28, 2019. To search through archived articles, visit nova.edu/search. To access the new version of NSU News, visit news.nova.edu.
This version of SharkBytes has been archived as of February 28, 2019. To search through archived articles, visit nova.edu/search. To access the new version of SharkBytes, visit sharkbytes.nova.edu.
NSU Researcher Working to Unlock the Genome of Birds
Four-Year Project Studied Genome Sequence of 48 Species of Birds
FORT LAUDER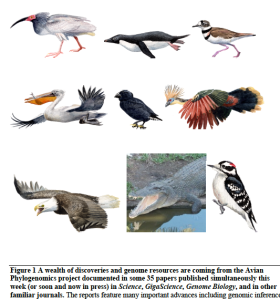 DALE–DAVIE, Fla. – We all know that ducks, crows, falcons and egrets are birds. A group of scientists, however, wanted to dig deeper and unlock more about how these animals are related genetically. The idea was to investigate how modern species of birds emerged and evolved after the dinosaurs disappeared from the earth. This research included work from Stephen O'Brien, Ph.D., a professor at NSU's Oceanographic Center whose main focus in genomics.
Now findings from this research are being announced in several scientific publications, including Science magazine, Genome Biology and GIGA Science.
For the past four years, O'Brien has been part of an international consortium of scientists working to detail the genome sequence of 48 different birds. This group of researchers – who call themselves the Avian Phylogenomics Group – is made up of 200 scientists from 80 institutions in 20 countries. This group is an "outgrowth" of the Genome 10K Project (G10K,) which was co-founded in 2009 and led by O'Brien.
"The Avian Phylogenomics Studies have become a fait accompli raising the standards of comparative genome bioinformatics to a higher standard than ever before," O'Brien said. "We at NSU's Oceanographic Center are grateful to the international consortium for the opportunity to contribute in making all this happen."
Prior to his role with NSU, O'Brien served as Chief of the Laboratory of Genomic Diversity at the National Cancer Institute (NCI,) National Institutes of Health (NIH.) for 25 years. In 2011 he joined the Theodosius Dobzhansky Center for Genome Bioinformatics, St. Petersburg State University (Russia) as its Chief Scientific Officer. He also serves as Director of Research for NSU's Office of Research and Technology Transfer.
O'Brien is well known for his research contributions in comparative genomics, virology, genetic epidemiology, mammalian systematics and species conservation. In 1983, he and his collaborators discovered the remarkable genetic uniformity of the African cheetah, a prelude to a new discipline of Conservation Genetics.
With more than three decades of field studies with his students and colleagues, O'Brien subsequently reported in approximately 300 publications, many in the highest rated scientific journals of how genetics could inform and facilitate management action for endangered species. These included identifying new species of elephant, clouded leopard and orangutan plus detailed genetics studies on threatened wildlife species including cheetahs, lions, tigers, giant panda, leopards, pumas, jaguars, koalas, humpback whales and our Florida panther.
The group saw several advantages to studying the bird genome. Birds have remarkable adaptive diversity (from flight/feathers to song/speech to dazzling plumage coloration to teeth loss.) Also, whereas most vertebrate genomes typically carry 50% repeated sequence, birds have around 5-10% repeats, which translates into a considerably smaller genome size. The various species selected were chosen as they comprise approximately 95% of the living bird species on earth. Some of what the Avian Phylogenomics Group found included, but was not limited to:
A precision evolutionary tree connecting modern bird as their ancestors split into modern families and genera;
Specific new candidate gene associations with vocal learning as well as for skeletal development to be light and aerodynamic;
Gene losses in bioenergetics genes, hypothesized to allow for more efficient oxygen metabolism for flight; and
Rapid evolution of 15 pigmentation genes associated with plumage for mating display.
You can see the related research articles HERE.
###
About Nova Southeastern University: Situated on 314 beautiful acres in Ft. Lauderdale, Florida, Nova Southeastern University (NSU) is a dynamic research institution dedicated to providing high-quality educational programs at all levels.  NSU is an independent, not-for-profit institution with 26,000 students at campuses in Fort Lauderdale, Fort Myers, Jacksonville, Miami, Orlando, Palm Beach and Tampa, Florida as well as San Juan, Puerto Rico. NSU awards associate's, bachelor's, master's, specialist, doctoral and first-professional degrees in a wide range of fields. NSU is classified as a research university with "high research activity" by the Carnegie Foundation for the Advancement of Teaching, and it is one of only 37 universities nationwide to also be awarded Carnegie's Community Engagement Classification. For more information, please visit www.nova.edu. Celebrating 50 years of academic excellence!
About NSU's Oceanographic Center: NSU's Oceanographic Center provides high-quality graduate education programs (i.e. master's, doctoral, certificate) in a broad range of marine science disciplines. Center researchers carry out innovative, basic and applied marine and research programs in coral reel biology, ecology, and geology; fish biology, ecology, and conservation; shark and billfish ecology; fisheries science; deep sea organismal biology and ecology; invertebrate and vertebrate genomics, genetics, molecular ecology, and evolution; microbiology; biodiversity; observation and modeling of large scale ocean circulation, coastal dynamics, and ocean atmosphere coupling; benthic habitat mapping; biodiversity; histology; and calcification. For more information, please visit http://www.nova.edu/ocean
Media Contact
Joe Donzelli | Office of Public Affairs
954-262-2159 (office)
jdonzelli@nova.edu
---
---