NSU Newsroom
SharkBytes
Horizons
This version of NSU News has been archived as of February 28, 2019. To search through archived articles, visit nova.edu/search. To access the new version of NSU News, visit news.nova.edu.
This version of SharkBytes has been archived as of February 28, 2019. To search through archived articles, visit nova.edu/search. To access the new version of SharkBytes, visit sharkbytes.nova.edu.
NSU Researcher Leads Study of Threatened Coral Reefs
Mapping Discovered New Coral Reef Patches Previously Unknown to Exist
FORT LAUDERDALE-DAVIE, Fla. – Nova Southeastern University's Oceanographic Center has a long-standing tradition of researching and advocating for the protection of our coral reefs. To that end, NSU researcher Brian Walker, Ph.D., led a recent study that mapped nearly 40 acres of local coral reefs
The study, which was contracted by the Florida Department of Environmental Protection (DEP,) mapped staghorn coral (Acropora cervicorni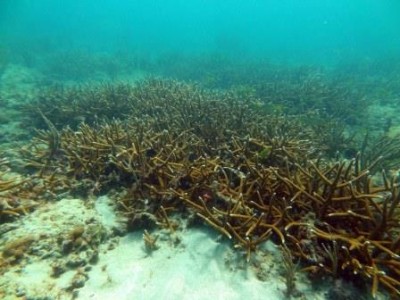 s.) Staghorn is one of two corals presently listed as threatened under the United States Endangered Species Act.
Of the 35 large and dense patches found, only seven were previously documented. Although the age, detailed boundaries and health have not yet been studied, the report states staghorn corals covered nearly 100 percent of the seafloor in some areas. This is particularly astounding, as reef building, or stony, coral usually only account for 3-5 percent of the community on southeast Florida reefs.
"This was an unexpected result of a project that was intended to improve our knowledge of the types and locations of near-shore reef habitats in southeast Florida," Walker said. "Understanding the health of these staghorn patches, their locations and the timing of their formation will provide valuable information on how to manage this threatened species in light of a changing climate."
Ocean explorer and conservationist Philippe Cousteau dove on one of the newly mapped staghorn reefs earlier this summer with the Florida Department of Environmental Protection's Coral Reef Conservation Program and said: "This is one of the nicest staghorn coral reefs I've ever visited."
In addition to garnering the attention of Cousteau, local marine scientists have been ecstatic to learn of these 38 acres of staghorn coral, as positive news for coral reefs has become increasingly rare.
"Coral reefs are one of the most endangered ecosystems on the planet and are continuously threatened by a combination of local and global stressors, especially here in southeast Florida," said Joanna Walczak, southeast regional administrator for DEP's Florida Coastal Office. "We really only started paying attention to this northern part of the Florida Reef Tract a decade ago – and it amazes me that we're still finding new and exciting discoveries. This is a huge win for Florida's corals and we look forward to learning more through ongoing research with our local partners."
Video footage of one of the sites can be viewed

HERE.
The final mapping report can be viewed

HERE.
More information on the FDEP Coral Reef Conservation Program is available

HERE.
###
About Nova Southeastern University: Situated on 314 beautiful acres in Ft. Lauderdale, Florida, Nova Southeastern University (NSU) is a dynamic research institution dedicated to providing high-quality educational programs at all levels.  NSU is an independent, not-for-profit institution with approximately 26,000 students at campuses in Fort Lauderdale, Fort Myers, Jacksonville, Miami, Orlando, Palm Beach and Tampa, Florida as well as San Juan, Puerto Rico. NSU awards associate's, bachelor's, master's, specialist, doctoral and first-professional degrees in a wide range of fields. NSU is classified as a research university with "high research activity" by the Carnegie Foundation for the Advancement of Teaching, and it is one of only 37 universities nationwide to also be awarded Carnegie's Community Engagement Classification. For more information, please visit www.nova.edu. Celebrating 50 years of academic excellence!
About NSU's Oceanographic Center: The Oceanographic Center provides high-quality graduate education programs (i.e. master's, doctoral, certificate) in a broad range of marine science disciplines. Center researchers carry out innovative, basic and applied marine and research programs in coral reel biology, ecology, and geology; fish biology, ecology, and conservation; shark and billfish ecology; fisheries science; deep sea organismal biology and ecology; invertebrate and vertebrate genomics, genetics, molecular ecology, and evolution; microbiology; biodiversity; observation and modeling of large scale ocean circulation, coastal dynamics, and ocean atmosphere coupling; benthic habitat mapping; biodiversity; histology; and calcification. For more information, please visit http://www.nova.edu/ocean
Media Contact
Joe Donzelli | Office of Public Affairs
954-262-2159 (office)
jdonzelli@nova.edu
---
---