NSU Newsroom
SharkBytes
Horizons
This version of NSU News has been archived as of February 28, 2019. To search through archived articles, visit nova.edu/search. To access the new version of NSU News, visit news.nova.edu.
This version of SharkBytes has been archived as of February 28, 2019. To search through archived articles, visit nova.edu/search. To access the new version of SharkBytes, visit sharkbytes.nova.edu.
NSU Partners with Ice Cream Shop to Create Fun Entrepreneurial Program for High Schoolers
Participating Students Will Create and Market their Own Ice Cream Flavor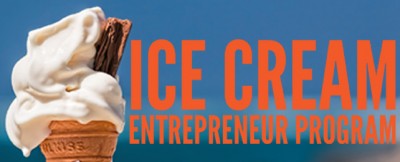 FORT LAUDERDALE/DAVIE, Fla. – There's nothing better than enjoying ice cream on a hot South Florida summer day. Now Nova Southeastern University (NSU) is giving a group of local high school students the
opportunity to make their own. The Department of Writing and Communication at NSU's College of Arts, Humanities and Social Sciences (CAHSS) is offering a FREE weeklong Ice Cream Entrepreneur Program from July 31 to August 4, 9a.m. through 12p.m. daily for high school students with an interest in communications, advertising, business, branding, and public relations.  The program is intended for, but not limited to, high school students entering their junior or senior year in fall 2017. The number of participants is limited to a maximum of 20, to allow for focused attention and personalized support.
Student teams will spend four days of the week learning how to create and launch a new ice cream flavor in partnership with Yo Mama's Ice Cream shop of Fort Lauderdale. The program will be held at NSU's Fort Lauderdale/Davie campus (3301 College Avenue, Davie FL 33314) and on-site at the ice cream shop (901 Sunrise Lane, Fort Lauderdale, FL 33304). On the final day, students will deliver an oral presentation pitching their ice cream flavor to a panel of judges. The winning flavor will have the opportunity to be produced locally by the shop.
CAHSS created the program as a community-led experiential learning opportunity for high school students interested in the field of communication. "The goal is to give students a creative opportunity through a community project that combines writing, strategizing, and presenting ideas in a fun setting," says Stephen Andon, Ph.D., Assistant Professor, Department of Writing and Communication from NSU's College of Arts, Humanities, and Social Sciences. "Letting high schoolers learn and apply skills that have significance in the real world is an important element that prepares them for a college-level education."
Students enrolled in the program will:
Receive a certificate upon completion
Work with NSU professors and business professionals to develop their product
Advance their creative skills in advertising, branding, and oral presentations
Practice experiential learning and critical thinking in a college setting
Schools with participating students include:
Fort Lauderdale Prep
John A Ferguson Sr. High School
Franklin Academy
Archbishop McCarthy
Cypress Bay
Park Vista Community High School
Everglades High School
Western High School
Doral Academy Prep
College Academy at BC
St. Thomas Aquinas
Nova High School
Youth Co-Op Charter High School
Olympic Heights High School
Cooper City High School
For more information about the program, please CLICK HERE.
Be sure to sign up for NSU's RSS feed so you don't miss any of our news releases, guest editorials and other announcements. Please sign up HERE.
# # #
About Nova Southeastern University (NSU): Located in beautiful Fort Lauderdale, Florida, Nova Southeastern University (NSU) is a dynamic research institution dedicated to providing high-quality educational programs at the undergraduate, graduate, and first-professional degree levels. A private, not-for-profit institution, NSU has campuses in Fort Lauderdale, Fort Myers, Jacksonville, Miami, Miramar, Orlando, Palm Beach, and Tampa, Florida, as well as San Juan, Puerto Rico, while maintaining a presence online globally. For more than 50 years, NSU has been awarding degrees in a wide range of fields, while fostering groundbreaking research and an impactful commitment to community. Classified as a research university with "high research activity" by the Carnegie Foundation for the Advancement of Teaching, NSU is 1 of only 50 universities nationwide to also be awarded Carnegie's Community Engagement Classification, and is also the largest private, not-for-profit institution in the United States that meets the U.S. Department of Education's criteria as a Hispanic-serving Institution. Please visit www.nova.edu for more information about NSU and realizingpotential.nova.edu for more information on the largest fundraising campaign in NSU history.
About NSU's College of Arts, Humanities, and Social Sciences (CAHSS):  CAHSS is home to the Performing and Visual Arts Series, the Center for Applied Research on Substance Use and Health Disparities, the Family Therapy Clinic, the Writing Center, and Campus Diversity Dialogs.  The College offers stimulating undergraduate and graduate programs that engage students in innovative teaching, scholarship, and community outreach.  A central theme in the College's baccalaureate, master's, and doctoral] programs is the understanding and consequent improvement of human relations through multidisciplinary, multi-professional and multicultural perspectives.  While addressing emergent social issues and challenges, our excellent faculty and alumni integrate theory, research, and practice in the arts, humanities, social sciences, and helping professions.  Our commitment to experiential learning and scholarship provides our students with opportunities to become reflective scholars, creative artists, and skilled practitioners and professionals.  Please visit cahss.nova.edu for more information.
Media Contact:
Vera Mandilovitch
954-262-5309 (office) | 954-882-3570 (cell)
vmandilovitch@nova.edu
---
---