NSU Newsroom
SharkBytes
Horizons
This version of NSU News has been archived as of February 28, 2019. To search through archived articles, visit nova.edu/search. To access the new version of NSU News, visit news.nova.edu.
This version of SharkBytes has been archived as of February 28, 2019. To search through archived articles, visit nova.edu/search. To access the new version of SharkBytes, visit sharkbytes.nova.edu.
NSU Palm Beach Gardens Holds June 7 Open House Recruiting For Florida's Only Bachelor of Science in Respiratory Therapy Program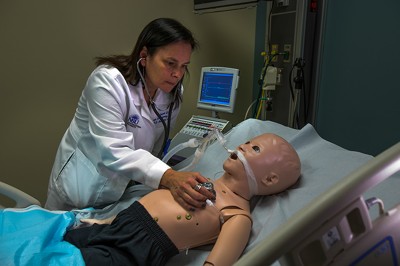 PALM BEACH GARDENS, Fla. – Nova Southeastern University's (NSU) Bachelor of Science degree program in Respiratory Therapy (BSRT) – the only such program offering in the state – is holding an open house for prospective students on Saturday, June 7, from 10 a.m. to 1 p.m.
Tours of the classrooms and simulation suites, as well as the clinical training rooms located on the third floor of the NSU Palm Beach 75,000-sq.-ft. campus building at 11501 N. Military Trail, will be available to all participants.  The third floor has been transformed into a simulated 10-bed intensive care unit, a four-room patient simulation suite and computer labs, all to facilitate the new program. The new program will begin classes in August.
The American Association of Respiratory Care has declared the bachelor's degree one of the priorities for a 2015 initiative to meet the requirements of the changing system. According to the U.S. Department of Labor there will be a 19% increase in respiratory therapist positions by the year 2020.
Graduates from NSU's Respiratory Therapy Program will have opportunities in the areas of advanced respiratory clinical practice, education, medical and health services management, and medical equipment sales and service, according to Marianne Jankowski, DHSc., RRT, chair of NSU's Department of Cardiopulmonary Sciences and director of the Respiratory Therapy Program.
"Our unique respiratory program will provide our students with the opportunity to succeed as lifelong learners, critical thinkers, evidence-based practitioners, and excellent providers of care in a multitude of environments," she said.
For more information about NSU's Respiratory Therapy Program please contact Terri Taylor at (561) 805-2244. To see a video tour of the BSRT program go to http://youtu.be/NosNochZbNA
###
About NSU's College of Health Care Sciences: NSU's College of Health Care Sciences strives to provide professionals with the skills necessary for the diagnosis, treatment and prevention of disease and disability in order to assure optimum health conditions in the community and beyond. With an unwavering commitment to ethical practice and in support of NSU's Core Values, the college endeavors to advance research, scholarship, and the development of leadership skills utilizing traditional educational methods, distance learning, and innovative combinations of both to achieve its educational goals. For more information, please visit http://www.nova.edu/chcs.
About Nova Southeastern University Palm Beach Gardens: The campus moved from RCA Boulevard to its current location in 2011. There are more than 1,000 students attending the campus, which offers a range of degrees including business, education, leadership, interdisciplinary arts, management counseling, nursing, pharmacy, psychology, respiratory therapy and speech pathology.
About Nova Southeastern University: Situated on 314 beautiful acres in Ft. Lauderdale, Florida, Nova Southeastern University (NSU) is a dynamic fully accredited research institution dedicated to providing high-quality educational programs at all levels.  NSU is a not-for-profit independent institution with 27,000 students. NSU awards associates, bachelor's, master's, specialist, doctoral and first-professional degrees in a wide range of fields. NSU is classified as a research university with "high research activity" by the Carnegie Foundation for the Advancement of Teaching, and it is one of only 37 universities nationwide to also be awarded Carnegie's Community Engagement Classification. For more information, please visit www.nova.edu. Celebrating 50 years of academic excellence!
Media Contacts:
Jeremy Katzman, M.B.A. | Office of Public Affairs
954-262-5408 (office)
954-661-7000 (cell)
j.katzman@nova.edu
Julie Spechler | Office of Public Affairs
954-262-5348 (office)
954-593-3361 (cell)
julies@nova.edu
---
---