NSU Newsroom
SharkBytes
Horizons
This version of NSU News has been archived as of February 28, 2019. To search through archived articles, visit nova.edu/search. To access the new version of NSU News, visit news.nova.edu.
This version of SharkBytes has been archived as of February 28, 2019. To search through archived articles, visit nova.edu/search. To access the new version of SharkBytes, visit sharkbytes.nova.edu.
NSU Men's and Women's Golf Each Capture 2012 NCAA Division-II Championships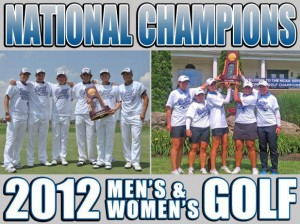 First Victory for Men; 4th Straight Win for Women's Golf
LOUISVILLE, Ky. – Saturday, May 19 proved to be a historic day for Nova Southeastern University (NSU) athletics, as the men's and women's golf teams won their respective NCAA Division-II Championships.
"What a day to be a Shark! Winning two National Championships on the same day is really special, in fact really remarkable," commented NSU Director of Athletics Michael Mominey. "The university and the athletic department are so proud of the student-athletes and coaching staffs that make up these teams. We commend them on a season long commitment to be champions in their respective sports both on and off the field."
The No. 2 NSU women's golf team overcame the grueling par-72, 6,283 yard Persimmon Ridge Golf Course, to win its fourth straight NCAA Division-II National Championship Saturday. The Sharks finished atop the 12-team field to win the tournament with a collective score of +82 (308-306-315-305—1,234), 20 strokes ahead of runner-up No. 1 Florida Southern. No.1 Abbey Gittings (Jr., Tamworth, England) also became the third consecutive individual champion from NSU. Her four-round tally of +10 (72-75-78-73—298) was two strokes better than Meghan Moore of UNC-Pembroke who finished at +12 (75-75-78-72—300).
Gittings, who was suffering from a back injury throughout the tournament, came out on the final day of competition and carded a one-over 73 to move up from second where she started the round and capture the individual title. Gittings had a solid finish to her Championship round, carding two birdies and two par in the final four holes to solidify her spot at the top of the leaderboard and earn her crown as the 2012 NCAA Individual National Champion.
"I could not be more proud of each girl on this team and I am very proud of Abbey winning individually," commented head coach Amanda Brown. "We made it a goal in the beginning of the year to win the national championship and it feels great to have accomplished that goal."
The No. 1 NSU men's golf team captured their first NCAA National Championship Title Saturday, May 19 at the par-72 Cardinal Club Golf Course in a five-day six-round tournament, defeating Chico State in a head-to-head final match with a clean sweep, 5-to-0 score.
In the five-day tournament that started Tuesday, May 15, the Sharks finished the first three rounds second overall, making the eight-team cut to advance to head-to-head match play Friday, May 18.  The Sharks battled through 36-holes Friday, defeating South Carolina-Aiken in the quarterfinals 4-to-1 before defeating Central Oklahoma in the semifinal round by way of the total strokes tie-breaker to advance to the national final against Chico State.
"This is an unbelievable feeling to be a part of the first men's National Championship at Nova Southeastern University, said first-year head coach Garrett Runion. "Our guys set this goal at the beginning of the season and never stopped believing they could win it. All five of my guys deserve a game ball because everyone contributed in a huge way this week."
Five NSU golfers were also recognized with national postseason awards. For the women, Gittings was selected as the NGCA/PING Player of the Year, while teammate Liliana Cammisa was selected as the NGCA Freshman of the Year. The pair joined Daniela Ortiz as First-Team All-America selections.
For the men, Ben Taylor was selected as a First-Team All-America selection, while teammate Oscar Lengdèn received the Phil Mickelson Award presented by the Phil and Amy Mickelson Foundation as the most outstanding freshman in Division-II men's golf.
# # #
Primary Contact: Keith Smith, Assistant Athletic Director – Communications
Phone: (954) 599-3820
Secondary Contact: Brock Malone, Athletic Communications Coordinator
Phone: (954) 279-0223
---
---