NSU Newsroom
SharkBytes
Horizons
This version of NSU News has been archived as of February 28, 2019. To search through archived articles, visit nova.edu/search. To access the new version of NSU News, visit news.nova.edu.
This version of SharkBytes has been archived as of February 28, 2019. To search through archived articles, visit nova.edu/search. To access the new version of SharkBytes, visit sharkbytes.nova.edu.
NSU Law Center Graduates Lead South Florida on MPRE; Exceed Statewide Pass Rate on Bar Exam
NSU Law Students Achieve 87% Pass Rate
EDITOR'S NOTE: Photos available upon request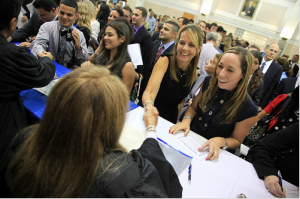 FORT LAUDERDALE-DAVIE, Fla. – Recent graduates from Nova Southeastern University's (NSU) Shepard Broad Law Center who recently took the bar examination once again exceeded the statewide pass rate for both the general exam and the Multistate Professional Responsibility Examination (MPRE). 
"We continue to be very proud of the success our graduates on these milestone exams, " said Athornia Steele, J.D., dean of NSU's Shepard Broad Law Center. "It is most certainly a team effort by these alumni, their family and support networks, and the extreme dedication of our superb faculty and staff to achieve such respectable results, and I am deeply proud of each and every one of them."
Specifically, NSU graduates passed at 87.4% for the general exam – a mere 2.2 percentage points lower than the top-ranked Florida law school – and an 86.9 % for the MPRE exam. In relation to all South Florida law schools, NSU ranked first on the MPRE exam, leading by 6.1 percentage points, and second by a mere 2.2 percentage points on the general exam. This year's performance of 87.4% was 6.6 percentage points better than the previous year.
Law Center faculty, staff, students and parents took part in an induction ceremony at the Shepard Broad Law Center, located on NSU's main campus in Davie, Fla conducted by Chief Judge Melanie May (81) and Judges Robert Diaz (84), Thomas Lynch(77), Susan Greenhawt(93), Leslie Rothenberg(86) and Ilona Holmes
Of the total 2,890 students who took the general exam, 2314 passed for an 80.1% pass rate; and of the 1,324 students who took the MPRE exam; 1049 passed for a 79.2% pass rate.
About Nova Southeastern University
Located in Davie, Florida, Nova Southeastern University (NSU) is a dynamic fully accredited Florida University dedicated to providing high-quality educational programs of distinction from preschool through the professional and doctoral levels. NSU has more than 29,000 students and is the eighth largest not-for-profit independent institution nationally. The University awards associate's, bachelor's degrees, master's degrees, specialist, and first-professional degrees in a wide range of fields, including business, counseling, computer and information sciences, education, medicine, optometry, pharmacy, dentistry, various health professions, law, marine sciences, early childhood, psychology and other social sciences.  Classified as a research university with "high research activity" by the Carnegie Foundation for the Advancement of Teaching, NSU was also awarded Carnegie's Community Engagement Classification in 2010 for the University's significant commitment to and demonstration of community engagement.   For more information about NSU visit www.nova.edu.
# # #
Contact:
Brandon Hensler
NSU Office of Public Affairs
954-262-5385/5170 Office
954-393-5926 Cell
Brandon.Hensler@nova.edu
---
---