NSU Newsroom
SharkBytes
Horizons
This version of NSU News has been archived as of February 28, 2019. To search through archived articles, visit nova.edu/search. To access the new version of NSU News, visit news.nova.edu.
This version of SharkBytes has been archived as of February 28, 2019. To search through archived articles, visit nova.edu/search. To access the new version of SharkBytes, visit sharkbytes.nova.edu.
NSU Huizenga Business College Launches Women's Success Series
Ongoing, premier resource for female students to help them succeed in the marketplace
FOR IMMEDIATE RELEASE
FORT LAUDERDALE/DAVIE, Fla. – NSU's H. Wayne Huizenga College of Business and Entrepreneurship (HCBE) at Nova Southeastern University (NSU) is launching its first Women's Success Series (WSS) on Wednesday evening,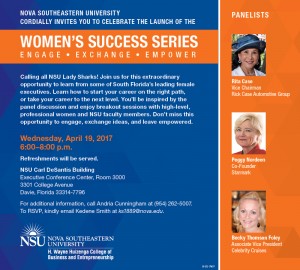 April 19. The goal of the initiative is to give female business students the necessary skills to succeed in today's marketplace. NSU's Huizenga Business College is comprised of 70 percent female students.
"We believe in the power of our students. Ipsa scienta potestas est is the Latin phrase for knowledge, itself is power," said J. Preston Jones, D.B.A., dean of the Huizenga College. This initiative is designed to provide learning experiences that will prepare our students to become effective leaders in their careers. We believe that with hard work, knowledge and perseverance, our students will realize their potential in a very competitive and constantly changing world."
The launch event, intended to gain awareness of the actual Series, which anticipates starting in winter 2017, will be held on NSU's Ft. Lauderdale/Davie campus in the HCBE's Carl DeSantis Building, executive conference room 3000. It will include a panel discussion and breakout sessions with high-level, professional women and NSU faculty members. Panelists include Rita Case, vice chairman, Rick Case Automotive Group; Peggy Nordeen, co-founder, Starmark; and Becky Thomson Foley, associate vice present of Celebrity Cruises.
"Upon thinking of my own work experiences and after several conversations with our female faculty, I realized that we had to reach out to our female students in a different way," said Bay O'Leary, Ph.D., associate professor and chair of the marketing department and one of the creators of the Series. "While working equality has gotten better, inequities and social mores are still having an effect on things like salary, promotions and general attitudes in the work place. Our Women's Success Series will give our students a way to counteract some of those issues."
This actual program will be introduced in winter 2017, when students will be invited to participate in "Women's Success Series" and its eight-week series (spread out over 16 weeks) of non-credit classes led by NSU faculty with guest appearances by WSS members who are community business leaders. Classes will cover such topics as salary negotiations, communications skills, accounting and finance, entrepreneurship and management/human resources. Once the students complete the classes, they will have the opportunity to do a C-Suite Shadow day with WSS Founders. In addition, a goal of the series is to help students develop a strong mentor network.
The event, which begins at 6 p.m., is for NSU HCBE students only. Students can RSVP to Kedene Smith at ks1889@nova.edu. Information can be obtained by contacting Andria Cunningham at 954-262-5007.
Be sure to sign up for NSU's RSS feed so you don't miss any of our news releases, guest editorials and other announcements. Please sign up HERE.
# # #
About the H. Wayne Huizenga College of Business and Entrepreneurship: Serving more than 4,000 students, NSU's H. Wayne Huizenga College of Business and Entrepreneurship offers undergraduate and graduate degree programs in areas such as accounting, finance, human resource management, public administration, supply chain management and more. The college is housed in the five-story state-of-the-art Carl DeSantis Building on NSU's main campus in Fort Lauderdale-Davie, Florida. Programs are also available at multiple locations and online. For more information, please visit: http://www.business.nova.edu
About Nova Southeastern University (NSU): Located in beautiful Fort Lauderdale, Florida, Nova Southeastern University (NSU) is a dynamic research institution dedicated to providing high-quality educational programs at the undergraduate, graduate, and first-professional degree levels. A private, not-for-profit institution, NSU has campuses in Fort Lauderdale, Fort Myers, Jacksonville, Miami, Miramar, Orlando, Palm Beach, and Tampa, Florida, as well as San Juan, Puerto Rico, while maintaining a presence online globally. For more than 50 years, NSU has been awarding degrees in a wide range of fields, while fostering groundbreaking research and an impactful commitment to community. Classified as a research university with "high research activity" by the Carnegie Foundation for the Advancement of Teaching, NSU is 1 of only 50 universities nationwide to also be awarded Carnegie's Community Engagement Classification, and is also the largest private, not-for-profit institution in the United States that meets the U.S. Department of Education's criteria as a Hispanic-serving Institution. Please visit www.nova.edu for more information about NSU and realizingpotential.nova.edu for more information on the largest fundraising campaign in NSU history.
April 12, 2017
Contact Information:
Julie Spechler
954-262-5348 (office) | 954-591-3361 (cell)
julies@nova.edu l www.nova.edu
---
---