NSU Newsroom
SharkBytes
Horizons
This version of NSU News has been archived as of February 28, 2019. To search through archived articles, visit nova.edu/search. To access the new version of NSU News, visit news.nova.edu.
This version of SharkBytes has been archived as of February 28, 2019. To search through archived articles, visit nova.edu/search. To access the new version of SharkBytes, visit sharkbytes.nova.edu.
NSU honors U.S. Veterans by hosting Freedom Fest, an event founded and created by veteran-run H.E.L.O foundation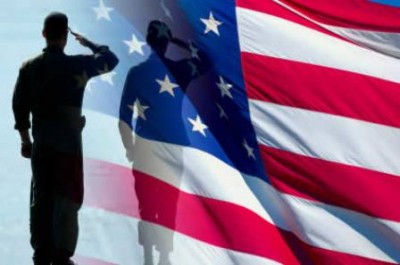 FT. LAUDERDALE-DAVIE, Fla.-Nova Southeastern University (NSU) will be honoring our nation's veterans by hosting the first annual Freedom Fest on Nov. 16 created and founded by the Heroes Entering Life's Opportunities (H.E.L.O.) foundation.  The all-day event will be held on the NSU campus in the quad in front of the Alvin Sherman Library from 11:00am-5:00pm.
An exciting and not-to be-missed portion of the day's activities is the demonstration by the All-Veteran Parachute Team (www.allveteranparachuteteam.com) soaring from the sky onto the NSU campus with smoke trails in tow displaying the various military branches of service. A huge American flag will be gliding behind them while the National Anthem is being sung.   The parachute team will be handing Kelsey De Santis, H.E.L.O. president and NSU student, and Ms. Jackie Travisano, senior vice president and chief operating officer of NSU, a proclamation issued by the Mayor of Davie supporting  Nov. 16th as Freedom Fest Day. The document will be read to students, veterans, military members, faculty, staff, and all patrons attending Freedom Fest.
"Since the inception of the H.E.L.O Foundation, we have been committed to assisting military veterans  transition to civilian life. We do this by partnering with colleges and universities across the country to establish Veteran Resource Centers that will help provide veterans with scholarship opportunities, services, and necessary resources. Through events like Freedom Fest we strive to create public awareness and generate the funds necessary to support our mission," said CEO of the H.E.L.O. Foundation and NSU alum, Fred Roger.
Freedom Fest Day will be jam packed with entertainment and activities including a Davie Police Dept. K-9 Presentation, Miami Dolphins Fan Experience, Miami Marlins Mascot and Energy Team, food, arts and crafts, military vehicles, exotic car and bike show, laser tag and a very special performance by Michaela Paige, a contestant on NBC's The Voice.
Admission is free, parking is $10 and additional donations will be accepted.  All proceeds and donations will benefit the H.E.L.O. foundation.
NSU has been actively supporting service members and their families for more than 40 years. NSU is committed to assisting veterans in taking advantage of their educational benefits and providing them and their families with opportunities for educational and career growth.
Earlier this year the G.I. Jobs and the Guide to Military Friendly Schools included NSU in its list of Military Friendly Colleges and Universities for 2014. The list honors the top 20 percent of colleges, universities and trade schools doing the most to embrace America's veterans as students.  For additional information on NSU services for veterans please visit: www.nova.edu/financialaid/veterans
For more information on Freedom Fest and to register for the event, please visit www.helofoundation.org
###
About Nova Southeastern University: Situated on 314 beautiful acres in Ft. Lauderdale, Florida, Nova Southeastern University (NSU) is a dynamic fully accredited research institution dedicated to providing high-quality educational programs at all levels.  NSU is a not-for-profit independent institution with an enrollment of 27,000 students. NSU awards associate's, bachelor's, master's, specialist, doctoral and first-professional degrees in a wide range of fields.  NSU is classified as a research university with "high research activity" by the Carnegie Foundation for the Advancement of Teaching, and it is one of only 37 universities nationwide to also be awarded Carnegie's Community Engagement Classification.  For more information visit www.nova.edu.
Media Contact:
Vera Mandilovitch | Office of Public Affairs
954-262-5309 (office)
954-882-3570 (cell)
vmandilovitch@nova.edu
---
---