NSU Newsroom
SharkBytes
Horizons
This version of NSU News has been archived as of February 28, 2019. To search through archived articles, visit nova.edu/search. To access the new version of NSU News, visit news.nova.edu.
This version of SharkBytes has been archived as of February 28, 2019. To search through archived articles, visit nova.edu/search. To access the new version of SharkBytes, visit sharkbytes.nova.edu.
NSU Encourages Students to Be Proud of Who They Are at its First Ever Celebration of National Coming Out Day – Oct. 11
March at campus highlights unity, freedom of self expression, and diversity
FT. LAUDERDALE-DAVIE, Fla. – A gay Rutgers University student takes his life after being filmed having an intimate encounter. In Texas, a 13-year-old boy shoots himself after being tormented by bullies for being gay. Three more gay teens hang themselves because they see no other way out …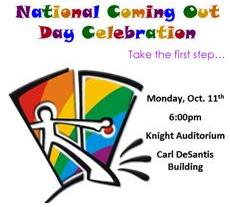 … The list of shocking and tragic headlines goes on for a trend that has become all too common.
But Nova Southeastern University (NSU) students are taking a stand and supporting the gay, lesbian, bisexual and transgendered (GLBT) community by participating in the school's first ever celebration of National Coming Out Day on Monday, Oct. 11 from 6 to 8 p.m.
"It is more important now than ever to take a stand to promote diversity and acceptance on campus," said Maria Espinola, a NSU doctoral student and president of the Student Coalition for Human Rights (SCHR) on campus. "No one should have to hide who they are, live in fear, or pretend to be something they are not."
At NSU, the National Coming Out Day celebration begins at 6 p.m. and will include:
Students Gather to Prepare for March at 6 p.m. – Meeting in the Knight Auditorium of the Carl DeSantis Building, which houses NSU's H. Wayne Huizenga School of Business and Entrepreneurship at 3301 College Ave. in Davie.
Visibility March at 6:15 p.m. – Students will then walk the NSU lawn in front of the Library to make their presence known on campus and promote diversity.
Panel of Speakers, Directly Following Brief Walk – After the walk, a panel will answering questions on issues of pride and visibility. Speakers include: Steve Rothus, author of Gay South Florida;  Enbar Cohen, Assistant Director of Safe Schools South Florida; Marc Paige, representative of the YES Institute; Timothy R. Moragne, Psy.D, former Chairman of the Gay, Lesbian, Bisexual Committee of NCSPP; and students working for GLBT equality. 
Open Mic Declarations – An opportunity for attendees to share their own experiences and strength through their personal coming out stories.
Monday is the 22nd Annual National Coming Out Day, which was started in 1988 as an annual celebration of the march on Washington for GLBT equality and visibility. It is a day for GLBT individuals and their straight alleys to come together and celebrate who they are, and being true to themselves. 
The NSU event is being organized by NSU student Jessica Wilson, and is a registered National Coming Out Day event with the Human Rights Campaign. Wilson is working on her doctorate and serves as the committee coordinator of the Student Coalition for Human Rights (SCHR)'s GLBT Committee. She is also a member of the executive board of the Gay Straight Alliance at NSU Center for Psychological Studies. 
The NSU celebration of National Coming Out Night is being sponsored by the Student Coalition for Human Rights, the Undergraduate Student Government Association, Gay Straight Alliance of CPS, Gay Straight Student Association, Office of Multicultural Affairs, and Multicultural Affairs Programming.
For more information, please call 954-380-2119 or email me402@nova.edu.  
Media Contact:
Andra Liwag, NSU Office of Public Affairs
954-262-5309 (office), 954-873-8494 (cell), andrali@nova.edu
---
---