NSU Newsroom
SharkBytes
Horizons
This version of NSU News has been archived as of February 28, 2019. To search through archived articles, visit nova.edu/search. To access the new version of NSU News, visit news.nova.edu.
This version of SharkBytes has been archived as of February 28, 2019. To search through archived articles, visit nova.edu/search. To access the new version of SharkBytes, visit sharkbytes.nova.edu.
NSU Announces Health Professions Division Commencement Keynote Speakers
Two Ceremonies to be held May 15, 2015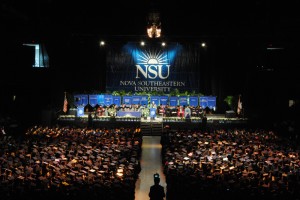 FT. LAUDERDALE-DAVIE, Fla. – Nova Southeastern University (NSU) has announced the keynote speakers for the two Health Professions Division (HPD) Commencement ceremonies being held on Friday, May 15 at NSU's Don Taft University Center.
H. Murray Todd, M.D., F.A.A.N., will deliver the address at the ceremony for graduates of NSU's Colleges of Dental Medicine and Osteopathic Medicine beginning at 10 a.m.
Gabbi Promoff, M.A., will deliver the address at the ceremony for graduates of NSU's Colleges of Health Care Sciences (Physical Therapy), Medical Sciences, Optometry and Pharmacy beginning at 4 p.m.
Todd and Promoff will each receive an honorary doctor of humane letters degree as part of the ceremonies.
"Dr. Todd is a renowned physician, veteran, educator and community leader with more than 40 years of service and Ms. Promoff has dedicated her career to help educate the public on the dangers of smoking," said Fred Lippman, R.Ph., Ed.D., HPD chancellor. "These two individuals are deserving of this recognition and we look forward to hearing them share their words of wisdom with this distinguished class of graduates."
Todd is a prominent psychiatrist and neurologist, board certified by the National Board of Medical Examiners, the American Board of Psychiatry and Neurology, and the American Society of Neuro-Imaging. He is also a Fellow of the American Academy of Neurology.He has served as a member of the NSU College of Osteopathic Medicine's faculty since Nova merged with Southeastern University in 1994, currently serving as chairman of neurology. He also teaches in NSU's Residency Program.
Todd has hospital affiliations with Broward Health, Holy Cross Hospital and Boca Raton Regional Hospital. He played a vital role in establishing both the Memory Disorder Center and Neurological Institute at Broward Health North (BHN) and currently serves as medical director for both. Additionally, he was instrumental in helping BHN attain Joint Commission Certification for its Alzheimer's disease program, the first and only hospital in the United States to achieve this certification. He has received many honors, including being named "Doctor of the Year" by South Florida Magazine and receiving the "Mark of Excellence Award" from North Broward Hospital District.
Promoff is associate director for policy at the Centers for Disease Control and Prevention's (CDC) Office on Smoking and Health (OSH). In this role, she provides expertise and strategic direction on tobacco control policy and leadership on national and state tobacco control policy initiatives. She also represents OSH on matters related to policy and social and environmental interventions that reduce tobacco use and eliminate exposure to secondhand smoke. Further, she provides essential information to the public and key stakeholders by promoting ensure scientific research and discoveries by OSH through media outreach and other endeavors.
Prior to joining the CDC in 2007, she worked at GolinHarris International providing social marketing expertise to more than 10 state departments of health tobacco prevention and control movements and the American Legacy Foundation's truth® campaign. She is a native of South Florida.
More information on NSU's Commencement exercises can be found online at www.nova.edu/commencement.
# # #
About Nova Southeastern University (NSU): Located in beautiful Fort Lauderdale, Florida, NSU is a dynamic research institution dedicated to providing high-quality educational programs at the undergraduate, graduate and first-professional degrees levels.  An independent, not-for-profit institution with approximately 25,000 students, NSU has campuses in Fort Lauderdale, Fort Myers, Jacksonville, Miami, Miramar, Orlando, Palm Beach and Tampa, Florida as well as  San Juan, Puerto Rico and online globally.  For more than 50 years, NSU has been awarding degrees in a wide range of fields, while fostering groundbreaking research and an impactful commitment to community. Classified as a research university with "high research activity" by the Carnegie Foundation for the Advancement of Teaching, NSU is one of only 37 universities nationwide to also be awarded Carnegie's Community Engagement Classification. For more information, please visit www.nova.edu.
Media Contact:
Jeremy Katzman, M.B.A., APR | Office of Public Affairs
954-262-5408 (office)
954-661-7000 (cell)
j.katzman@nova.edu
---
---