NSU Newsroom
SharkBytes
Horizons
This version of NSU News has been archived as of February 28, 2019. To search through archived articles, visit nova.edu/search. To access the new version of NSU News, visit news.nova.edu.
This version of SharkBytes has been archived as of February 28, 2019. To search through archived articles, visit nova.edu/search. To access the new version of SharkBytes, visit sharkbytes.nova.edu.
NSU and Davie Police Department Working to Increase Police Presence on Campus
Additional Officer Assigned to University School; Sergeant & Lieutenant Provided Office Space on Campus
FOR IMMEDIATE RELEASE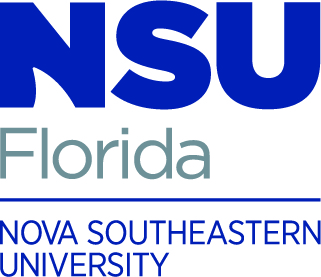 FORT LAUDERDALE/DAVIE, Fla. – For many years, Nova Southeastern University (NSU) has had an excellent working relationship with The Town of Davie and the Davie Police Department. Davie police officers have been assigned to NSU's campus for years and they work closely with the university's Public Safety Department, playing an active role in all safety and security plans of the university.
Now that partnership is being enhanced with the addition of a new officer at NSU's University School and additional office space being provided to police personnel.
"The safety of our students, faculty, staff and visitors on our campus is of utmost concern," said NSU President Dr. George L Hanbury.  "In talking with Town and Police leaders in Davie, they have agreed to increase their presence on our campus and to help, we're providing them with additional office space."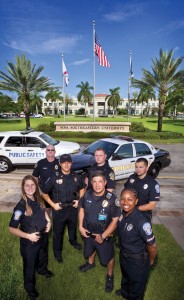 This new office location will provide an additional location for Sergeant E.J. Cuneo, who will oversee the officers assigned to NSU's campus as well as that of Broward College. The office will also be available to Lieutenant Ron Bradley whenever needed.
Campus safety and security is a collaborative effort, and having this additional office space made available to Davie Police personnel on NSU's campus increases the interagency cooperation and efficiency. This enhancement results in a total of seven Davie police officers providing 24/7 Davie coverage to NSU's campus (four to our main campus, one to NSU University School and two on the overnight shift based at the residential halls.) They join the nearly 130 NSU PSD staff (including 82 uniformed personnel).
"This is a win-win for NSU, Davie Police and the community," said Major Dale Engle from the Davie Police Department. "No tax dollars were spent to create the satellite office for us, and the increased police presence will benefit the NSU community as well."
Be sure to sign up for NSU's RSS feed so you don't miss any of our news releases, guest editorials and other announcements. Please sign up HERE. You can also follow us on Twitter @NSUNews.
###
About Nova Southeastern University (NSU): Located in beautiful Fort Lauderdale, Florida, NSU is ranked among U.S. News & World Report's Top 200 National Research Universities and is a dynamic, private research university providing high-quality educational and research programs at the undergraduate, graduate, and first-professional degree levels. Established in 1964, NSU now includes 16 colleges, the 215,000-square-foot Center for Collaborative Research, a private JK-12 grade school, the Mailman Segal Center for Human Development with specialists in Autism, the world-class NSU Art Museum Fort Lauderdale, and the Alvin Sherman Library, Research and Information Technology Center, which is Florida's largest public library. NSU has campuses in Fort Lauderdale, Fort Myers, Jacksonville, Miami, Miramar, Orlando, Palm Beach, and Tampa, Florida, as well as San Juan, Puerto Rico, while maintaining a presence online globally. Classified as a research university with "high research activity" by the Carnegie Foundation for the Advancement of Teaching, NSU is one of only 50 universities nationwide to also be awarded Carnegie's Community Engagement Classification, and is also the largest private institution in the United States that meets the U.S. Department of Education's criteria as a Hispanic-serving Institution. Please visit www.nova.edu for more information about NSU.
MEDIA CONTACT
Joe Donzelli | Office of Media Relations
954-262-2159 (office) | 954-661-4571 (cell)
jdonzelli@nova.edu | www.nova.edu | @NSUJoe
---
---