NSU Newsroom
SharkBytes
Horizons
This version of NSU News has been archived as of February 28, 2019. To search through archived articles, visit nova.edu/search. To access the new version of NSU News, visit news.nova.edu.
This version of SharkBytes has been archived as of February 28, 2019. To search through archived articles, visit nova.edu/search. To access the new version of SharkBytes, visit sharkbytes.nova.edu.
Nova Southeastern University's Shepard Broad Law Center to Welcome U.S. Air Force Col. (Ret) Will A. Gunn as Commencement Speaker on May 10
FORT LAUDERDALE-DAVIE, Fla. – Fort Lauderdale native and General Counsel for the U.S. Department of Veterans Affairs Will A. Gunn, J.D., will address approximately 260 candidates of Nova Southeastern University's Shepard Broad Law Center at its Commencement on May 10 at the BB&T Center in Sunrise, Fla., beginning at 11 a.m.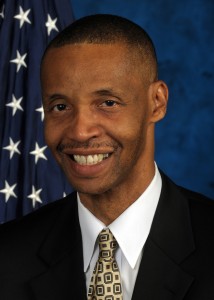 Gunn was sworn in as the general counsel for the Department of Veterans Affairs on May 26, 2009.  Col. Gunn, U.S. Air Force (Ret.) served in various positions within the Air Force including executive officer to the Judge Advocate General, U.S. Air Force JAG Corps and as chief circuit defense counsel, U.S. Air Force, retiring from the military in 2005.
Named as the first-ever chief circuit defense counsel in the Department of Defense Office of Military Commission, Gunn built a defense team and supervised all defense activities for enemy combatants and Guantanamo detainees selected for trial before military commissions. These proceedings were the first of their kind to be conducted by the United States in more than 60 years.  Gunn won acclaim for his principled leadership and commitment to ensuring that detainees received effective representation.  In doing so, he set the tone for military lawyers under his leadership to vigorously defend their clients.  These efforts radically changed public perceptions about military lawyers and raised international attention of the Guantanamo prison camp.
A native of Fort Lauderdale, Gunn graduated from the U.S. Air Force Academy with military honors in 1980.  He is a 1986 cum laude graduate of Harvard Law School and while at Harvard, he was elected president of the Harvard Legal Aid Bureau, the nation's oldest student run legal services organization.  In 1990, he was selected as a White House Fellow and served in the Executive Office of the President in the Office of Cabinet Affairs.  He also has a Master of Laws degree in Environmental Law from the George Washington University School of Law and a Master of Science degree in National Resource Strategy from the Industrial College of the Armed Forces.  He is a licensed minister and he and his wife, Dawn, live in Northern Virginia.
More information on NSU's Commencement exercises can be found online at NSU Commencement 2014
-30-
About the Shepard Broad Law Center: Nova Southeastern University's Law Center offers a rigorous traditional academic program in three-year day and four-year evening versions. NSU Law prides itself on preparing graduates to make a smooth transition from the classroom to the courtroom or boardroom. Lawyering Skills and Values (LSV)-Every student completes a four-semester LSV sequence that combines traditional legal reasoning, writing, and research with an introduction to lawyer interviewing, counseling, negotiating, mediating, advocating, and other critical skills in a simulated law firm experience. For more information, please visit Shepard Broad Law Center.
About Nova Southeastern University: Situated on 314 beautiful acres in Ft. Lauderdale, Florida, Nova Southeastern University (NSU) is a dynamic fully accredited research institution dedicated to providing high-quality educational programs at all levels.  NSU is a not-for-profit independent institution with 27,000 students. NSU awards associate's, bachelor's, master's, specialist, doctoral and first-professional degrees in a wide range of fields. NSU is classified as a research university with "high research activity" by the Carnegie Foundation for the Advancement of Teaching, and it is one of only 37 universities nationwide to also be awarded Carnegie's Community Engagement Classification. For more information, please visit www.nova.edu.  Celebrating 50 years of academic excellence!
Media Contact:
Felecia Henderson, Ed.D. | Office of Public Affairs
954-262-5315 (office) | 954-383-4695 (cell)
fhenders@nova.edu
---
---