NSU Newsroom
SharkBytes
Horizons
This version of NSU News has been archived as of February 28, 2019. To search through archived articles, visit nova.edu/search. To access the new version of NSU News, visit news.nova.edu.
This version of SharkBytes has been archived as of February 28, 2019. To search through archived articles, visit nova.edu/search. To access the new version of SharkBytes, visit sharkbytes.nova.edu.
Nova Southeastern University's Freeland, Buie Receive National Awards
ATLANTA –  March 24, 2014 –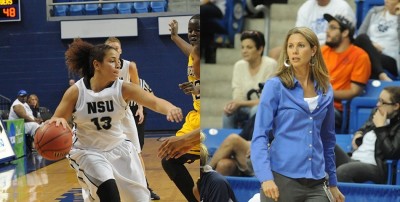 Nova Southeastern University head coach LeAnn Freeland was named Region Five Coach of the Year, while sophomore guard Taylor Buie received Honorable Mention All-American honors, as announced by the Women's Basketball Coaches Association on Monday.
In addition to receiving her first national coaching award, Freeland is now also one of eight finalists for the inaugural Pat Summitt trophy given to the 2014 Russell Athletic/WBCA NCAA Division II National Coach of the Year. Five of the coaches in Erie, Penn., for this year's Elite Eight are among the eight finalists for the award.
Buie (Puyallup, Wash.) was the only Sunshine State Conference Player to receive honors on Monday. In all, 10 players were selected as WBCA All-Americans, as awarded by a vote of the selection committee, while Buie was one of 30 chosen as Honorable Mention, and is one of only four sophomores among the total of 40 recognized.
Freeland is the second WBCA coaching award winner at NSU, the other being Marilyn Rule, South Region Coach of the Year in 2007-08. Buie is the third Shark to receive such honors by the association, following former teammate Meixandra Porter, a first-team selection last year, and Stephanie Sarosi, named honorable mention in 2008-09.
The Sharks return to the hardwood on Tuesday in Elite Eight action, taking on Central Region champion Concordia-St. Paul at 2:30 p.m. at the Erie Insurance Arena.
Click here for the complete release.
###
About Nova Southeastern University: Situated on 314 beautiful acres in Ft. Lauderdale, Florida, Nova Southeastern University (NSU) is a dynamic fully accredited research institution dedicated to providing high-quality educational programs at all levels.  NSU is a not-for-profit independent institution with 27,000 students. NSU awards associate's, bachelor's, master's, specialist, doctoral and first-professional degrees in a wide range of fields. NSU is classified as a research university with "high research activity" by the Carnegie Foundation for the Advancement of Teaching, and it is one of only 37 universities nationwide to also be awarded Carnegie's Community Engagement Classification. For more information, please visit www.nova.edu. Celebrating 50 years of academic excellence!
Media Contact:
Jonathan Fraysure | Athletic Communications Coordinator
(954) 262-8235 (office)
jfraysure@nova.edu
---
---