NSU Newsroom
SharkBytes
Horizons
This version of NSU News has been archived as of February 28, 2019. To search through archived articles, visit nova.edu/search. To access the new version of NSU News, visit news.nova.edu.
This version of SharkBytes has been archived as of February 28, 2019. To search through archived articles, visit nova.edu/search. To access the new version of SharkBytes, visit sharkbytes.nova.edu.
Nova Southeastern University's CIO Named One of South Florida Business & Wealth's 24 C-Level 2015 Apogee Award Honorees
Award Celebrates Tom West's Success and Accomplishments as CIO in Broward County
FOR IMMEDIATE RELEASE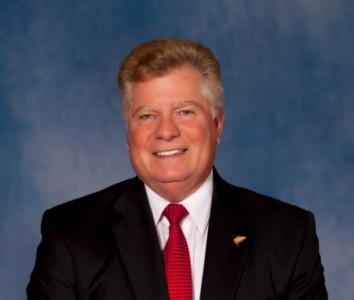 FORT LAUDERDALE–DAVIE, Fla. – South Florida Business & Wealth announced that Tom West, M.B.A., Vice President of Information Technology and Chief Information Officer at Nova Southeastern University (NSU)has been selected one of 24 C-Level Executives as a recipient of its 2015 Apogee Awards. Mr. West is being honored as the Apogee Awards Broward County CIO of the Year.
The awards began in 2014 to celebrate the success of leaders in the categories of chairman/chairwoman, CEO, president, chief operating officer, chief financial officer, chief information officer, chief marketing officer and top HR executive. One award is given in each of South Florida's three counties for each of the eight categories. Nominations for the Apogee Awards were open to the public and included outreach to community leaders.
"We are delighted Mr. West's distinguished leadership is being recognized by South Florida Business and Wealth," said Dr. George Hanbury, President of NSU. "Through his innovative and strategic thinking he is keeping our university at the forefront of instructional technology and business support systems."
Mr. West began working at NSU as its CIO in March 2011 with the charge of advancing the university's strategic goals in order to make increased investments in academia technologies. His distinguished and productive career in corporate America and academia serves as a great asset to the NSU.
Prior to NSU, he served at Health Choice Network in Miami as Chief Technology Officer. His focus on strategic improvement enabled progress in key areas of IT funding, governance and service management. He has also served as CIO at Kaplan Higher Education; Senior Vice President of Global Information Technology and Engineering for Pfizer Pharmaceutical; Vice President of Global Information Technology for Citigroup, Latin America, and as Senior Director of IT for General Electric (Asia Pacific, and Latin America for GE Corporate).
"Today, it's all about teamwork and the Apogee Awards are unique in honoring representatives of the key positions that make up business leadership teams," said Gary Press, Chairman and CEO of SFBW and of Lifestyle Media Group, which publishes 11 magazine titles. "Each of our honorees has outstanding business achievements and they are known for giving back to our community."
The recipients will be honored at a gala event at 5:30 p.m. Wednesday, Oct. 21 at the NSU Art Museum Fort Lauderdale, 1 E. Las Olas Blvd. For further information regarding the Apogee Awards and to purchase tickets, please visit http://apogee.sfbwmag.com/
Presenting sponsor for the Apogee Awards is the Octagon Family of Recruiting Companies, while Gold Sponsors are Quantified IT and Tripp Scott Attorneys at Law, and Silver Sponsors include BankUnited, Comcast Business and the NSU Art Museum Fort Lauderdale.
###
About Nova Southeastern University (NSU): Located in beautiful Fort Lauderdale, Florida, Nova Southeastern University (NSU) is a dynamic research institution dedicated to providing high-quality educational programs at the undergraduate, graduate, and first-professional degree levels. A private, not-for-profit institution with more than 24,000 students, NSU has campuses in Fort Lauderdale, Fort Myers, Jacksonville, Miami, Miramar, Orlando, Palm Beach, and Tampa, Florida, as well as San Juan, Puerto Rico, while maintaining a presence online globally. For more than 50 years, NSU has been awarding degrees in a wide range of fields, while fostering groundbreaking research and an impactful commitment to community. Classified as a research university with "high research activity" by the Carnegie Foundation for the Advancement of Teaching, NSU is 1 of only 37 universities nationwide to also be awarded Carnegie's Community Engagement Classification, and is also the largest private, not-for-profit institution in the United States that meets the U.S. Department of Education's criteria as a Hispanic-serving Institution. Please visit http://www.nova.edu/ for more information.
About South Florida Business & Wealth: SFBW is a publication of Lifestyle Media Group, the largest and fastest growing magazine publisher in South Florida. With 11 local publications, LMG's combined readership of 707,000 includes business professionals, community leaders, entrepreneurs and the young, trendy up & comers. For more information, please visit http://www.lmgfl.com/
October 13, 2015
Julie Spechler| NSU Office of Public Affairs
954-262-5348 (office) |954-591-3361 (cell)
julies@nova.edu | www.nova.edu
Adina Arhire| Marketing Manager
Lifestyle Media Group  | 954-377-9596(office)
aarhire@lmgfl.com
---
---