NSU Newsroom
SharkBytes
Horizons
This version of NSU News has been archived as of February 28, 2019. To search through archived articles, visit nova.edu/search. To access the new version of NSU News, visit news.nova.edu.
This version of SharkBytes has been archived as of February 28, 2019. To search through archived articles, visit nova.edu/search. To access the new version of SharkBytes, visit sharkbytes.nova.edu.
Nova Southeastern University's Abraham S. Fischler College of Education Dedicates Distance Education Museum and Café to Honor Dr. Fischler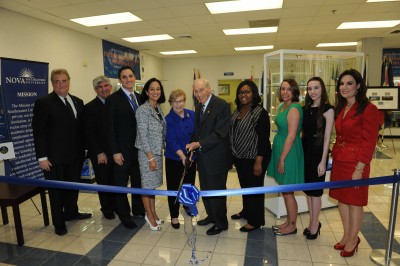 FT. LAUDERDALE-DAVIE, Fla. –– Nova Southeastern University (NSU) representatives and friends of NSU President Emeritus Abraham S. Fischler, Ed.D., joined the Abraham S. Fischler College of Education to honor Dr. Fischler's life in distance education, and to dedicate the Abraham S. Fischler College of Education Distance Education Museum & Café. The museum, a legacy project of the Fischler College of Education Student Government Association, will be a living display of distance education documents, memorabilia, and images in the lobby of NSU's North Miami Beach Campus.
The tribute luncheon and ribbon-cutting ceremony for the museum drew nearly 100 NSU officials, Fischler College of Education faculty members, staff, Student Government Association officers, Phi Gamma Sigma national professional society members and Kappa Delta Pi national honorary society members, all joining Dr. Fischler's family and friends.
The museum traces the origin of modern distance education from its beginnings in 1972, when then-Nova University launched the first clusters of distantly-based students earning their educational leadership and higher education doctorates. "Distance" usually connotes technology, but the technology at the time was the telephone and airplane, with which faculty members visited and taught with their far-flung students. Over time, that technology evolved into email, phone-based computers, and eventually fully-integrated video internet learning experiences.
Abraham S. Fischler is an American academic, and was the second president of Nova Southeastern University. He graduated from Columbia University in 1959 with his Ed.D. He went on to serve as Assistant Professor of Science Education at Harvard University and Professor of Education at the University of California, Berkeley before joining the fledgling Nova University of Advanced Technology in 1966. Fischler served as Dean of Graduate Studies and Director of the Behavioral Sciences Center from 1966 to 1969. He became the President of then Nova University in 1970 and was President until 1992.
During his tenure as President, then Nova University, developed and createdthe first doctoral distance education program in the country in 1971. Fischler's distance education program was a precursor to modern online education programs but was the first of its kind at the time that it was created. Today, Nova Southeastern University remains a leader in distance education, offering programs online and via video conferences, at national and international instruction sites, and at the university's physical campuses. More than 8,000 students are enrolled in Fischler School of Education programs yearly.
After retiring from the presidency, Fischler served on the board of Broward County Public Schools from 1994 to 1998. He has also previously served as a consultant to the Ford Foundation, to various state departments of education, and to school districts in other states. He has authored numerous textbooks, articles, and other publications concerning teaching methods and science education. Today, Fischler is President Emeritus at Nova Southeastern University, and serves on the boards of a variety of community, arts, and education organizations. He continues to be active in the area of K-12 education reform, and publishes a blog titled "The Student is the Class".
Abraham S. Fischler is an educational visionary and as a leader has been steadfast in his commitment to diversity. Dr. Fischler placed a strong emphasis on recruiting a diverse student body and faculty and envisioned the university campus to create an environment where people of all ethnicities could come together to further their education. Today, the Abraham S. Fischler College of Education is among the top education schools in the country as it relates to the number of African-American graduates.
###
About Nova Southeastern University (NSU): Located in beautiful Fort Lauderdale, Florida, NSU is a dynamic research institution dedicated to providing high-quality educational programs at the undergraduate, graduate and first-professional degrees levels.  An independent, not-for-profit institution with approximately 25,000 students, NSU has campuses in Fort Lauderdale, Fort Myers, Jacksonville, Miami, Miramar, Orlando, Palm Beach and Tampa, Florida as well as  San Juan, Puerto Rico and online globally.  For more than 50 years, NSU has been awarding degrees in a wide range of fields, while fostering groundbreaking research and an impactful commitment to community. Classified as a research university with "high research activity" by the Carnegie Foundation for the Advancement of Teaching, NSU is one of only 37 universities nationwide to also be awarded Carnegie's Community Engagement Classification. For more information, please visit www.nova.edu
About Nova Southeastern University's Abraham S. Fischler College of Education: Serving more than 8,000 students in approximately 40 countries, Nova Southeastern University's Abraham S. Fischler College of Education is one of the largest colleges of education at an accredited university in the United States. When we opened our doors more than 40 years ago, we shattered the barriers of traditional learning, causing a ripple effect that can still be felt today. Online, On-site, Or on our modern, 18-acre campus in North Miami Beach, Florida, our ideas, our approach, and our programs—found nowhere else in the nation—inspire our students to inspire the people around them to move the world. For more information, please visit www.fischlerschool.nova.edu
Media Contact:
Vera Mandilovitch | Office of Public Affairs
954-262-5309 (office)
954-882-3570 (cell)
vmandilovitch@nova.edu
---
---