NSU Newsroom
SharkBytes
Horizons
This version of NSU News has been archived as of February 28, 2019. To search through archived articles, visit nova.edu/search. To access the new version of NSU News, visit news.nova.edu.
This version of SharkBytes has been archived as of February 28, 2019. To search through archived articles, visit nova.edu/search. To access the new version of SharkBytes, visit sharkbytes.nova.edu.
Nova Southeastern University to Oversee National Coral Reef Management Fellowship Program
Fellows to be Placed in Jurisdictions Around the Globe - Applications Now Being Accepted
FORT LAUDERDALE-DAVIE, Fla. – Protecting the world's coral reefs has been at the forefront of research for researchers and students at Nova Southeastern University's (NSU) Halmos College of Natural Sciences and Oceanography. Recognized as a world leader, NSU has been researching coral reefs to not only understand these unique animals, but to also help provide information for better protection and conservation of our reefs.
To that end, NSU has been selected as the organization that will oversee a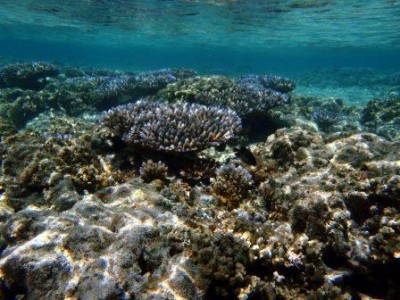 new program – the National Coral Reef Management Fellowship Program. This program is a partnership between NSU, the National Oceanic and Atmospheric Administration's (NOAA) Coral Reef Conservation Program, the Department of the Interior's (DOI) Office of Insular Affairs and the U.S. All Islands Coral Reef Committee (AIC).
This program will create seven, 2-year positions in each of the seven U.S. coral reef jurisdictions. Through these highly qualified fellows this program will help address current management capacity gaps and build long-term capacity in the coral reef jurisdictions of the U.S. . The new vision for the program is for a thriving collaborative fellowship program that builds excellent next generation leaders and capacity for effective local coral reef ecosystem management.
"For many years we've enjoyed an excellent working relationship with NOAA, the DOI and others dedicated to coral reef research and protection and we're very excited to be part of this new program," said Richard Dodge, Ph.D., dean of the Halmos College of Natural Resources and Oceanography.
The seven jurisdictions where these new fellows will be placed include: Florida, Hawaii, American Samoa, Guam, Puerto Rico, the U.S. Virgin Islands, and the Commonwealth of the Northern Mariana Islands.
​"This fellowship program provides an opportunity for fellows to gain professional experience, expertise, and understanding of coral reef resources and management at the local level," said Fran Castro, Chair of the U.S. All Islands Coral Reef Committee. "This collaboration between NOAA, DOI and the AIC is helping to build coral reef management capacity in the jurisdictions."
Overall, this collaborative program helps build local coral reef management capacity by:
Providing a mechanism to generate high quality professionals that help fill the jurisdictions' capacity needs in coral reef management;
Providing on the ground experience in the fields of coral reef science and management, at the local level, that will help to hone the fellows' understanding and professional skill set for working on coral reef ecosystems and resources;
Equipping fellows with experience to guide next steps in pursuing a career working on coral reef issues; and,
Providing opportunities to interact and connect with government agencies and partners working on coral reef ecosystem and related resource management in the local jurisdiction.
The program is currently accepting applications for those interested in being a fellow – applications will be accepted through July 31, 2015 with an anticipated start date of the fellows in January 2016. Requirements include individuals having a bachelor's degree in marine sciences, environmental sciences or a related field and some professional experience related to their educational background – specifics vary per jurisdiction.
Fellows can be expected to work on national goals for climate change, land-based sources of pollution and fishing as well as addressing local needs such as the development of management plans for marine managed areas, increased community involvement in monitoring and response, climate change adaptation and biological monitoring.
For more information, or if you are interested in applying please visit us online (cnso.nova.edu/fellows).
###
About Nova Southeastern University (NSU):Located in beautiful Fort Lauderdale, Florida, Nova Southeastern University (NSU) is a dynamic research institution dedicated to providing high-quality educational programs at the undergraduate, graduate, and first-professional degree levels. A private, not-for-profit institution with more than 24,000 students, NSU has campuses in Fort Lauderdale, Fort Myers, Jacksonville, Miami, Miramar, Orlando, Palm Beach, and Tampa, Florida, as well as San Juan, Puerto Rico, while maintaining a presence online globally. For more than 50 years, NSU has been awarding degrees in a wide range of fields, while fostering groundbreaking research and an impactful commitment to community. Classified as a research university with "high research activity" by the Carnegie Foundation for the Advancement of Teaching, NSU is 1 of only 37 universities nationwide to also be awarded Carnegie's Community Engagement Classification, and is also the largest private, not-for-profit institution in the United States that meets the U.S. Department of Education's criteria as a Hispanic-serving Institution. Please visit www.nova.edu for more information.
About NSU's Halmos College of Natural Sciences and Oceanography: The college provides high-quality undergraduate and graduate (master's and doctoral degrees and certificates) education programs in a broad range of disciplines, including marine sciences, mathematics, biophysics, and chemistry. Researchers carry out innovative basic and applied marine research programs in coral reef biology, ecology, and geology; fish biology, ecology, and conservation; shark and billfish ecology; fisheries science; deep-sea organismal biology and ecology; invertebrate and vertebrate genomics, genetics, molecular ecology, and evolution; microbiology; biodiversity; observation and modeling of large-scale ocean circulation, coastal dynamics, and ocean atmosphere coupling; benthic habitat mapping; biodiversity; histology; and calcification. The college's newest building is the state-of-the-art Guy Harvey Oceanographic Center, an 86,000-square-foot structure filled with laboratories, offices, seminar rooms, an auditorium and indoor and outdoor running sea water facilities. Please visit cnso.nova.edu for more information.
Media Contact
Joe Donzelli
Associate Director / Public Affairs
954-262-2159 (o) / 954-661-4571 (c)
jdonzelli@nova.edu
---
---