NSU Newsroom
SharkBytes
Horizons
This version of NSU News has been archived as of February 28, 2019. To search through archived articles, visit nova.edu/search. To access the new version of NSU News, visit news.nova.edu.
This version of SharkBytes has been archived as of February 28, 2019. To search through archived articles, visit nova.edu/search. To access the new version of SharkBytes, visit sharkbytes.nova.edu.
Nova Southeastern University to Host Florida Straits Conference: Model for International Cooperation
Event Brings Together Experts on Oil Spill Prevention, Emergency Planning and Response & Mitigation
FOR IMMEDIATE RELEASE
FORT LAUDERDALE/DAVIE, Fla. – Nova Southeastern University (NSU) is proud to host The Florida Straits Conference: Model for International Cooperation. Organized by Hunt Petty LP, the conference is open to key stakeholders and experts with an interest in oil spill prevention, emergency planning, response and mitigation.
The conference is scheduled for March 5-6 at NSU's Halmos College of Natural Sciences and Oceanography's Ocean Campus, 8000 Ocean Dr., Hollywood (inside the Mizell-Johnson State Park). Timely and relevant, the conference is an opportunity to "up-the-knowledge curve" on the latest research on spill trajectory prediction and industry technology in capping and containment, as well as progress on governmental cooperation. As potential changes may be made to offshore exploration areas in the Gulf of Mexico and Eastern U.S. seaboard, the conference issues assume even greater relevance to the environmental community.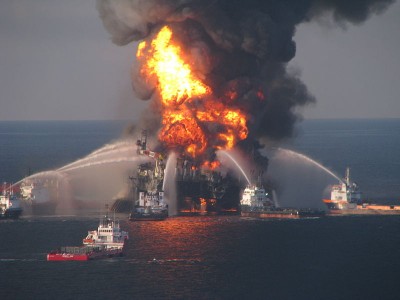 "When it comes to oil spills, it's not a matter of if but when," said Richard Dodge, Ph.D., Dean of NSU's Halmos College. "It's vital that all those involved when a spill occurs – emergency managers, research scientists, governmental officials – understand all the factors and needs so an appropriate response can be initiated. Conferences like this help in those efforts – keeping an open dialogue is key to successful responses."
The goal of this conference is to promote dialogue among stakeholders (academic, scientific research, industry and government) in sustaining the environmental quality of the territorial and shared international seas of the Gulf of Mexico and particularly the Florida Straits.
Three themes run throughout this two-day conference:
Eco-systems, ocean habitats and the potential environmental risks posed by oil spills;
Advanced technology for preventing, containing and mitigating spill related risks and research analyzing oil migration patterns and advanced technology for prediction and tracking;
Developments in governmental cooperative agreements enabling an effective, coordinated international response to an oil spill impacting the waters of the United States, Mexico and Cuba.
For a full listing of the conference agenda and speaker biographies please visit us online HERE.
Notable speakers participating in The Florida Straits Conference include, but are not limited to:
RADM Peter Brown, Commander, Seventh Coast Guard District;
Patricia González, Center of Marine Investigations, University of Havana;
Susanne Lehner, German Aerospace Center (DLR), Germany;
CDR Keith M. Donohue, Seconded to the International Maritime Organization, RAC REMPEITC – Caribe, Curacao.
The Florida Straits Conference is an historical occasion in environmental protection and ecological and economic safeguards for Florida, the Florida Straits and Cuba.
Be sure to sign up for NSU's RSS feed so you don't miss any of our news releases, guest editorials and other announcements. Please sign up HERE.
###
About Nova Southeastern University (NSU): Located in beautiful Fort Lauderdale, Florida, NSU is ranked among U.S. News & World Report's Top 200 National Research Universities and is a dynamic, private research university providing high-quality educational and research programs at the undergraduate, graduate, and first-professional degree levels. Established in 1964, NSU now includes 16 colleges, the 215,000-square-foot Center for Collaborative Research, a private JK-12 grade school, the Mailman Segal Center for Human Development with specialists in Autism, the world-class NSU Art Museum Fort Lauderdale, and the Alvin Sherman Library, Research and Information Technology Center, which is Florida's largest public library. NSU has campuses in Fort Lauderdale, Fort Myers, Jacksonville, Miami, Miramar, Orlando, Palm Beach, and Tampa, Florida, as well as San Juan, Puerto Rico, while maintaining a presence online globally. Classified as a research university with "high research activity" by the Carnegie Foundation for the Advancement of Teaching, NSU is one of only 50 universities nationwide to also be awarded Carnegie's Community Engagement Classification, and is also the largest private institution in the United States that meets the U.S. Department of Education's criteria as a Hispanic-serving Institution. Please visit www.nova.edu for more information about NSU.
About NSU's Halmos College of Natural Sciences and Oceanography: The college provides high-quality undergraduate (bachelor's degree) and graduate (master's and doctoral degrees and certificates) education programs in a broad range of disciplines, including marine sciences, mathematics, biophysics, and chemistry. Researchers carry out innovative basic and applied research programs in coral reef biology, ecology, and geology; fish biology, ecology, and conservation; shark and billfish ecology; fisheries science; deep-sea organismal biology and ecology; invertebrate and vertebrate genomics, genetics, molecular ecology, and evolution; microbiology; biodiversity; observation and modeling of large-scale ocean circulation, coastal dynamics, and ocean atmosphere coupling; benthic habitat mapping; biodiversity; histology; and calcification. The college's newest building is the state-of-the-art Guy Harvey Oceanographic Center, an 86,000-square-foot structure filled with laboratories; offices; seminar rooms; an auditorium; and indoor and outdoor running sea water facilities. Please visit cnso.nova.edu for more information.
About Hunt Petty LP: The mission at HUNT PETTY LP is to promote the achievement of policy parity in the alignment of US and Cuban offshore safety regimes. Such alignment further is sought for a One Gulf of Mexico and Wider Caribbean program for deep water offshore drilling. To learn more, go to www.huntpettylp.com.
February 21, 2018
MEDIA CONTACTS
Joe Donzelli | Office of Public Affairs
954-262-2159 (o) | 954-661-4571 (c)
jdonzelli@nova.edu | www.nova.edu
Lee Hunt | General Partner
Hunt Petty LP
713-818- 3542
lee@leehuntllc.com
---
---