NSU Newsroom
SharkBytes
Horizons
This version of NSU News has been archived as of February 28, 2019. To search through archived articles, visit nova.edu/search. To access the new version of NSU News, visit news.nova.edu.
This version of SharkBytes has been archived as of February 28, 2019. To search through archived articles, visit nova.edu/search. To access the new version of SharkBytes, visit sharkbytes.nova.edu.
Nova Southeastern University to Host Annual A Day for Children Health Fair
Congresswoman Debbie Wasserman-Schultz Scheduled to Attend
FOR IMMEDIATE RELEASE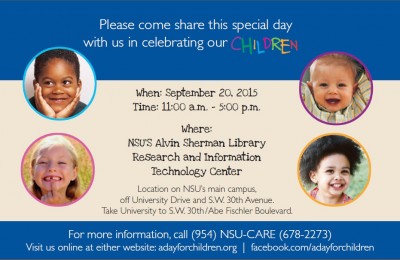 FORT LAUDERDALE-DAVIE, Fla. – Nova Southeastern University (NSU) will once again welcome families to its annual "A Day for Children" health fair, scheduled for this fall.  Children ages 15 years and younger (including infants and toddlers), along with their families, are invited to attend this year's event, which is scheduled from 11 a.m. to 5 p.m, Sunday, Sept. 20, on NSU's main campus,3301 College Ave., Davie., The annual event is a day filled with  fun while focusing on the issue of  health.
Those attending the event will have the opportunity to meet with representatives from NSU's Health Care Centers, which will be providing free assessments for hearing and balance, vision, speech-language, dental health, nutrition tips, and more.
NSU health care providers, organizations, and companies from across Broward County, including Children's Services Council, Hungry Howie's, Joe DiMaggio Children's Hospital, Florida KidCare, Florida Blue, Young at Art Museum, Broward 211, Chris Evert Children's Hospital and Broward Center for the Performing Arts are just a few of the many organizations that will be on-hand at the event.
Congresswoman Debbie Wasserman-Schultz is also expected to be in attendance.
"Events such as these are so meaningful to me because, as a mother of young children myself, I understand the challenges and obstacles of trying to be the best parent possible – providing a healthy environment for your children, making sure your child has regular doctor visits and understanding all of your child's health needs," says Rep. Debbie Wasserman Schultz (FL-23).  "I hope the important information parents receive at A Day For Children will help them in their goal of raising their children in a safe and healthy environment."
While the day is meant to be a fun time for children and families, there is a more serious reason for the annual gathering.
"Community service is one of NSU's core values and our students and faculty are proud to work with our providers and partners to help children and families in South Florida obtain critical access to quality health-care services," said Robert Oller, D.O., chief medical advisor at NSU's Division of Clinical Operations.
Another feature of the event is having the Broward Sheriff's Office and Crimestoppers providing free fingerprinting and ID cards. NSU's Alvin Sherman Library will be on-hand to provide library cards to children and their parents.  Having a library card is essential to a child's learning and can provide them with many educational resources.  Children will also have an opportunity to have their photo taken with the library mascot Sharkey and to receive free haircuts provided by AVEDA and Maggie's hair salons.
The health fair and all services and food are FREE and open to the public. No registration is necessary.  For more information, call 954-NSU-CARE (954-678-2273) or 954-288-2268.
###
About Nova Southeastern University: Located in beautiful Fort Lauderdale, Florida, Nova Southeastern University (NSU) is a dynamic research institution dedicated to providing high-quality educational programs at the undergraduate, graduate, and first-professional degree levels. A private, not-for-profit institution with more than 24,000 students, NSU has campuses in Fort Lauderdale, Fort Myers, Jacksonville, Miami, Miramar, Orlando, Palm Beach, and Tampa, Florida, as well as San Juan, Puerto Rico, while maintaining a presence online globally. For more than 50 years, NSU has been awarding degrees in a wide range of fields, while fostering groundbreaking research and an impactful commitment to community. Classified as a research university with "high research activity" by the Carnegie Foundation for the Advancement of Teaching, NSU is 1 of only 37 universities nationwide to also be awarded Carnegie's Community Engagement Classification, and is also the  largest private, not-for-profit institution in the United States that meets the U.S. Department of Education's criteria as a Hispanic-serving Institution.
September 14, 2015
Vera Mandilovitch | Office of Public Affairs
954-262-5309 (office)|954-882-3570 (cell)
vmandilovitch@nova.edu
---
---