NSU Newsroom
SharkBytes
Horizons
This version of NSU News has been archived as of February 28, 2019. To search through archived articles, visit nova.edu/search. To access the new version of NSU News, visit news.nova.edu.
This version of SharkBytes has been archived as of February 28, 2019. To search through archived articles, visit nova.edu/search. To access the new version of SharkBytes, visit sharkbytes.nova.edu.
Nova Southeastern University Students to be Honored by Broward Sheriff's Office
Students Provide Assistance & Research in Firefighter Behavioral Training Program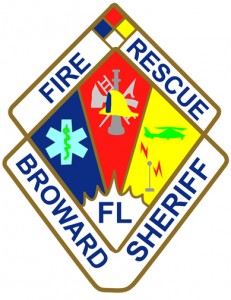 FORT LAUDERDALE-DAVIE, Fla. – Most people understand that being a first responder is a stressful job. It takes a special kind of person to run towards danger when everyone else is running in the opposite direction. While stress is part of their "day job," for many, it carries over to their off hours and can impact their lives.
For the past few years, students at Nova Southeastern University have been working closely with the Broward Sheriff's Department Fire Rescue and Emergency Services in the area of Behavioral Health Training and Research. For the past two years, students in NSU'sCenter for Psychological Studies (CPS) and have been carrying out various activities all with the goal of better understanding the impacts being a first-responder has on individuals and to identify what factors may be contributing to them not being able to cope.
Because of their efforts, NSU students and their professor are being honored at the Broward Sheriff's Office's Annual Award Ceremony, scheduled for 1:30 p.m. Wed., April 29th. The event will take place at the Signature Grand, 6900 W. State Road 84, Davie.
The NSU students being honored are: Luzimar Vega; Sarah Henderson; Nichole B. Vincent; Vera A. Klinoff; and Bryan L. Steinkopf.
"Classroom learning is a cornerstone of education, but getting out in the field and conducting research and investigating theories is where education comes alive," said Vincent Van Hasselt, Ph.D., professor in NSU's CPS who is involved in this project. "We've been working with the Broward Sheriff's Office for many years, with both sides learning from each other. I'm very proud of the work our students have done with BSO – and we look forward to continuing our relationship for many years to come."
Van Hasselt is also the clinical director of NSU's Family Violence Program. He is also a certified police officer with the Plantation, Florida Police Department where he is Training Coordinator of the Crisis Response Team. Van Hasselt serves as a consultant to the Federal Bureau of Investigation (FBI) Behavioral Science, Crisis Negotiation and Employee Assistance Units and is Team Psychologist for the FBI Miami Hostage Negotiation Unit.
Over the past 15 years, he has been a lecturer at the FBI National Academy on the topics of critical incident stress management, and stress and mental health issues in law enforcement personnel and their families. A licensed Clinical Psychologist, Dr. Van Hasselt maintained, for many years, a private practice specializing in the problems of emergency first responders.
In 2013, NSU students participated in a 60-minute behavioral health training with approximately 400 fire-rescue personnel on the prevalence, signs and resources for occupational related problems. Specific topics included stress, depression, suicide, substance abuse, and sleep. The presentation provided an emphasis on prevention via peer attention to warning signs.
And in 2014, NSU began a "Firefighter Behavioral Health Research Initiative" that is designed to assess firefighters' levels of resiliency in coping with the stress and difficulties of their chosen profession as well as their overall psychological and behavioral health. In addition, the project will help identify some of the possible factors that may be contributing to their ability, or inability, to cope, through the use of psychosocial measures. Data was collected from 127 full-time BSO firefighter/paramedics via various methods and is currently being analyzed.
###
About Nova Southeastern University (NSU): Located in beautiful Fort Lauderdale, Florida, NSU is a dynamic research institution dedicated to providing high-quality educational programs at the undergraduate, graduate and first-professional degrees levels. An independent, not-for-profit institution with approximately 25,000 students, NSU has campuses in Fort Lauderdale, Fort Myers, Jacksonville, Miami, Miramar, Orlando, Palm Beach and Tampa, Florida as well as San Juan, Puerto Rico and online globally. For more than 50 years, NSU has been awarding degrees in a wide range of fields, while fostering groundbreaking research and an impactful commitment to community. Classified as a research university with "high research activity" by the Carnegie Foundation for the Advancement of Teaching, NSU is one of only 37 universities nationwide to also be awarded Carnegie's Community Engagement Classification. For more information, please visit www.nova.edu
Media Contact
Joe Donzelli
Associate Director / Public Affairs
954-262-2159 (o)
954-661-4571 (c)
jdonzelli@nova.edu
---
---