NSU Newsroom
SharkBytes
Horizons
This version of NSU News has been archived as of February 28, 2019. To search through archived articles, visit nova.edu/search. To access the new version of NSU News, visit news.nova.edu.
This version of SharkBytes has been archived as of February 28, 2019. To search through archived articles, visit nova.edu/search. To access the new version of SharkBytes, visit sharkbytes.nova.edu.
Nova Southeastern University Researchers to Study Effects of Oil and Dispersants on Coral
Experiments Will Take Up To Four Days - Corals Require Round-The-Clock Monitoring
FORT LAUDERDALE-DAVIE, Fla. – Almost five years ago, the oil spill in the Gulf of Mexico brought to Florida the awareness of South Florida's shores susceptibility to a catastrophic oil spill.  While there appears to have been little to no impact to South Florida's valuable marine ecosystems and environment, the possibility of an oil spill remains a major concern of local, state and federal preparedness and response officials as well as of the marine and oil industries.
Now, a team of Nova Southeastern University (NSU) Oceanographic Center researchers are preparing their latest research project, sponsored by Clean Caribbean & Americas (CCA.) This new endeavor is a multi-year laboratory research project that will study the effects of oil and dispersed oil on coral. This project will be conducted at NSU's Oceanographic Center – one of the few institutions in the world with an active coral nursery.  This research is designed to provide new information on the sensitivity of shallow-water corals to oil and dispersed oil, linking field studies with controlled laboratory experiments that examine a range of possible hydrocarbon exposures.
The first of a series of experiments will begin on Monday, January 5, 2015 and will run for three to four days (up to 96 hours.) Interested media are invited to cover the experiment on the second day – Tuesday, January 6, 2015 – from 10 am. – 2 p.m. at NSU Oceanographic Center, 8000 N. Ocean Drive, Dania Beach (in John U. Lloyd State Park.)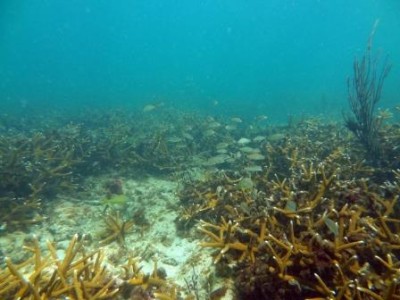 This research project will be managed by NSU Oceanographic Center Ph.D. candidate Abigail Renegar, and supported by other scientists from NSU, NCRI, Texas A&M University and James Cook University in Australia, as well as scientific support from NOAA and several oil companies.
"These are intensive, 48 to 96 hour sensitivity tests which require around-clock observation and monitoring," Renegar said. "But the time and effort will be more than rewarded, as what we learn from these experiments will be essential to decision-making and response should a spill potentially impact coral reefs."
The project will span three years, with early experiments using a novel, custom fabricated in-laboratory dosing system. Later experiments will be upscaled to the larger outdoor SEACOR Foundation experimental "measured exposure" system, to better model real-world environmental conditions.
Fort Lauderdale-based Clean Caribbean & Americas was a key responder in the 2010 Deepwater Horizon oil spill.  A small cadre of highly trained response specialists deployed from CCA's Fort Lauderdale base and conducted more than 80 dispersant spraying flights over oil slicks in the Gulf of Mexico.  The intense dispersant operation, above and below the oil, has since been widely recognized by responders and scientists as the reason relatively little oil reached the gulf coast shoreline.  Nonetheless, the ultimate fate and effects of dispersants are little understood and dispersant use often remains controversial.
Since the Deepwater Horizon spill, Clean Caribbean merged with UK-based Oil Spill Response Limited to form a global oil spill response organization for the international oil industry.  In addition to the base in Fort Lauderdale, Oil Spill Response Limited has bases strategically located in the UK, Norway, Bahrain, South Africa and Singapore.
As a result of the merger, Clean Caribbean is using its resources to support a variety of oil spill preparedness and response initiatives in the western hemisphere.  A major component of that support is the sponsorship of a multi-year research project at NSU's Oceanographic Center on the effects of oil and dispersed oil on living coral.
"Determining thresholds for coral toxicity is a very high priority for response planning in the future," said Clean Caribbean president Paul Schuler. "With that information, responders will be able to better gauge response measures in and around coral, with the objective of providing the greatest opportunity for survival and repopulation."
###
About Nova Southeastern University: Situated on 314 beautiful acres in Ft. Lauderdale, Florida, Nova Southeastern University (NSU) is a dynamic research institution dedicated to providing high-quality educational programs at all levels.  NSU is an independent, not-for-profit institution with 26,000 students at campuses in Fort Lauderdale, Fort Myers, Jacksonville, Miami, Orlando, Palm Beach and Tampa, Florida as well as San Juan, Puerto Rico. NSU awards associate's, bachelor's, master's, specialist, doctoral and first-professional degrees in a wide range of fields. NSU is classified as a research university with "high research activity" by the Carnegie Foundation for the Advancement of Teaching, and it is one of only 37 universities nationwide to also be awarded Carnegie's Community Engagement Classification. For more information, please visit www.nova.edu. Celebrating 50 years of academic excellence!
About NSU's Oceanographic Center: The Oceanographic Center provides high-quality graduate education programs (i.e. master's, doctoral, certificate) in a broad range of marine science disciplines. Center researchers carry out innovative, basic and applied marine and research programs in coral reel biology, ecology, and geology; fish biology, ecology, and conservation; shark and billfish ecology; fisheries science; deep sea organismal biology and ecology; invertebrate and vertebrate genomics, genetics, molecular ecology, and evolution; microbiology; biodiversity;  observation and modeling of large scale ocean circulation, coastal dynamics, and ocean atmosphere coupling;  benthic habitat mapping; biodiversity; histology; and calcification. For more information, please visit http://www.nova.edu/ocean
Media Contact
Joe Donzelli | Office of Public Affairs
954-262-2159 (office)
jdonzelli@nova.edu
---
---