NSU Newsroom
SharkBytes
Horizons
This version of NSU News has been archived as of February 28, 2019. To search through archived articles, visit nova.edu/search. To access the new version of NSU News, visit news.nova.edu.
This version of SharkBytes has been archived as of February 28, 2019. To search through archived articles, visit nova.edu/search. To access the new version of SharkBytes, visit sharkbytes.nova.edu.
Nova Southeastern University Research Shows Hurricanes Help Spread Lionfish
With the 2016 Hurricane Season Upon Us, Storms Can Damage More Than Just Property on Land
FOR IMMEDIATE RELEASE
FORT LAUDERDALE-DAVIE, Fla. – It's something those of us who live in South Florida take as part of life – preparing for Hurricane Season. Stocking up on bottled water, batteries and canned goods is almost a rite of passage each June – November.
Many of us have experienced first-hand or seen the photos and video footage of the wrath a storm like Andrew, Wilma or Katrina can have on our communities. But it's not just those of us on land who are affected by these storms – there's a new wrinkle to the damage a hurricane or tropical storm can inflict. It seems they can also help spread invasive species throughout the Atlantic Ocean and Caribbean Sea.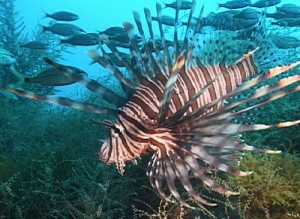 Researchers at Nova Southeastern University's (NSU) Halmos College of Natural Sciences and Oceanography discovered that storms don't only have a dramatic impact on land, they have an equally dramatic effect on ocean currents, which helps the spread of marine invasive species throughout a region. More specifically, NSU researchers looked at the distribution of lionfish in the Florida Straits (the waters between the Gulf of Mexico and the Atlantic Ocean, and between the Florida Keys and Cuba). In a first-ever study in 2015, NSU research scientist Matthew Johnston, Ph.D showed how hurricane-altered ocean currents are able not only to help, but actually accelerate the invasion of a non-native marine species.
"Lionfish are pretty sedentary, so this is like creating express lanes on a superhighway," said Dr. Johnston. "Otherwise, that's a pretty long swim for lionfish babies to make on their own."
The research, conducted by Johnston and NSU professor Sam Purkis, Ph.D., focused on the explosion of lionfish populations in area waters. Their findings were published in the journal Global Change Biology. Another NSU Halmos College professor, Richard Spieler, Ph.D., in the course of his research, was one of the first to see lionfish in Bahamian waters soon after their arrival.
Dr. Johnston said that the research focused on how large storms like hurricanes affect the flow of water in the Florida Straits. Normally, the currents represent a potential barrier to the transport of lionfish eggs and larvae across the Florida Straits. The researchers found that as a hurricane passes, the flow of water shifts from a strong, northern flow to a strong, eastern flow.
It's these changes in flow direction and speed that likely carry lionfish larvae and eggs from Florida to the Bahamas and can explain how lionfish were able to cross the Gulf Stream so soon after their introduction to South Florida waters.
Dr. Johnston said that once they were established in the Bahamas, hurricanes allowed lionfish to spread quickly against the normal, northwestern direction of water flow in the area. In addition, the storms helped increase the spread of lionfish by approximately 45 percent and their population size by 15 percent.
"The study has broader implications in that global climate change may cause an increase in storm frequency and/or intensity, perhaps further accelerating the spread of marine invasives," Dr. Johnston said. "Given that South Florida is a hot spot for exotic marine species, the transport of marine larvae from Florida to the Bahamas on hurricane-altered water flow may become commonplace for invasive and native species alike."
Johnston indicated this research has two implications. First, we need to make a concerted effort to prevent marine introductions to begin with and second, we must implement vigorous, early-detection programs to remove these exotic species before they become invasive and pose a problem. Now the team wants to take this research concept and study similar situations in the South Pacific where typhoons are common.
You can see a video featuring Drs. Johnston and Purkis as they discuss their research online HERE.
Be sure to sign up for NSU's RSS feed so you don't miss any of our news releases, guest editorials and other announcements. Please sign up HERE.
###
About Nova Southeastern University (NSU): Located in beautiful Fort Lauderdale, Florida, Nova Southeastern University (NSU) is a dynamic research institution dedicated to providing high-quality educational programs at the undergraduate, graduate, and first-professional degree levels. A private, not-for-profit institution with more than 26,000 students, NSU has campuses in Fort Lauderdale, Fort Myers, Jacksonville, Miami, Miramar, Orlando, Palm Beach, and Tampa, Florida, as well as San Juan, Puerto Rico, while maintaining a presence online globally. For more than 50 years, NSU has been awarding degrees in a wide range of fields, while fostering groundbreaking research and an impactful commitment to community. Classified as a research university with "high research activity" by the Carnegie Foundation for the Advancement of Teaching, NSU is 1 of only 50 universities nationwide to also be awarded Carnegie's Community Engagement Classification, and is also the largest private, not-for-profit institution in the United States that meets the U.S. Department of Education's criteria as a Hispanic-serving Institution. Please visit www.nova.edu for more information about NSU and realizingpotential.nova.edu for more information on the largest fundraising campaign in NSU history.
About NSU's Halmos College of Natural Sciences and Oceanography: The college provides high-quality undergraduate (bachelor's degree) and graduate (master's and doctoral degrees and certificates) education programs in a broad range of disciplines, including marine sciences, mathematics, biophysics, and chemistry. Researchers carry out innovative basic and applied research programs in coral reef biology, ecology, and geology; fish biology, ecology, and conservation; shark and billfish ecology; fisheries science; deep-sea organismal biology and ecology; invertebrate and vertebrate genomics, genetics, molecular ecology, and evolution; microbiology; biodiversity; observation and modeling of large-scale ocean circulation, coastal dynamics, and ocean atmosphere coupling; benthic habitat mapping; biodiversity; histology; and calcification. The college's newest building is the state-of-the-art Guy Harvey Oceanographic Center, an 86,000-square-foot structure filled with laboratories; offices; seminar rooms; an auditorium; and indoor and outdoor running sea water facilities. Please visit cnso.nova.edu for more information.
June 1, 2016
Joe Donzelli | Office of Public Affairs
954-262-2159 (office) | 954-661-4571 (cell)
jdonzelli@nova.edu
---
---