NSU Newsroom
SharkBytes
Horizons
This version of NSU News has been archived as of February 28, 2019. To search through archived articles, visit nova.edu/search. To access the new version of NSU News, visit news.nova.edu.
This version of SharkBytes has been archived as of February 28, 2019. To search through archived articles, visit nova.edu/search. To access the new version of SharkBytes, visit sharkbytes.nova.edu.
Nova Southeastern University Recognizes Distinguished Alumni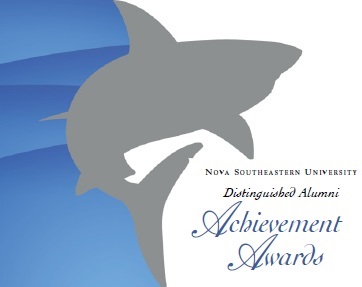 FORT LAUDERDALE-DAVIE, Fla. – Nova Southeastern University (NSU) will salute 16 outstanding graduates at the Distinguished Alumni Achievement Awards reception on Thursday, November 14. The Nova Southeastern University Distinguished Alumni Achievement Award is the highest and most prestigious honor that NSU bestows upon its graduates. The program recognizes alumni who are changing lives and changing the world by demonstrating a record of distinguished service and extraordinary achievement in a particular profession, discipline, organization or community cause.
"The true measure of a university's greatness can be found in the achievements of its alumni," said George L. Hanbury II, Ph.D., president and CEO of Nova Southeastern University.
These awards pay tribute to alumni who have made outstanding contributions to their professions and/or community, have great pride for their alma mater, and are committed to advancing NSU's values and goals.
The event, which will be held at NSU's Grande Oaks Golf Club from 6:00 p.m. to 9:00 p.m., costs $50 per person and includes cocktails, hors d'oeuvres, live music and valet parking. Space is limited. Tickets must be purchased by November 4 by visiting at www.nova.edu/alumni/events.  For additional information call (954) 262-2118.
The honorees are:
Name/Degree

School

Position/Company/Hometown

Gale Allen, D.B.A. '02

H. Wayne Huizenga School of Business & Entrepreneurship

Chief Scientist/National Aeronautics and Space Administration (NASA)

Springfield, Virginia

Mark Blais, Psy.D. '90

Center for Psychological Studies

Chief of Psychology/Massachusetts General Hospital/Harvard Medical School

Melrose, Massachusetts

Polly Bowes-Howell, Ed.D. '99

Fischler School of Education

Regional Dean/International University of the Caribbean

Kingston, Jamaica

Sandra Brown, B.S. '91

Farquhar College of Arts & Sciences

Attorney/Law Offices of Sandra L. Brown, P.C.

Atlanta, Georgia

Jessica Castellanos, M.S. '13

Institute for the Study of Human Service, Health & Justice

Lead Teacher/Behavior Specialist/

Slomin Family Center for Autism and Related Disabilities

Davie, Florida

Osmel Delgado, Pharm.D. '02

College of Pharmacy

Administrative Director, Clinical Operations/ Cleveland Clinic Florida

Miramar, Florida

Helen Ewing, D.H.Sc. '04

College of Health Care Sciences

Director, Doctor of Health Sciences/

A.T. Still University

Gold Canyon, Arizona

Annie M. Forgione, B.S.N. '08, M.S.N '11

College of Nursing

Director of Nursing-General Surgery/Trauma

Lee Memorial Health System

Cape Coral, Florida

Robert W. Kelley, J.D. '81

Shepard Broad Law Center

Attorney, Founding Partner/Kelley Uustal

Fort Lauderdale, FL

Tara E. Levine, M.D.

University School

Doctor/Owner, Deerfield Medical Group

Plantation, Florida

Michele Liscio, B.S. '00, M.S. '03, D.F.M.T. '07

Graduate School of Humanities & Social Sciences

Marriage & Family Therapist/ U.S. Department of Veterans Affairs

Parkland, Florida

Karen McKenzie, D.M.D. '08

College of Dental Medicine

Dentist/Central Florida Health Care

Lake Wales, FL

David S. Metcalf II, M.S. '96 & Ph.D. '98

Graduate School of Computer & Information Sciences

Director of Mixed Emerging Technology Integration Lab at the Institute for Simulation and Training/University of Central Florida/Moving Knowledge (UCF Lab Spin-Off) /President

Merritt Island, Florida

D. Duane Mohon, O.D. '98

College of Optometry

President/Optometrist/Eye Care Alabama, Inc., Jacksonville, Alabama

T. Patrick Quinn, M.S. '96 & Ph.D. '10

Oceanographic Center

Specialist III/Broward County Natural Resources Planning and Management Division, Marine Resource Section

Plantation, Florida

James M. Turner, D.O. '88

College of Osteopathic Medicine

Dean/William Carey University, College of Osteopathic Medicine

Hattiesburg, Mississippi
###
About Nova Southeastern University: Situated on 314 beautiful acres in Ft. Lauderdale, Florida, Nova Southeastern University (NSU) is a dynamic fully accredited research institution dedicated to providing high-quality educational programs at all levels.  NSU is a not-for-profit independent institution with an enrollment of 27,000 students. NSU awards associate's, bachelor's, master's, specialist, doctoral and first-professional degrees in a wide range of fields.  NSU is classified as a research university with "high research activity" by the Carnegie Foundation for the Advancement of Teaching, and it is one of only 37 universities nationwide to also be awarded Carnegie's Community Engagement Classification.  For more information visit www.nova.edu.
Julie Spechler | Office of Public Affairs
954-262-5348 (office)
954-593-3361 (cell)
julies@nova.edu
---
---