NSU Newsroom
SharkBytes
Horizons
This version of NSU News has been archived as of February 28, 2019. To search through archived articles, visit nova.edu/search. To access the new version of NSU News, visit news.nova.edu.
This version of SharkBytes has been archived as of February 28, 2019. To search through archived articles, visit nova.edu/search. To access the new version of SharkBytes, visit sharkbytes.nova.edu.
Nova Southeastern University Receives Title V Grant to Target STEM Education for Hispanic Students
Grant Will Allow Transformational Changes to Better Meet Students' Needs
FOR IMMEDIATE RELEASE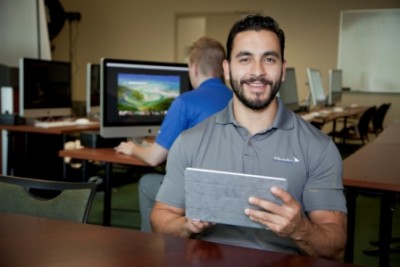 FORT LAUDERDALE-DAVIE, Fla. – Nova Southeastern University (NSU) has received a $2.6 million award from the U.S. Department of Education that will target Science, Technology, Engineering and Math (STEM) education for Hispanic students. The grant, led by NSU's Meline Kevorkian, Ed.D. and Gregory Simco, Ph.D., who serve as co-administrators of the grant, will be used to expand baccalaureate educational opportunities in STEM programs for Hispanic or Latino students and students from ethnically diverse populations. NSU is designated as a Hispanic Serving Institution by the U.S. Department of Education.
 "This grant addresses a variety of identified areas of need at NSU that serve as roadblocks to students, especially our large and growing Hispanic population, preventing them from earning the highest possible academic credentials needed to enter fulfilling STEM careers in fields related to engineering and computing," said Kevorkian, NSU's associate provost.
 This award, which is the third such grant received by NSU in as many years, will bring $525,000 in its first year with an anticipated total of $2.6 million over the five-year project. Over the past five years, NSU has received more than $9 million in Title V grants.
 "Through a combination of new and redesigned instructional and support services, NSU will transform the undergraduate programming creating a more accessible and efficient pathway that will produce well-educated graduates with content knowledge and critical skills necessary for workplace success," said Simco, a professor at NSU's College of Engineering and Computing.
 These grant funds will support the development of numerous new and enhanced strategies to support the success of Engineering and Computing students, including early outreach; faculty involvement in academic and career advising; undergraduate research and internship opportunities; and peer and faculty mentoring. The project's goals are to close achievement gaps in programs and courses where students are at high risk of failure or withdrawal; support transition through completion of the baccalaureate degree; strengthen opportunity equity for all students; and improve operational efficiency and cost-effectiveness involving informed decision-making.
 "We continue to see low numbers of Hispanic students exploring the Science, Technology, Engineering and Mathematics fields, and we want to change that dynamic," said Dr. George Hanbury, NSU's President and CEO. "By increasing the number of Hispanic/Latino students graduating in the STEM fields, they will be able to seek employment in higher paying careers."
###
About Nova Southeastern University (NSU): Located in beautiful Fort Lauderdale, Florida, Nova Southeastern University (NSU) is a dynamic research institution dedicated to providing high-quality educational programs at the undergraduate, graduate, and first-professional degree levels. A private, not-for-profit institution with more than 24,000 students, NSU has campuses in Fort Lauderdale, Fort Myers, Jacksonville, Miami, Miramar, Orlando, Palm Beach, and Tampa, Florida, as well as San Juan, Puerto Rico, while maintaining a presence online globally. For more than 50 years, NSU has been awarding degrees in a wide range of fields, while fostering groundbreaking research and an impactful commitment to community. Classified as a research university with "high research activity" by the Carnegie Foundation for the Advancement of Teaching, NSU is 1 of only 37 universities nationwide to also be awarded Carnegie's Community Engagement Classification, and is also the largest private, not-for-profit institution in the United States that meets the U.S. Department of Education's criteria as a Hispanic-serving Institution. Please visit www.nova.edu for more information.
 About NSU's College of Engineering and Computing (CEC): The CEC provides educational programs of distinction to prepare students for leadership roles in the computer and information sciences field. With internationally recognized faculty, innovative curricula, and flexible online and campus-based formats for its five Bachelor of Science, Master of Science, three Ph.D. and three certificate programs – the CEC's graduates are sought after around the world. Designated a National Center of Academic Excellence in Information Assurance Education, their information assurance curriculum is recognized by the National Security Agency and the Department of Homeland Security. For more information, please visit www.cec.nova.edu   
Contact information:
Joe Donzelli | Office of Public Affairs
954-262-2159 (office) | 954-661-4571 (cell)
jdonzelli@nova.edu | www.nova.edu
---
---