NSU Newsroom
SharkBytes
Horizons
This version of NSU News has been archived as of February 28, 2019. To search through archived articles, visit nova.edu/search. To access the new version of NSU News, visit news.nova.edu.
This version of SharkBytes has been archived as of February 28, 2019. To search through archived articles, visit nova.edu/search. To access the new version of SharkBytes, visit sharkbytes.nova.edu.
Nova Southeastern University Receives Approval to Offer General Engineering Degree Program
NSU First in Florida to Offer Bachelor's Degree in General Engineering
FOR IMMEDIATE RELEASE
FORT LAUDERDALE/DAVIE, Fla. – Nova Southeastern University (NSU) is pleased to announce that it has been approved by the Southern Association of College and Schools Commission on Colleges (SACSCOC) to award the Bachelor of Science in Engineering (BSE) degree in general engineering beginning fall 2016.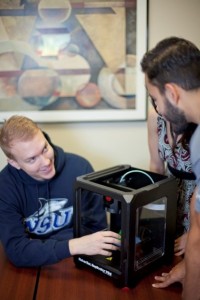 "This is a tremendous step for NSU as we work to enhance our new engineering program," said Yong Tao, the dean of NSU's College of Engineering and Computing. "Our nation has a need for engineers, and a bachelor's degree in general engineering is a pathway to a variety of careers – from manufacturing to health care to banking and finance to transportation systems. This program will provide today's students with the skills and knowledge needed for tomorrow's world."
The General Engineering bachelor's degree at NSU, which is the first to be offered in Florida, is geared towards students who want to take an interdisciplinary approach to learning that combines engineering classes with additional coursework in an area of interest. Curriculum in the program provides students with a solid foundation in physics, calculus, differential equations, and statistics. Students complete core engineering courses in topics like data analysis and engineering design before studying a specialization (either Biomedical Engineering or Industrial and Systems Engineering). This combination of general core and specialized coursework provides students an experience of acquiring both technical and life-long learning skill-sets critical to being a problem solver in wider range of industries and businesses.
NSU's BSE program is distinctive because it incorporates hands-on project applications beginning in the first year and continuing throughout the program. Newly hired faculty will bring their pioneering research to the program. Faculty member, Dr. Manuel Salinas was a post-doctoral fellow at Harvard Medical School before joining NSU's Department of Engineering and Technology in May. He has published several papers in academic journals relating to heart valve tissue engineering studies, with his research areas including vascular tissue engineering, artificial organs, and cardiovascular biomechanics.
For more information about the College of Engineering and Computing and the B.S.E in General Engineering, please visit www.cec.nova.edu or call 954-262-2005.
Be sure to sign up for NSU's RSS feed so you don't miss any of our news releases, guest editorials and other announcements. Please sign up HERE.
###
About Nova Southeastern University (NSU): Located in beautiful Fort Lauderdale, Florida, Nova Southeastern University (NSU) is a dynamic research institution dedicated to providing high-quality educational programs at the undergraduate, graduate, and first-professional degree levels. For more than 50 years, NSU has been awarding degrees in a wide range of fields, while fostering groundbreaking research and an impactful commitment to community. Classified as a research university with "high research activity" by the Carnegie Foundation for the Advancement of Teaching, NSU is 1 of only 50 universities nationwide to also be awarded Carnegie's Community Engagement Classification, and is also the largest private, not-for-profit institution in the United States that meets the U.S. Department of Education's criteria as a Hispanic-serving Institution. Please visit www.nova.edu for more information about NSU and realizingpotential.nova.edu for more information on the largest fundraising campaign in NSU history.
About NSU's College of Engineering and Computing (CEC): Providing educational programs of distinction, CEC prepares students for leadership roles in the computer and information sciences field. With internationally recognized faculty, innovative curricula, and flexible online and campus-based formats for its five Bachelor of Science, five Master of Science, three Ph.D. and two certificate programs – CEC's graduates are sought after around the world. Designated a National Center of Academic Excellence in Information Assurance Education, their information assurance curriculum is recognized by the U.S. Department of Homeland Security and the National Security Agency. For more information, please visit http://cec.nova.edu
August 30, 2016
Joe Donzelli | Office of Public Affairs
954-262-2159 (office) | 954-661-4571 (cell)
jdonzelli@nova.edu | www.nova.edu
---
---