NSU Newsroom
SharkBytes
Horizons
This version of NSU News has been archived as of February 28, 2019. To search through archived articles, visit nova.edu/search. To access the new version of NSU News, visit news.nova.edu.
This version of SharkBytes has been archived as of February 28, 2019. To search through archived articles, visit nova.edu/search. To access the new version of SharkBytes, visit sharkbytes.nova.edu.
Nova Southeastern University Proud to Announce Naming of the Halmos College of Natural Sciences and Oceanography
Financial Gift from Halmos Family to Also Establish Undergraduate Scholarships in Marine Sciences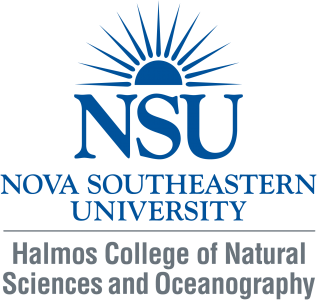 FORT LAUDERDALE-DAVIE, Fla. – Thanks to a generous financial gift from local businessman, entrepreneur and NSU supporter Steve Halmos and his wife, Madelaine, Nova Southeastern University (NSU) is proud to announce the naming of one of its colleges in honor of his family. As part of an overall university-wide realignment to integrate undergraduate and graduate degree programs, the new college will now be called the Halmos College of Natural Sciences and Oceanography.
"My family and I are happy to be part of this new and exciting chapter in the history of NSU," Mr. Halmos said. "For more than 50 years NSU – our hometown university – has been providing educational opportunities to students locally, nationally and internationally while having a positive impact on the economic health of our area. For me, this investment made perfect sense. I'm proud to be associated with NSU and the work it is doing, particularly in the area of ocean sciences."
An invitation-only dedication of the Halmos College of Natural Sciences and Oceanography is scheduled for 5:30-7:30 p.m. Wednesday, June 10 at the NSU Art Museum Fort Lauderdale, 1 East Las Olas Blvd., Fort Lauderdale.
This financial gift will be used to establish undergraduate scholarships for students who are interested in studying marine sciences. Growing NSU's marine sciences program is a major university priority and the Halmos family saw this as a great way to help NSU achieve its goal of attaining national prominence in marine science.
"Steve Halmos is a member of the Board of Trustees of NSU and a long-time supporter of our university, and we're very pleased that he's providing this latest gift to NSU," said Dr. George Hanbury, President of NSU. "His love of the ocean and belief in what NSU stands for led to this day. Because of his family's generosity, students who love the study of the oceans and all of their inhabitants will have chance to follow their dreams and attend NSU."
While the Halmos name is new, what is not new is the commitment to being a world-wide leader in the area of marine and natural sciences and research, leveraging our fine graduate programs to attract the best and brightest undergraduate students. The Halmos College of Natural Sciences and Oceanography faculty, researchers, staff and students pursue studies and investigations in a variety of academic fields including biology, geology, ecology, math, physics and oceanography.
Mr. Halmos has a deep love of the ocean and all the creatures that call it home that dates all the way back to when he was a child and his family moved from California to Key Biscayne.
"It was so pristine – it was a paradise for a kid to grow up," he said. "We spent so much time at the beach or on a boat – that's where my love of the ocean really took root."
He credits his boat captain of nearly 30 years for introducing him to scuba diving, and to his boat's engineer for helping cultivate that love over the years. Their efforts truly opened Mr. Halmos' eyes to a whole new world underwater, which helped make his decision to support NSU's marine sciences effort such a natural fit.
"We're proud to now be associated with NSU, Dr. Guy Harvey and the important work taking place by the students, faculty and researchers," Mr. Halmos said. "It's our hope that our gift will allow the next generation of marine scientists to continue to better understand and, thereby, protect our marine environment."
###
About Nova Southeastern University (NSU): Located in beautiful Fort Lauderdale, Florida, NSU is a dynamic research institution dedicated to providing high-quality educational programs at the undergraduate, graduate and first-professional degrees levels.  An independent, not-for-profit institution with approximately 25,000 students, NSU has campuses in Fort Lauderdale, Fort Myers, Jacksonville, Miami, Miramar, Orlando, Palm Beach and Tampa, Florida as well as  San Juan, Puerto Rico and online globally.  For more than 50 years, NSU has been awarding degrees in a wide range of fields, while fostering groundbreaking research and an impactful commitment to community. Classified as a research university with "high research activity" by the Carnegie Foundation for the Advancement of Teaching, NSU is one of only 37 universities nationwide to also be awarded Carnegie's Community Engagement Classification. For more information, please visit www.nova.edu
About NSU's Halmos College of Natural Sciences and Oceanography: Located on two campuses, one at the entrance to Port Everglades with immediate access to the Atlantic Ocean and the other at NSU's main campus in Fort Lauderdale, the college provides high-quality undergraduate and graduate education programs in a broad range of disciplines, including natural sciences, marine sciences, mathematics, biology (pre-medical, pre-health profession) and chemistry. Research is done by faculty and students in a number of areas, including coral reefs, physics, genomics, sharks, fisheries, biology, chemistry, and mathematics. One of the college's locations is home to the the state-of-the-art NSU Guy Harvey Oceanographic Center, an 86,000 square-foot Silver LEED Certified structure that contains laboratories, offices, seminar rooms, an auditorium and indoor and outdoor running sea water facilities. For more information, please visit us ONLINE.
Media Contact
Joe Donzelli
Associate Director / Public Affairs
954-262-2159 (o) / 954-661-4571 (c)
jdonzelli@nova.edu
---
---