NSU Newsroom
SharkBytes
Horizons
This version of NSU News has been archived as of February 28, 2019. To search through archived articles, visit nova.edu/search. To access the new version of NSU News, visit news.nova.edu.
This version of SharkBytes has been archived as of February 28, 2019. To search through archived articles, visit nova.edu/search. To access the new version of SharkBytes, visit sharkbytes.nova.edu.
Nova Southeastern University Optometry Faculty Member Earns Prestigious National Designation
FOR IMMEDIATE RELEASE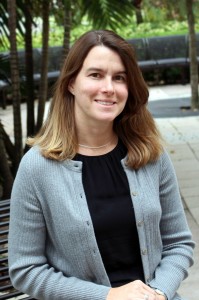 FORT LAUDERDALE-DAVIE, Fla. – Ava K. Bittner, O.D., Ph.D., FAAO, associate professor at Nova Southeastern University's (NSU) College of Optometry, was awarded Research Diplomate status in the Low Vision Section of the American Academy of Optometry (AAO) at the organization's annual meeting in New Orleans in October. Approximately 7 percent of Fellows of the AAO have achieved the distinction of being a Diplomate. Less than 10 percent of practicing optometrists are Fellows of the AAO.
"Becoming a Research Diplomate of the American Academy of Optometry is one of the highest honors I have earned as a researcher in the field of low vision," said Dr. Bittner. "It is very meaningful to receive this honor from my peers and I am grateful to the support Nova Southeastern University has provided me to be able to achieve this level in the optometry profession."
Professionals who become Fellows of the Academy must complete a rigorous candidacy process. Candidates submit extensive written work and must also pass an oral examination. A panel of leading optometrists and vision scientists must approve both the written work and oral examination. Fellows constantly strive for the highest professional standards. The AAO annual meetings are recognized as presenting the latest in research and information on patient and vision care.
"Nova Southeastern University is proud to have researchers at the caliber of Dr. Bittner on our faculty," David Loshin, O.D., Ph.D., FAAO, dean of NSU's College of Optometry. "Reaching this caliber in her career is a testament to her remarkable work in the field of optometry."
Dr. Bittner joined the faculty at NSU's College of Optometry in 2014 and currently serves as an associate professor. She received her optometry degree from the Pennsylvania College of Optometry in 2001 with clinical honors in pediatrics and low vision. She earned a Ph.D. in clinical investigation from the Johns Hopkins School of Public Health in 2011. Dr. Bittner completed a clinical research post-doctoral fellowship at the Johns Hopkins Wilmer Eye Institute's Lions Low Vision Research and Rehabilitation Center from 2002-2007 and then joined the faculty as an assistant professor at the Wilmer Eye Institute prior to coming to NSU.
Dr. Bittner's research interests include the psychophysical assessment of the healthy and diseased visual system, both to increase the understanding of this system and to develop tools to monitor disease and therapeutic outcomes. She is also interested in complementary and alternative approaches to sight preservation and disease/symptom attenuation in retinal degenerations. Dr. Bittner has received funding from the National Institutes of Health (NIH) (K23 and R21 awards) through the National Eye Institute, and is currently working on research evaluating electro-acupuncture and transcorneal electrical stimulation as potential interventions to improve ocular/retinal blood flow and visual function in retinitis pigmentosa.
Dr. Bittner has served as a co-investigator on multi-center clinical trials of devices for patients with retinal degenerations; i.e., Visioncare's implantable miniature telescope for age-related macular degeneration, Optobionics' Artificial Silicon Retina® for retinitis pigmentosa, and Second Sight's Argus II retinal prosthesis for retinitis pigmentosa. She has also served as a consultant for QLT Inc. sponsored international clinical trials evaluating treatment for patients with inherited retinal disease due to RPE65 or LRAT mutations.
Dr. Bittner was a proud recipient of the AAO Ezell Fellowship Award in 2010-2011. Dr. Bittner has been a member of the Association for Research in Vision and Ophthalmology (ARVO) since 2002, served on the ARVO Annual Meeting Program Committee from 2011-2014, and is a member and past chair of the Low Vision Research Group (LVRG). She was inducted into the Phi Beta Kappa academic Honorary Society in 2011. Dr. Bittner (formerly Dr. Kiser) has 25 peer-reviewed publications in highly regarded scientific journals such as the Journal of the American Medical Association (JAMA), the Lancet, Investigative Ophthalmology and Vision Science, British Journal of Ophthalmology, Retina, and Optometry and Vision Science.
# # #
About Nova Southeastern University (NSU): Located in beautiful Fort Lauderdale, Florida, Nova Southeastern University (NSU) is a dynamic research institution dedicated to providing high-quality educational programs at the undergraduate, graduate, and first-professional degree levels. A private, not-for-profit institution with more than 24,000 students, NSU has campuses in Fort Lauderdale, Fort Myers, Jacksonville, Miami, Miramar, Orlando, Palm Beach, and Tampa, Florida, as well as San Juan, Puerto Rico, while maintaining a presence online globally. For more than 50 years, NSU has been awarding degrees in a wide range of fields, while fostering groundbreaking research and an impactful commitment to community. Classified as a research university with "high research activity" by the Carnegie Foundation for the Advancement of Teaching, NSU is 1 of only 37 universities nationwide to also be awarded Carnegie's Community Engagement Classification, and is also the largest private, not-for-profit institution in the United States that meets the U.S. Department of Education's criteria as a Hispanic-serving Institution. Please visit http://www.nova.edu/ for more information.
About the American Academy of Optometry (AAO): The American Academy of Optometry (AAO) enhances excellence in optometric practice by fostering research and disseminating knowledge in vision science through its journal, Optometry and Vision Science, and the continuing education presented at its annual meeting. Fellows of the Academy are committed to the premise that learning is a lifelong obligation of a professional, as is the commitment to expand the profession's knowledge base through ongoing fellowship and exchange.
October 21, 2015
Jeremy Katzman, M.B.A., APR| Office of Public Affairs
954-262-5408 (office) |954-661-7000 (cell)
j.katzman@nova.edu | www.nova.edu
---
---