NSU Newsroom
SharkBytes
Horizons
This version of NSU News has been archived as of February 28, 2019. To search through archived articles, visit nova.edu/search. To access the new version of NSU News, visit news.nova.edu.
This version of SharkBytes has been archived as of February 28, 2019. To search through archived articles, visit nova.edu/search. To access the new version of SharkBytes, visit sharkbytes.nova.edu.
Nova Southeastern University (NSU) Shepard Broad College of Law earns Top National Award from ABA Law Student Division
FOR IMMEDIATE RELEASE
Ft. LAUDERDALE/DAVIE, FLA. – Nova Southeastern University (NSU) Shepard Broad College of Law has been awarded the 2017 Judy M. Weightman Memorial Public Interest Award at the American Bar Association's (ABA) Law Student Division. The honor was announced at the ABA Annual meeting in New York City held earlier this month.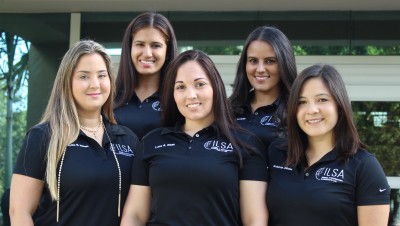 The award recognizes the efforts of the NSU Shepard Broad College of Law International Law Students Association (ILSA) Journal of International and Comparative Law, and its Bilingual component comprised of members who are fluent in two languages.
The ILSA Bilingual component was nominated for its recent expansion to include a service program called the Interpretation and Translation Assistance Program (ITAP).   The service program was created to provide resources to groups, including those who serve indigent clients or undocumented children who don't have the ability to hire independent interpreters. ITAP members completed more than 90 pro bono hours assisting non-profits in translating legal documents and serving as asylum interviews, exceeding exceeded its goals and expectations.
"I'm very proud of our students to have achieved this prestigious award," said Jon. M. Garon, Dean of the College of Law. "It demonstrates the commitment and leadership of our students and exemplifies the commitment to integrating community service with academic excellence."
The Law Student Division Public Interest Award serves as a testament to Professor Judy M. Weightman of the William S. Richardson School of Law at the University of Hawaii who, before losing her battle with breast cancer in 1998, demonstrated her passion for justice and tirelessly advocated on behalf of minorities and the poor. This national award recognizes law students and law schools who have made outstanding contributions to underrepresented groups or public interest causes outside the law school and/or in public service at the law school.
Be sure to sign up for NSU's RSS feed so you don't miss any of our news releases, guest editorials and other announcements. Please sign up HERE.
###
About Nova Southeastern University (NSU): Located in beautiful Fort Lauderdale, Florida, Nova Southeastern University (NSU) is a dynamic research institution dedicated to providing high-quality educational programs at the undergraduate, graduate, and first-professional degree levels. A private, not-for-profit institution, NSU has campuses in Fort Lauderdale, Fort Myers, Jacksonville, Miami, Miramar, Orlando, Palm Beach, and Tampa, Florida, as well as San Juan, Puerto Rico, while maintaining a presence online globally. For more than 50 years, NSU has been awarding degrees in a wide range of fields, while fostering groundbreaking research and an impactful commitment to community. Classified as a research university with "high research activity" by the Carnegie Foundation for the Advancement of Teaching, NSU is 1 of only 50 universities nationwide to also be awarded Carnegie's Community Engagement Classification, and is also the largest private, not-for-profit institution in the United States that meets the U.S. Department of Education's criteria as a Hispanic-serving Institution. Please visit www.nova.edu for more information about NSU and realizingpotential.nova.edu for more information on the largest fundraising campaign in NSU history.
About Shepard Broad College of Law: Nova Southeastern University's College of Law offers a cutting edge, skills-centered academic program in three-year full-time and four-year part-time divisions. With its recently redeveloped clinical programs, every NSU Law student is guaranteed a live-client experience. In-house clinical studies are supplemented by full-time field placement opportunities practicing law in Florida, across the United States, or select locations throughout the globe. To solidify student success after graduation, NSU Law pioneered a curriculum on the business of lawyering through the Global Law Leadership Initiative. NSU Law students have a myriad of curricular opportunities, including a rich, diverse curriculum, concentrations in International Law or Health Law; dual degree programs abroad in Rome, Barcelona, or Prague; dual degree programs at many of NSU's other 17 colleges; and much more.  For more information, please visit www.law.nova.edu.
August 29, 2017
Contact Information:
Kevin Boyd
954-288-9509
kevinboydpr@comcast.net
---
---