NSU Newsroom
SharkBytes
Horizons
This version of NSU News has been archived as of February 28, 2019. To search through archived articles, visit nova.edu/search. To access the new version of NSU News, visit news.nova.edu.
This version of SharkBytes has been archived as of February 28, 2019. To search through archived articles, visit nova.edu/search. To access the new version of SharkBytes, visit sharkbytes.nova.edu.
Nova Southeastern University Mourns the Loss of H. Wayne Huizenga, Celebrates His Legacy
FOR IMMEDIATE RELEASE
FORT LAUDERDALE/DAVIE, Fla. – Wayne.
Very few people can be identified simply by saying their first name. But in South Florida – and the international business world – when you said Wayne, people knew you were referring to H. Wayne Huizenga. His passing not only leaves a hole in the South Florida Community, but it also brings to mind the huge, positive impact he has had on so many lives.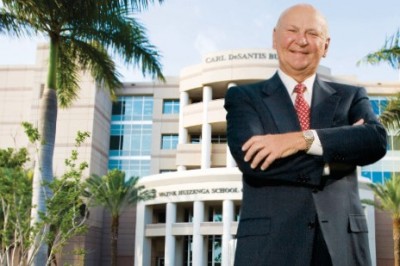 "Wayne was not only a consummate entrepreneur, but a humanitarian," said NSU President Dr. George L. Hanbury. "And as trustee Emeritus, he will always be loved by the NSU community. Wayne's statue will be permanently sitting under a shade tree denoting the seeds of greatness he has planted throughout the university and our entire community."
The namesake of the H. Wayne Huizenga College of Business and Entrepreneurship, he was an NSU Trustee Emeritus. Wayne, his late wife Marti, and their entire family made significant contributions to the university over the years, and just as importantly, helped lead the university with their examples of community leadership and philanthropy.
"We mourn the passing and celebrate the life of a great man," said J. Preston Jones, D.B.A., dean of NSU's Huizenga College of Business and Entrepreneurship. "He inspired us all to strive for excellence and become the very best. He will forever be with us."
In 1999, Mr. Huizenga donated $4 million to NSU, resulting in the university naming the H. Wayne Huizenga School of Business and Entrepreneurship. Huizenga, the first U.S. entrepreneur to launch three Fortune 500 companies — Waste Management, Blockbuster Entertainment and AutoNation — said at that time he was paying tribute to his wife for her own prolific philanthropic activities.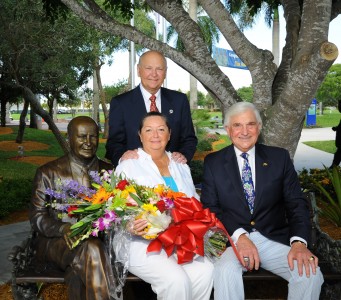 In 2013, NSU unveiled a bronze bench and statue of H. Wayne Huizenga on its Fort Lauderdale/Davie campus. The sculpture was designed and crafted by nationally acclaimed sculptor Robert St. Croix. They sit under a shade tree in front of the Rose and Alfred Miniaci Performing Arts Center.
The bench includes a plaque with a quote from Hanbury that reads: "We all plant seeds for shade trees under which we may never sit; however, H. Wayne Huizenga planted far more than most."
At the well-attended dedication, including fellow Trustees and other university dignitaries, Hanbury said, "H. Wayne Huizenga is a great entrepreneur, a great humanitarian and supporter of education, and a great mentor and friend. All of our students can now walk across our beautiful campus and sit here next to you, and reflect on all the sage advice H. Wayne has imparted over the years. We are proud that H. Wayne Huizenga's first statue is here on Nova Southeastern University's campus, where he has left an indelible mark in history through his unwavering support of higher education – a Trustee for 13 years and now Trustee Emeritus."
Along with his three Fortune 500 companies, Mr. Huizenga developed six New York Stock Exchange listed companies In South Florida, many remember him as having owned three major-league professional sports teams – the Miami Dolphins, Marlins, and Panthers. He was the initial owner of the World Series winning Marlins and of the Stanley Cup Finals Panthers hockey team.
Mr. Huizenga was also founder of Boca Resorts, Inc., an owner and operator of luxury resorts in South Florida, and co-founder of Extended Stay America, which operated in the lodging industry in many areas around the United States.
Mr. Huizenga's wide-ranging community involvement has included membership in many civic organizations, including the Florida Council of 100, the Florida Council on Economic Education, the Salvation Army of Broward County and the Boys and Girls Clubs of Broward County.
Mr. Huizenga is survived by his four children Ray, Pamela, Wayne Jr. and Scott, and 11 grandchildren.
Gifts in his memory may be directed to the Huizenga Legacy Scholarship Fund visiting us online (www.nova.edu/give/wayne).
###
Be sure to sign up for NSU's RSS feed so you don't miss any of our news releases, guest editorials and other announcements. Please sign up HERE.
About Nova Southeastern University (NSU): Located in beautiful Fort Lauderdale, Florida, NSU is ranked among U.S. News & World Report's Top 200 National Research Universities and is a dynamic, private research university providing high-quality educational and research programs at the undergraduate, graduate, and first-professional degree levels. Established in 1964, NSU now includes 16 colleges, the 215,000-square-foot Center for Collaborative Research, a private JK-12 grade school, the Mailman Segal Center for Human Development with specialists in Autism, the world-class NSU Art Museum Fort Lauderdale, and the Alvin Sherman Library, Research and Information Technology Center, which is Florida's largest public library. NSU has campuses in Fort Lauderdale, Fort Myers, Jacksonville, Miami, Miramar, Orlando, Palm Beach, and Tampa, Florida, as well as San Juan, Puerto Rico, while maintaining a presence online globally. Classified as a research university with "high research activity" by the Carnegie Foundation for the Advancement of Teaching, NSU is one of only 50 universities nationwide to also be awarded Carnegie's Community Engagement Classification, and is also the largest private institution in the United States that meets the U.S. Department of Education's criteria as a Hispanic-serving Institution. For more information, please visit www.nova.edu.
---
---