NSU Newsroom
SharkBytes
Horizons
This version of NSU News has been archived as of February 28, 2019. To search through archived articles, visit nova.edu/search. To access the new version of NSU News, visit news.nova.edu.
This version of SharkBytes has been archived as of February 28, 2019. To search through archived articles, visit nova.edu/search. To access the new version of SharkBytes, visit sharkbytes.nova.edu.
Nova Southeastern University is Celebrating International PI Day – March 14 (3/14)
FOR IMMEDIATE RELEASE
FORT LAUDERDALE/DAVIE, Fla. – We all remember it from our math classes – that quirky little symbol π that represents the mathematical constant, pi. However, many of us don't quite remember what it really means – but we do remember the number that represents pi – 3.14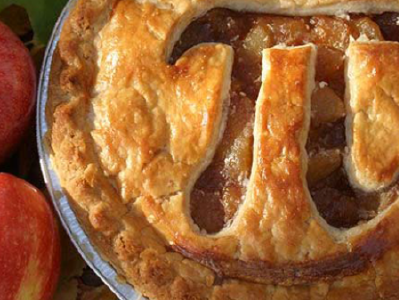 In honor International Pi Day (Wed., March 14, which is 3.14) Nova Southeastern University's (NSU) Halmos College of Natural Sciences and Oceanography is hosting an event. To make it even more pi-centric, NSU's event will start at 1:59 p.m., which means it will be held on 3.14159 (which are the first six digits of PI.)
NSU's mathematics department is inviting students, faculty and staff to stop by and enjoy some dessert – pie, of course, and ice cream – while learning a little bit more about math. There will be various student and faculty presentation as well as some give-a-ways and prizes.
The event is scheduled for 1:59 p.m. Wed., March 14 at NSU's Fort Lauderdale/Davie Campus, 3301 College Ave. in the DeSantis Building.
Oh, and in case you need a refresher, pi was originally defined as the ratio of a circle's circumference to its diameter, it now has various equivalent definitions and appears in many formulas in all areas of mathematics and physics. It is approximately equal to 3.14159. It has been represented by the Greek letter "π" since the mid-18th century, though it is also sometimes spelled out as "pi".
 Be sure to sign up for NSU's RSS feed so you don't miss any of our news releases, guest editorials and other announcements. Please sign up HERE.
###
About Nova Southeastern University (NSU): Located in beautiful Fort Lauderdale, Florida, NSU is ranked among US News & World Report's Top 200 National Research Universities and is a dynamic, private research university providing high-quality educational and research programs at the undergraduate, graduate, and first-professional degree levels. Established in 1964, NSU now includes 16 colleges, the 215,000-square-foot Center for Collaborative Research, a private JK-12 grade school, the Mailman Segal Center for Human Development with specialists in Autism, the world-class NSU Art Museum Fort Lauderdale, and the Alvin Sherman Library, Research and Information Technology Center, which is Florida's largest public library. NSU has campuses in Fort Lauderdale, Fort Myers, Jacksonville, Miami, Miramar, Orlando, Palm Beach, and Tampa, Florida, as well as San Juan, Puerto Rico, while maintaining a presence online globally. Classified as a research university with "high research activity" by the Carnegie Foundation for the Advancement of Teaching, NSU is one of only 50 universities nationwide to also be awarded Carnegie's Community Engagement Classification, and is also the largest private institution in the United States that meets the U.S. Department of Education's criteria as a Hispanic-serving Institution. Please visit www.nova.edu for more information about NSU.
---
---