NSU Newsroom
SharkBytes
Horizons
This version of NSU News has been archived as of February 28, 2019. To search through archived articles, visit nova.edu/search. To access the new version of NSU News, visit news.nova.edu.
This version of SharkBytes has been archived as of February 28, 2019. To search through archived articles, visit nova.edu/search. To access the new version of SharkBytes, visit sharkbytes.nova.edu.
Nova Southeastern University Has One-of-a-Kind Relationship with the NFL
Unique Partnership Provides Academic and Social Opportunities for Students Found at No Other College or University
FOR IMMEDIATE RELEASE
FORT LAUDERDALE/DAVIE, Fla. – Unlike the rest of the schools in the NCAA, Nova Southeastern University's (NSU) football team plays on Sundays.
That's because NSU doesn't field its own football team. Rather, thanks to a one-of-a-kind partnership with the National Football League's Miami Dolphins, our students root on Sundays.
This unique collaboration – Fins Football – provides NSU students with a number of unique opportunities students at other colleges or universities don't have. First, and most visible, is the chance for NSU students to attend Miami Dolphins home games at Hard Rock Stadium for free. NSU students are automatically eligible to attend; all they have to do is pay a one-time $75 refundable fee. And once they're in, students can reserve one additional ticket for a guest.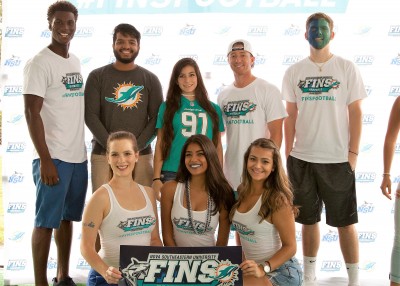 In addition, the team has provided a section just for NSU to tailgate prior to games – affectionately called Shark Village (the NSU mascot is a Mako Shark). Complete with games, music and refreshments, the idea is to provide as full an immersive NFL fan experience as possible.
"Fins Football is a unique partnership that cannot be found at any other university," said Brad Williams, Ed.D., NSU's vice president of student affairs and dean of the college of undergraduate studies. "Our unique relationship with the Dolphins has allowed for our students to enjoy NFL home games and given them exposure to what it takes to be successful with a career in sports."
During the winter semester, students have the opportunity to attend the Careers in Sports lecture series. Each lecture features a panel of Miami Dolphins executives as well as NSU faculty and staff members who specialize in athletics, fitness and performance, team management, training, and sports marketing.
As an added benefit, the Miami Dolphins gives students from NSU the opportunity to apply and interview for paid internships offered during the summer. Previously, students held internship roles in the marketing and communications departments.
For more information about Fins Football, visit www.nova.edu/finsfootball.
# # #
Be sure to sign up for NSU's RSS feed so you don't miss any of our news releases, guest editorials and other announcements. Please sign up HERE.
About Nova Southeastern University (NSU): Located in beautiful Fort Lauderdale, Florida, NSU is ranked among U.S. News & World Report's Top 200 National Research Universities and is a dynamic, private research university providing high-quality educational and research programs at the undergraduate, graduate, and first-professional degree levels. Established in 1964, NSU now includes 16 colleges, the 215,000-square-foot Center for Collaborative Research, a private JK-12 grade school, the Mailman Segal Center for Human Development with specialists in Autism, the world-class NSU Art Museum Fort Lauderdale, and the Alvin Sherman Library, Research and Information Technology Center, which is Florida's largest public library. NSU has campuses in Fort Lauderdale, Fort Myers, Jacksonville, Miami, Miramar, Orlando, Palm Beach, and Tampa, Florida, as well as San Juan, Puerto Rico, while maintaining a presence online globally. Classified as a research university with "high research activity" by the Carnegie Foundation for the Advancement of Teaching, NSU is one of only 50 universities nationwide to also be awarded Carnegie's Community Engagement Classification, and is also the largest private institution in the United States that meets the U.S. Department of Education's criteria as a Hispanic-serving Institution. For more information, please visit www.nova.edu.
June 26, 2018
Media Contact:
Tasha Yohan
954-262-2172
tyohan@nova.edu
---
---