NSU Newsroom
SharkBytes
Horizons
This version of NSU News has been archived as of February 28, 2019. To search through archived articles, visit nova.edu/search. To access the new version of NSU News, visit news.nova.edu.
This version of SharkBytes has been archived as of February 28, 2019. To search through archived articles, visit nova.edu/search. To access the new version of SharkBytes, visit sharkbytes.nova.edu.
Nova Southeastern University College of Dental Medicine Dean Appointed to Committee by U.S. Health and Human Services Secretary Sebelius
FORT LAUDERDALE-DAVIE, Fla.– April 10, 2014 –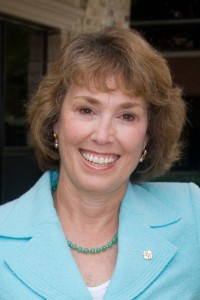 Linda Niessen, D.M.D., M.P.H., M.P.P., dean of the Nova Southeastern University (NSU) College of Dental Medicine, was recently appointed to the Advisory Committee on Training in Primary Care Medicine and Dentistry by U.S. Department of Health and Human Services Secretary Kathleen Sebelius. Niessen's term runs through Aug. 31, 2016.
The Advisory Committee provides advice and recommendations on policy and program development to the Secretary, and is responsible for submitting an annual report to the Secretary and Congress concerning certain activities of the Public Health Service (PHS) Act. Additionally, the Advisory Committee develops, publishes, and implements performance measures and evaluations of certain sections of the PHS Act.
"It is truly an honor to be appointed by Secretary Sebelius to represent the field of dentistry and Nova Southeastern University on a national scale," said Niessen. "The Advisory Committee through its policy recommendations has the ability to improve the health of our Florida residents and the U.S. population through innovative health professional training programs."
The Advisory Committee is comprised of 17 members including practicing health professionals engaged in training; leaders from health professions organizations; faculty from health professions educational institutions, and health professionals from public or private teaching hospitals or community-based settings.
Niessen joined NSU in October 2013. She previously served as a clinical professor in the Department of Restorative Dentistry at Texas A&M University's Baylor College of Dentistry. While at Baylor, Niessen  developed and directed a dental public health residency program and partnered with faculty at the University of North Texas Health Science Center College of Osteopathic Medicine to start a geriatric dentistry and medicine fellowship. Her research interests include geriatric oral research and education, epidemiology of oral diseases in older adults, and oral health public policy.
Among other leadership positions, Niessen was recently elected as a council delegate representing the Dentistry and Oral Health Sciences Section of the American Association for the Advancement of Science, an organization that seeks to advance science, engineering, and innovation throughout the world and publishes the journal, Science.
Niessen received her bachelor's degree in chemistry (Phi Beta Kappa) from the University of New Mexico and her Doctor of Dental Medicine (DMD), Master's in Public Health (MPH) and Master's in Public Policy (MPP), all from Harvard University.
###
About NSU College of Dental Medicine: Predoctoral and postdoctoral dental students of the college benefit from state-of-the-art educational programs and clinical facilities, dedicated staff, and an outstanding faculty recognized annually with numerous awards and honors. Research programs focus on clinical trials, biomaterials, tissue engineering, and innovative methods for delivering preventive dental services.  The College of Dental Medicine's academic programs demonstrate a special commitment to caring for medically complex patients, underserved populations, and special needs children and adults. Students and professionals come from diverse backgrounds to pursue their courses of study at the college. For more information, please visit http://dental.nova.edu/.
About Nova Southeastern University: Situated on 314 beautiful acres in Ft. Lauderdale, Florida, Nova Southeastern University (NSU) is a dynamic fully accredited research institution dedicated to providing high-quality educational programs at all levels.  NSU is a not-for-profit independent institution with 27,000 students. NSU awards associate's, bachelor's, master's, specialist, doctoral and first-professional degrees in a wide range of fields. NSU is classified as a research university with "high research activity" by the Carnegie Foundation for the Advancement of Teaching, and it is one of only 37 universities nationwide to also be awarded Carnegie's Community Engagement Classification. For more information, please visit www.nova.edu. Celebrating 50 years of academic excellence!
Media Contact:
Jeremy Katzman, M.B.A. | Office of Public Affairs
954-262-5408 (office)
954-661-7000 (cell)
j.katzman@nova.edu
---
---