NSU Newsroom
SharkBytes
Horizons
This version of NSU News has been archived as of February 28, 2019. To search through archived articles, visit nova.edu/search. To access the new version of NSU News, visit news.nova.edu.
This version of SharkBytes has been archived as of February 28, 2019. To search through archived articles, visit nova.edu/search. To access the new version of SharkBytes, visit sharkbytes.nova.edu.
Marine Environmental Education Center to Celebrate World Oceans Day & March for the Ocean
Carpenter House Serving as Half-Way Point of Day's Parade
FOR IMMEDIATE RELEASE
FORT LAUDERDALE/DAVIE, Fla. – The world's oceans are under siege. Everywhere you turn you see threats to this ecosystem – whether it be from oil spills, chemical pollution or the proliferation of plastic – the oceans need our help. In fact, recent video evidence surfaced showing a plastic bag at the deepest part of the ocean – the Marianas Trench.
"Humans are the ones who created the problem, so humans should be able to fix it," said Amy Hupp, program coordinator and caretaker at NSU's Marine Environmental Education Center (MEEC) at Broward County Park's historic Carpenter House on Hollywood Beach.
As a way to bring renewed focus on our oceans, June 8 has been designated as World Oceans Day and June 9 will see March for the Ocean events take place around the world, including right here on Hollywood Beach.  The Hollywood event, led by Surfrider Foundation of Broward County and Free Our Seas and Beyond, will begin at 9 a.m. at  Charnow Park, 1500 N. Broadwalk. There will be music, a costume contest (dress up as your favorite ocean animal), a beach bucket decoration contest (bring bucket already decorated to be entered), environmentally themed non-profit group displays and more.
Then at 10 a.m., a marching band will lead parade-goers north to NSU's MEEC at the Carpenter House, 4414 N. Surf Road, Hollywood, which is serving as the half-way point of the March. While at the MEEC, marchers will have the chance to learn about local efforts to help sea turtles, cool off under a sprinkler, refill their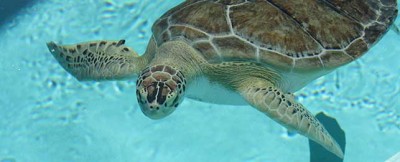 water bottles and enjoy an "icee" (while supplies last.) In addition, participants will have the opportunity to meet Captain, our "forever" green sea turtle and brand ambassador who calls the Carpenter House her home.
"We're thrilled to be part of the day's events so we can show off the MEEC at the Carpenter House," said Hupp. "We're a hidden gem on Hollywood Beach, and the March for the Ocean will give us a chance to share our love for the ocean and sea turtles with the community."
Meghan McGlone, the education coordinator at the MEEC, said that many people take for granted our oceans, and don't realize the damage that is being done both locally and globally. She said it doesn't take much to have an impact on the health of our oceans.
"Just limit how much plastic you use – like straws," McGlone said. "And when you're at the beach, when it's time to leave, along with picking up your trash, if you see other trash lying around, pick up some of that, too. Every little bit helps."
Anyone interested in participating in the 2018 March for the Ocean Broward County can find more information online at:
Be sure to sign up for NSU's RSS feed so you don't miss any of our news releases, guest editorials and other announcements. Please sign up HERE.
###
About Nova Southeastern University (NSU): Located in beautiful Fort Lauderdale, Florida, NSU is ranked among U.S. News & World Report's Top 200 National Research Universities and is a dynamic, private research university providing high-quality educational and research programs at the undergraduate, graduate, and first-professional degree levels. Established in 1964, NSU now includes 16 colleges, the 215,000-square-foot Center for Collaborative Research, a private JK-12 grade school, the Mailman Segal Center for Human Development with specialists in Autism, the world-class NSU Art Museum Fort Lauderdale, and the Alvin Sherman Library, Research and Information Technology Center, which is Florida's largest public library. NSU has campuses in Fort Lauderdale, Fort Myers, Jacksonville, Miami, Miramar, Orlando, Palm Beach, and Tampa, Florida, as well as San Juan, Puerto Rico, while maintaining a presence online globally. Classified as a research university with "high research activity" by the Carnegie Foundation for the Advancement of Teaching, NSU is one of only 50 universities nationwide to also be awarded Carnegie's Community Engagement Classification, and is also the largest private institution in the United States that meets the U.S. Department of Education's criteria as a Hispanic-serving Institution. For more information, please visit www.nova.edu.
MEDIA CONTACT
May 30, 2018
Joe Donzelli | Public Relations & Marketing Communications
954-262-2159 (office) | 954-661-4571 (cell)
jdonzelli@nova.edu | www.nova.edu
---
---