NSU Newsroom
SharkBytes
Horizons
This version of NSU News has been archived as of February 28, 2019. To search through archived articles, visit nova.edu/search. To access the new version of NSU News, visit news.nova.edu.
This version of SharkBytes has been archived as of February 28, 2019. To search through archived articles, visit nova.edu/search. To access the new version of SharkBytes, visit sharkbytes.nova.edu.
Holiday Toy Distribution for More Than 500 Children in Broward and Miami-Dade Counties NSU's Office of Student Media Hosts "Handfuls of Hope"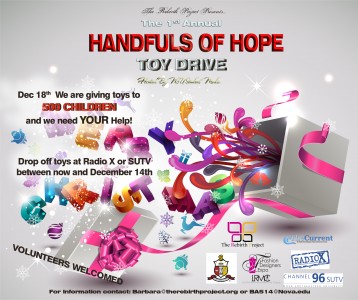 FT. LAUDERDALE-DAVIE, Fla.– December 16, 2013 –
Hundreds of children are in for a holiday surprise thanks to a local charity and university partnering to make a difference. On Wednesday, Dec. 18, Nova Southeastern University's (NSU) Office of Student Media will be hosting its first ever "Handfuls of Hope" toy distribution spearheaded by The Rebirth Project, a local non-profit organization that assists victims of domestic violence. The event will be held at 5-9 p.m. in the NSU Carl DeSantis Building located at 3301 College Ave. in Davie.
Players from the Miami Dolphins and local dignitaries are scheduled to partake in the festivities. More than 500 kids from Broward and Miami-Dade counties will receive toys as part of this event.
Parents and guardians will pick out two toys per child from the "toy shop" while the children enjoy entertainment by Santa Claus, the United States Marines and various other performers . Following the show, the children will be pleasantly surprised when they receive the gifts they can open on Christmas morning. Each child also has the opportunity to play games and participate in arts and crafts and cookie decorating while their parents select gifts.
The Rebirth Project was started by Barbara Archat, an undergraduate student at NSU. The organization assists victims of domestic violence by helping to provide them with food, clothing and toys for their children. For the past several years, the "Handfuls of Hope" toy drive has been held in Indianapolis and has been hugely popular. This year, Archat wanted to provide that same experience for children in South Florida.
"I am thrilled to be hosting the first annual Handfuls of Hope toy distribution event at Nova Southeastern University," said Archat. "We have been doing this in Indianapolis for the last eight years with a lot of success. We were able to help more than 1,200 kids last year and are hoping to assist at least 500 kids this year in South Florida. NSU has always been very involved in the community and it's wonderful to help continue this tradition."
NSU is still accepting toy donations for children ages 0-14 years. If you are interested in donating a toy please bring it to the NSU Student Radio booth in the Rosenthal building located next to the Don Taft University Center on main campus.
About Nova Southeastern University: Situated on 314 beautiful acres in Ft. Lauderdale, Florida, Nova Southeastern University (NSU) is a dynamic fully accredited research institution dedicated to providing high-quality educational programs at all levels. NSU is a not-for-profit independent institution with an enrollment of 27,000 students. NSU awards associate's, bachelor's, master's, specialist, doctoral and first-professional degrees in a wide range of fields. NSU is classified as a research university with "high research activity" by the Carnegie Foundation for the Advancement of Teaching, and it is one of only 37 universities nationwide to also be awarded Carnegie's Community Engagement Classification. For more information visit www.nova.edu.
Media Contact:
---
---