NSU Newsroom
SharkBytes
Horizons
This version of NSU News has been archived as of February 28, 2019. To search through archived articles, visit nova.edu/search. To access the new version of NSU News, visit news.nova.edu.
This version of SharkBytes has been archived as of February 28, 2019. To search through archived articles, visit nova.edu/search. To access the new version of SharkBytes, visit sharkbytes.nova.edu.
HCA East Florida and Nova Southeastern University Join Forces to Create NSU's Research and Medical Center on Nova Southeastern University's Main Campus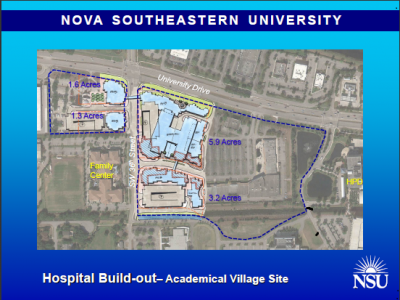 Fort Lauderdale, Florida – HCA East Florida is filing a Certificate of Need (CON) with the Agency for Health Care Administration requesting approval to build and operate a hospital of up to 100 beds which will significantly enhance teaching and research on the main campus of Nova Southeastern University (NSU) in Davie, Florida.  The Hospital will anchor NSU's Academical Village, a Jeffersonian concept that is defined as "a community of scholars and student lives working closely together, combining theory and practice" and serve as the foundation for Broward County's only comprehensive research and medical center.  Teaching and research will serve as the cornerstone of this collaboration between NSU and HCA East Florida which will bring greater choice and access for patients in the community. NSU's Academical Village plans include more than 3 million square feet of medical office, retail, residential, financial, hotel/conferencing, and governmental space, alongside NSU's Health Care Clinics and contiguous to the university's new Center for Collaborative Research facility, of which construction begins in 2014.  Approval of the CON is essential before the hospital can be built.   
The proposed hospital, which will grow to become a major medical and research facility, will be privately owned by HCA East Florida.  No public funds will be utilized in construction of the hospital. HCA East Florida's selection of this site for the hospital is in part due to the location of NSU's main campus being located at the epicenter of the tri-county area, allowing the new hospital to serve all of South Florida.
"HCA East Florida has a long history of providing exceptional healthcare to the residents of South Florida. Through the collaboration with NSU, we expect to continue to enhance the level of care we are able to provide by tying in the research and academic component into our scope of care to patients," says Michael G. Joseph, President of HCA East Florida
The hospital will be located on an integral portion of NSU's 315 acre doctoral high research university campus, home to the nation's 9th largest private, not-for-profit university. The natural synergies between the new HCA East Florida hospital and NSU include the university's degree program offerings in osteopathic medicine, dental medicine, optometry, pharmacy, physical therapy, nursing, occupational therapy, physician assistant, anesthesiologist assistant, mental health, family therapy and more.  The hospital with its focus on teaching and research, will offer research, residencies, internships, clinical rotations, and practicums in these fields and others.  
Dr. George L. Hanbury II, President and CEO of NSU added the following, "But for the development of this hospital, Nova Southeastern University would be unable to complete its full vision for expansion of its research in cancer, diabetes, and other vital academic medical research projects essential for the wellbeing of our community.  When combined with NSU's Center for Collaborative Research, our plethora of medical researchers will have a hospital on its campus as an essential and critical component to fulfill their research protocols.  The synergistic effect of a knowledge based industry of biotech will attract middle and upper income jobs to Broward County, while significantly expanding the depth and breadth of services to our community.  This collaboration of an HCA East Florida hospital and our doctoral high research university with its 22 different health care disciplines will expand the continuum of care for our clinic patients and the underserved communities and enhance access and choice, while creating best in class academic opportunities for our students and faculty.  This collaboration creates an unrivaled opportunity for Broward County and beyond to have access to the constellation of health care fields, research, and a state of the art hospital creating a true medical home for patients' access and choice."   
HCA East Florida operates fourteen South Florida hospitals, twelve surgery centers, six diagnostic imaging centers, with close to 5,000 physicians and more than 15,000 employees. In 2012 HCA East Florida contributed $2.1 billion to the economy.   NSU currently contributes $2.6 billion to Florida's economy and with its more than 4,000 faculty and staff is the largest private employer in Broward County. The hospital and adjoining NSU Center for Collaborative Research facility are expected to generate an estimated seven hundred professional and service support jobs to the region. The total annual economic impact of the Academical Village when completely built out is expected to exceed $1 billion.
###
About Nova Southeastern University: Situated on 315 beautiful acres in Ft. Lauderdale, Florida, Nova Southeastern University (NSU) is a dynamic fully accredited research institution dedicated to providing high-quality educational programs at all levels.  NSU is a not-for-profit independent institution with an enrollment of approximately 27,000 students. NSU awards associate's, bachelor's, master's, specialist, doctoral and first-professional degrees in a wide range of fields. NSU is classified as a research university with "high research activity" by the Carnegie Foundation for the Advancement of Teaching, and it is one of only 37 universities nationwide to also be awarded Carnegie's Community Engagement Classification. For more information visit www.nova.edu.
About HCA East Florida: Located in Ft. Lauderdale, the HCA East Florida Division encompasses 14 hospitals in South Florida and the Treasure Coast, in addition to multiple ambulatory surgery centers and imaging centers, two free-standing emergency care facilities, a supply chain center and an integrated regional laboratory. Together, the network employs more than 15,000 individuals and has nearly 5,000 physicians on staff. For more information visit www.hcaEastFlorida.com
Contact:
Nicole Baxter VP- Marketing
HCA East Florida Media
561.601.1176 Cell
Julie Spechler
Director- Office of Public Affairs
Nova Southeastern University
954-591-3361 Cell
julies@nova.edu
---
---