NSU Newsroom
SharkBytes
Horizons
This version of NSU News has been archived as of February 28, 2019. To search through archived articles, visit nova.edu/search. To access the new version of NSU News, visit news.nova.edu.
This version of SharkBytes has been archived as of February 28, 2019. To search through archived articles, visit nova.edu/search. To access the new version of SharkBytes, visit sharkbytes.nova.edu.
Grand Opening of Nova Southeastern University's Flight Deck Pub Scheduled for April 4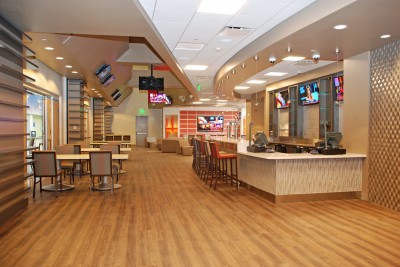 FT. LAUDERDALE-DAVIE, Fla.– April 4, 2014-
The grand opening of the newly renovated NSU Flight Deck Pub will be held on Friday, April 4, 2014 from 11:00 a.m. to midnight.
The NSU Flight Deck Pub is a modern, yet cozy restaurant space for the entire NSU community to enjoy. The facility is fully equipped with indoor and outdoor bars, 17 wide-screen televisions, six outdoor cabanas that seat eight to 10 people each, plush lounge furniture, a multipurpose space, a tranquil plaza, and Spirit Rock that was donated by the Undergraduate Student Government Association. The restaurant will be open from 11:00 a.m. until midnight, equipped with a full kitchen serving pub-style food, beer, and wine. The NSU Flight Deck Pub will also host public and private events and activities throughout the year to make unforgettable memories.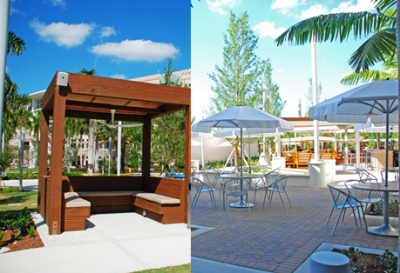 The original Flight Deck was established in 1996 on the second floor of the Rosenthal Student Center (before the building renovation) and later moved to its current location with the opening of the Don Taft University Center in 2006.  In 2011, Pan Student Government Association (Pan SGA) voted to increase their student service fees to create more opportunities for a robust campus life.  This included a 'facilities improvement fund' with the Flight Deck identified as the first project.
Pan SGA represents the 18 student governments across NSU's campus and it has been intimately involved in every phase of the Flight Deck Pub renovation.   The Pan SGA authorized their student service fee money toward the project.  The Pan SGA has played a central role in selecting furnishings and even menu items. .
In an effort to be truly student centered, NSU hosted a contest to give students a chance to start their legacy by creating the NSU Flight Deck Pub logo. Miguel Hernandez won the contest and was deemed the designer of the NSU Flight Deck Pub logo.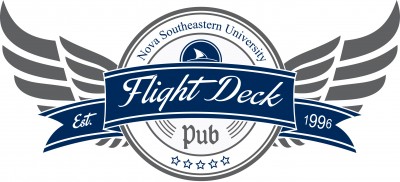 Hernandez started as assistant director for admissions at NSU's Shepard Broad Law Center in June 2011 after relocating from Oakland, California. He then decided to pursue a Master's degree in leadership with the Abraham S. Fischler School of Education during fall of 2013.
"It [attending NSU] has been a wonderful experience so far, "said Hernandez.   "I get to use the material I'm learning in class at my job every day. The concepts have helped make me a better practitioner, and a better person in general. At the center of my teachings is the importance of relationship building, having a genuine enthusiasm for the work that I do, and being mindful and appreciative for the efforts of those who work alongside me."
Hernandez shared that he was very excited about the opportunity to create the logo for the NSU Flight Deck Pub:  "To have an opportunity like this to make a mark on this institution is indicative of the good that NSU does for its students, surrounding communities, and satellite campuses across the country and the Caribbean. I am thrilled and humbled for this honor."
For more information, contact flightdeck@nova.edu or (954) 262-4882 or visit www.nova.edu/flightdeck/
###
About Nova Southeastern University: About Nova Southeastern University: Situated on 314 beautiful acres in Ft. Lauderdale, Florida, Nova Southeastern University (NSU) is a dynamic fully accredited research institution dedicated to providing high-quality educational programs at all levels.  NSU is a not-for-profit independent institution with 27,000 students. NSU awards associate's, bachelor's, master's, specialist, doctoral and first-professional degrees in a wide range of fields. NSU is classified as a research university with "high research activity" by the Carnegie Foundation for the Advancement of Teaching, and it is one of only 37 universities nationwide to also be awarded Carnegie's Community Engagement Classification. For more information, please visit www.nova.edu. Celebrating 50 years of academic excellence!
Media Contact:
---
---