NSU Newsroom
SharkBytes
Horizons
This version of NSU News has been archived as of February 28, 2019. To search through archived articles, visit nova.edu/search. To access the new version of NSU News, visit news.nova.edu.
This version of SharkBytes has been archived as of February 28, 2019. To search through archived articles, visit nova.edu/search. To access the new version of SharkBytes, visit sharkbytes.nova.edu.
Freshman Conley Lifts Sharks to Senior Day Victory
Hailey Conley scores career-high 22 as NSU coasts in season's final home game
FOR IMMEDIATE RELEASE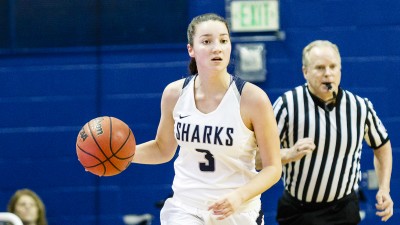 FORT LAUDERDALE, Fla. – The Nova Southeastern University Sharks women's basketball team sent their three-player senior class out of the Rick Case Arena on a high note on Wednesday evening, as they took down the Palm Beach Atlantic Sailfish, 85-71, to pick up a critical Sunshine State Conference win.
INSIDE THE MATCHUP:
FINAL: W, 85-71 RECORDS: Nova Southeastern (12-13, 8-11 SSC), Palm Beach Atlantic Sailfish (4-21, 3-16 SSC)
LOCATION: Rick Case Arena | Fort Lauderdale, Fla.
FOLLOW US: @NSUSHARKS on Twitter, Facebook, Instagram and YouTube  
HOW IT HAPPENED:
1ST QUARTER | The Sharks sensed a big game from 3-point range early on, with their first six field goal attempts of the game being from deep. Despite missing on the first two, the Sharks turned on the heat, connecting on the next four in a row. The Sharks led by as many as nine in the opening period, before Hannah Grim got the Sailfish close again with eight straight to whittle the Sharks' lead down to just three points, 22-19.
2ND QUARTER | Grim continued to put pressure on the Sharks, with a steal and fastbreak layup early in the quarter to cut the lead to one. That ignited something in the Sharks, as they exploded on a 21-4 run and were leading by double digits within five minutes and by 16, 43-27, at halftime.
3RD QUARTER | The Sharks never relinquished their double-digit lead for the last 24 minutes of the game. An Alison Hughes 3-pointer at the 6:52 mark pushed it above 20, 51-29, for the first time. Palm Beach Atlantic brought it down to 15 with seven in a row, but the Sharks' lead remained in the range for the rest of the quarter, including at the end of it, when the Sharks led 64-49.
4TH QUARTER | The Sharks extended their lead back out to 20 at the 6:41 mark, and pushed it as high as 24 a minute later, before a 16-6 PBA run over the final five minutes brought the game to its final score.
INSIDE THE STATS:
Conley led all Sharks with her 22 points and was joined in double figures by Christen Prasse (14), Alison Hughes (11) and Taylor Smith (10). Conley and Prasse shared the team lead with five rebounds each, while Prasse also dished out seven assists. Hughes led with three steals.
The Sharks won the battle on the offensive boards, 14-8, leading to a 12-4 edge in second-chance points. They also forced 18 Sailfish turnovers and committed just 12 themselves, for a 20-12 advantage in points off turnovers.
Hannah Grim scored a game-high 27 points for the Sailfish on 9-for-22 field goal shooting and 8-of-11 at the line. She had all but two of her points by the end of the third quarter, which accounted for just over 50 percent of the team's point total.
The Sharks outscored the Sailfish 21-8 in the second quarter. They shot 7-of-17 (41.2%) from the field, while holding their opponents to just 3-for-13 (23.1 percent) and forcing seven turnovers, which they turned into 12 points.
Seniors Mary Hirt, Amanda Tivenius and Kayla Wright were honored in a Senior Day ceremony prior to the start of the game. Hirt tallied five points, three rebounds and one assist in 16 minutes, shooting 2-for-2 from the field. Tivenius collected a rebound but was 0-for-1 from the field in four minutes.
BEYOND THE BOXSCORE:
In addition to her career-high, Conley also recorded her fourth double-digit effort of the season and her third in the last four games in just her third career start. She is shooting 19-of-32 (59.4 percent) from the field and 12-for-22 (54.5 percent), averaging 13.3 points in just 19.3 minutes over those four games.
The 32 field goals and 13 3-pointers for the Sharks both marked season-highs, and their 85 points were just one short of matching their season-high.
The Sharks are now 24-6 all-time against the Sailfish, including 14-2 at home. This was their 12th consecutive home win over Palm Beach Atlantic, with the last loss coming on February 2, 2002, in the last-ever Sun Conference match-up between the two teams before the Sharks left the NAIA and joined the NCAA Division II ranks.
UP NEXT
The Sharks will conclude the 2017-18 regular season on Saturday, when they take on Florida Tech in Melbourne, Fla. in a game that will decide if the Sharks earn a spot in the upcoming SSC Tournament and if so, where they will have to travel. The Sharks and Panthers are tied for sixth place in the SSC standings, with Saint Leo and Rollins both a game behind in a tie for eighth.
SHARKS ON SOCIAL MEDIA:
Follow along with live updates on Twitter by following @NSU_WBasketball.
###
About Nova Southeastern University (NSU): Located in beautiful Fort Lauderdale, Florida, NSU is ranked among U.S. News & World Report's Top 200 National Research Universities and is a dynamic, private research university providing high-quality educational and research programs at the undergraduate, graduate, and first-professional degree levels. Established in 1964, NSU now includes 16 colleges, the 215,000-square-foot Center for Collaborative Research, a private JK-12 grade school, the Mailman Segal Center for Human Development with specialists in Autism, the world-class NSU Art Museum Fort Lauderdale, and the Alvin Sherman Library, Research and Information Technology Center, which is Florida's largest public library. NSU has campuses in Fort Lauderdale, Fort Myers, Jacksonville, Miami, Miramar, Orlando, Palm Beach, and Tampa, Florida, as well as San Juan, Puerto Rico, while maintaining a presence online globally. Classified as a research university with "high research activity" by the Carnegie Foundation for the Advancement of Teaching, NSU is one of only 50 universities nationwide to also be awarded Carnegie's Community Engagement Classification, and is also the largest private institution in the United States that meets the U.S. Department of Education's criteria as a Hispanic-serving Institution. For more information, please visit www.nova.edu.
February 23, 2018
Contact Information:
Jameson Carter
Athletics Communications
954-262-8275 (office)
jcarter1@nova.edu
---
---