NSU Newsroom
SharkBytes
Horizons
This version of NSU News has been archived as of February 28, 2019. To search through archived articles, visit nova.edu/search. To access the new version of NSU News, visit news.nova.edu.
This version of SharkBytes has been archived as of February 28, 2019. To search through archived articles, visit nova.edu/search. To access the new version of SharkBytes, visit sharkbytes.nova.edu.
Enroll Now for Classes at NSU's 'The Parenting Place'
 An innovative and fun educational environment that supports and nurtures children and their parents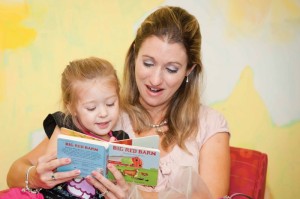 FORT LAUDERDALE, Fla. – The Parenting Place at Nova Southeastern University (NSU) provides a lively learning environment using evidence-based programming to foster child development and help parents acquire strategies to set a strong foundation for their child's future learning. Registration for Fall 2013, a 14-week session, is taking place now on a first-come, first-served basis.  Classes start on Tuesday, September 3.
The Parenting Place offers more than one hundred parent/child and Just for Kids enrichment classes taught by highly trained, experienced early childhood professionals. NSU's The Parenting Place is a part of its Early Learning Programs, which are accredited by the National Association for the Education of Young Children.
"Research has shown that what happens during a child's early years sets the foundation for future learning," said Lorraine Breffni, Ed.D, director of Early Childhood at NSU's Mailman Segal Center for Human Development.  At The Parenting Place, children ages six weeks through 5 years, are introduced to carefully planned learning experiences that help them acquire skills and develop curiosity about the world around them. A variety of age-appropriate learning opportunities are provided in classes that focus on creative art, music, movement, dramatic play, problem solving, scientific exploration, math, literacy activities and cooking.
For parents, The Parenting Place offers a friendly environment for moms, dads, grandparents and other caregivers to develop learning strategies to foster child development. In "The Play Together, Learn Together Series," classes are provided for families with children ages birth through three years old.  Parents participate in play-based activities with their children that support cognitive and social development while learning solutions to many typical parenting challenges.  The first class in the Play Together, Learn Together series is the Amazing Newborn class for children aged 0 through 3 months. The first seven weeks of this 14-week class are free and provide a special opportunity for families to network, develop friendships, and learn about the joys and challenges of parenthood.
Other popular classes include "Art Explosion," with rainbow colors, scissors, clay, paint and paste, children's curiosity and creativity explode with fun in this multi-media art program, and "What's Cooking," where you join your child and prepare yummy, healthy meals while learning cooking, cooperation and making friends.
The 14-week classes begin on September 3 and are approximately $295 each.  The Parenting Place also offers several free groups, workshops, discussions and other programming. Also, inquire about special discounts and scholarships. All classes are held in the Jim and Jan Moran Family Center Village, located on NSU's Davie campus. For more information, call 954-262-7127 or visit www.nova.edu/parenting. To view the interactive brochure, visit https://www.nova.edu/publications/msi/brochure/index.html.
About Nova Southeastern University
Situated on 300 beautiful acres in Ft. Lauderdale, Florida, Nova Southeastern University (NSU) is a dynamic fully accredited research institution dedicated to providing high-quality educational programs at all levels.  NSU is a not-for-profit independent institution with an enrollment of approximately 27,000 students. NSU awards associate's, bachelor's, master's, specialist, doctoral and first-professional degrees in a wide range of fields. NSU is classified as a research university with "high research activity" by the Carnegie Foundation for the Advancement of Teaching, and it is one of only 37 universities nationwide to also be awarded Carnegie's Community Engagement Classification. For more information, visit www.nova.edu.
###
Media Contact:
Julie Spechler
NSU Office of Public Affairs
954-262-5348 Office
julies@nova.edu
---
---