NSU Newsroom
SharkBytes
Horizons
This version of NSU News has been archived as of February 28, 2019. To search through archived articles, visit nova.edu/search. To access the new version of NSU News, visit news.nova.edu.
This version of SharkBytes has been archived as of February 28, 2019. To search through archived articles, visit nova.edu/search. To access the new version of SharkBytes, visit sharkbytes.nova.edu.
"Decision 2010: Before You Vote" is Election Year Finale in Races for Governor, U.S. Senate
Leadership Florida, Florida Press Association producing decisive debates at Nova Southeastern University
TALLAHASSEE—In the climactic finale to the most exciting election in modern Florida history, major candidates for the state's two top posts – Governor and U.S. Senator – are the back-to-back-night main events for LIVE statewide-televised debates in both races. It's all part of the "Decision 2010: Before You Vote" project created and produced by the partnership of Leadership Florida and the Florida Press Association.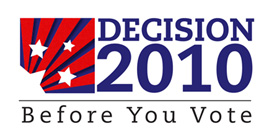 Nova Southeastern University (NSU) in Davie, Florida (Broward County) will become Florida's political epicenter as national attention focuses on the highest stakes debates of the 2010 year. Gubernatorial candidates Alex Sink (D) and Rick Scott (R) will participate in the first of only two statewide televised LIVE debates in the race for Governor, at 7 p.m. on Wednesday, October 20th, at NSU's Rose and Alfred Miniaci Performing Arts Center, in front of an audience of more than 400 – and millions more expected to watch across Florida. 
The night before, October 19th, at 7 p.m., U.S. Senate candidates Kendrick Meek and Marco Rubio – the Democratic and Republican nominees, respectively – along with independent candidiate Charlie Crist are similarly committed to debate in the same NSU venue. 
Attendance to the debates is by invitation only and there are no tickets available to the general public.
However, NSU students, faculty and staff are invited to watch the streamed, televised debates in the Knight Auditorium of the Carl DeSantis building. Each evening will include participation in a live poll to gauge opinions on the debates, and will also feature lively discussions with NSU faculty members and political experts. General seating is available on a first-come, first-served basis starting at 6 p.m. each night. Other viewing locations for the streamed, televised debates across NSU's campuses include: Jacksonville, Tampa, Orlando, West Palm Beach, Kendall, and Fort Myers.
The sponsors for the "Decision 2010: Before You Vote" debate series are Nova Southeastern University, the Florida Association of Insurance Agents, AARP, the Florida League of Mayors, and the Claude Pepper Center and Foundation. Together, these organizations represent millions of Floridians and thousands of businesses and institutions vital to the life of our state.
The LIVE statewide broadcasts of the U.S. Senate and Governor races' debates will be produced by WFOR-TV/Ch. 4, the Miami-Dade/Broward region's CBS affiliate. The programs will be broadcast statewide through a consortium of television stations that includes WFOR-TV (in the South Florida region of Monroe, Miami-Dade and Broward counties); WKMG-TV/Ch. 6 (CBS) in Orlando; WJXT-TV/Ch. 4 in Jacksonville; WPTV-TV/Ch. 5 (NBC) in West Palm Beach; WFTS-TV/Ch. 28 (ABC) in Tampa/St. Petersburg; WCTV-TV/Ch. 6 (CBS) in Tallahassee; WJHG-TV/Ch. 7 (NBC) in Panama City; WINK-TV/Ch. 11 (CBS) in Ft. Myers; WCJB-TV/Ch. 20 (ABC) in Gainesville; WEAR-TV/Ch. 3 (ABC) in Pensacola; and WWSB-TV/Ch. 7 (ABC) in Sarasota.
For the October 19th U.S. Senate debate, candidates will respond to questions from a panel of Florida journalists, including William March of the The Tampa Tribune, Myriam Marquez of the The Miami Herald, and Michael Williams, Political Reporter for WFOR-TV, CBS-Ch. 4 in Miami.  WFOR anchorman, Antonio Mora, will moderate. The following night, Wednesday, October 20, Gubernatorial candidates Rick Scott (R) and Alex Sink (D) will answer questions from Florida journalists Kelley Dunn, co-anchor for WPTV Ch. 5, the NBC affiliate in West Palm Beach, Antonio Fins of the South Florida Sun-Sentinel, and Adam Smith of the St. Petersburg Times.  WFOR anchorman, Antonio Mora, will also moderate this debate.
All candidates meeting the criteria established by the debate partners — which includes at least 15% support (including the full benefit of a 4% +/- margin of error based on a sample size of 625) among all likely voters who will participate in the General Election, as determined by a poll conducted by Mason-Dixon Polling & Research — will be invited to participate.
For more than 28 years, Leadership Florida has provided a non-partisan, non-parochial perspective about statewide topics of concern and opportunities while encouraging collaboration among the state's leadership.
The Florida Press Association is a nonprofit corporation designed to protect the freedoms and advance the professional standards of the press in Florida, with a membership that includes most of Florida's daily and weekly newspapers.
STATEMENTS BY KEY PARTNERS
"In an election that will determine the course for Florida in a critical time in this state's history, Nova Southeastern University is honored to host the gubernatorial and senatorial debates and play a role in helping the public make an informed decision. It seems very appropriate to have an educational institution serve this purpose."  
– Ray Ferrero, J.D., Chancellor of Nova Southeastern University
"We're proud to have an anchoring role in partnering to produce these important debates for Governor and U.S. Senate to enable Floridians to get to know the candidates and where they stand on the critical issues facing our state."
– Cesar Aldama, News Director of WFOR-TV/CH. CBS and the producing station
"The Florida Press Association is pleased to partner with Leadership Florida to present the Decision 2010: Before You Vote series of debates. Thomas Jefferson said 'The only security of all is in a free press. The force of public opinion cannot be resisted when permitted freely to be expressed.' FPA and its members embrace the responsibility to inform citizens in an objective and nonpartisan way before they express their opinions at the polls."
– Sandi Kemp, Chair of the Florida Press Association;  Publisher, Navarre Press
"The debates of Decision 2010: Before You Vote will provide every Florida voter the opportunity to learn more about the candidates and issues in these critical races. Democracy flows from an informed electorate, and we thank our sponsors and partners for joining us to bring these debates to a statewide audience."
– John Streitmatter, Chairman of Leadership Florida, and a Principal with the Leadership Research Institute (LRI, Inc.)
DEBATE SPONSOR PERSPECTIVES
"FAIA and the Trusted Choice agents are proud to support the debates of Decision 2010: Before You Vote. These debates will give candidates an opportunity to engage in dialogue and demonstrate their leadership, and they will give voters a chance to make an informed judgment when they decide Florida's future at the polls."
– Jeff Grady, President and CEO, Florida Association of Insurance Agents
"AARP welcomes the opportunity to help Floridians learn more about issues and candidates in Florida's elections through the 'Decision 2010' debate series. With an estimated 7 million Floridians aged 50 or older and the first Boomers turning 65 this January, issues affecting older Floridians are moving to the forefront all across Florida.   We look forward to a valuable discussion on issues important to Floridians of all generations." 
– Lori Parham, State Director, Florida, AARP
"The debates of 'Decision 2010: Before You Vote' represent Florida's best opportunity to learn more about the important issues facing Florida and the candidates who seek to lead us during these difficult times.  The Florida League of Mayors is proud to be a part of this impressive project, and we are eager for Floridians across our state's more than 400 cities to hear how Florida's next leaders will address the issues facing our state."
– William "Bill" Brooks, Mayor of Belle Isle; President, Florida League of Mayors
"The Claude Pepper Foundation and Center are proud to be a co-sponsor of the 2010 candidate debates. Senator Pepper dedicated his life to fighting for America's seniors and to preserve American democracy, and he would be very proud to be associated with these debates. Every effort must be made to ensure the electorate is informed, and these debates will do a great deal to accomplish that task."
– Tom Spulak, Chairman, Claude Pepper Foundation
Media Contacts:
Wendy Abberger, Leadership Florida
850-521-2129
           
Dean Ridings, Florida Press Association
850-521-1162
Julie Spechler, NSU Office of Public Affairs
954-262-5348, julies@nova.edu
---
---