NSU Newsroom
SharkBytes
Horizons
This version of NSU News has been archived as of February 28, 2019. To search through archived articles, visit nova.edu/search. To access the new version of NSU News, visit news.nova.edu.
This version of SharkBytes has been archived as of February 28, 2019. To search through archived articles, visit nova.edu/search. To access the new version of SharkBytes, visit sharkbytes.nova.edu.
Community Foundation of Broward, AutoNation and the Royal Dames Partner to Support Cancer Research at NSU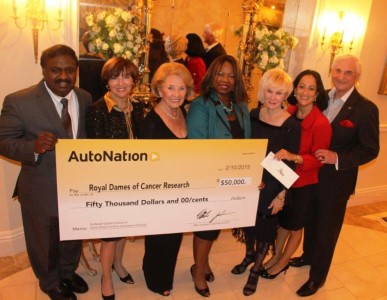 FORT LAUDERDALE, FL – The Community Foundation of Broward and AutoNation, the country's largest auto retailer, have teamed up to provide $100,000 to help researchers at Nova Southeastern University's (NSU) Rumbaugh-Goodwin Institute for Cancer Research (RGI) get a promising new drug into the hands of cancer sufferers.
The Community Foundation is providing $50,000 to NSU's Rumbaugh-Goodwin Institute for Cancer Research, which matches AutoNation's $50,000 gift to the Royal Dames of Cancer Research's efforts to support RGI. These gifts will support testing of a new, more effective version of a drug developed at RGI to treat prostate, ovarian and colorectal cancers.
"This support of NSU's Rumbaugh-GoodwinInstitute for Cancer Research will help our researchers on their quest for better treatments and cures for cancer," said George L. Hanbury, Ph.D., president and CEO of NSU. "We are extremely grateful to Community Foundation of Broward, AutoNation, and the Royal Dames for Cancer Research for their continued support of NSU's efforts to make a difference in the lives of so many people facing cancer."
Preliminary testing has shown the new version of the drug, called JFD-WS, is absorbed into human tissue more effectively, increasing its therapeutic potential. With this support, researchers can now investigate if the new drug is safe to use in isolation and when paired with other cancer treatments.
The effort builds on the work of researchers at RGI who have already received two U.S. patents for the anti-angiogenic drugs that can destroy blood vessels supplying oxygen and nutrients through blood circulation to cancer tissues.
"The fact that cutting-edge research on what is the second leading cause of death in the United States is being conducted and financed right here in Broward is something we should all be proud of," said Community Foundation of Broward President/CEO, Linda Carter. "This partnership between philanthropic, corporate and academic sectors proves how much we can achieve when we work together for collective impact."
AutoNation's Chairman & CEO Mike Jackson agrees: "Sadly, all of us have been touched by cancer in some way and that's why AutoNation has committed our charitable efforts to conquering this disease. We're proud to join forces with the Community Foundation to make real progress towards finding a cure."
###
About the Community Foundation of Broward: Founded in 1984, the Community Foundation of Broward provides leadership on community solutions, and fosters philanthropy that connects people who care with causes that matter. With more than 450 charitable funds representing $173 million, it has distributed $72 million over the past 30 years to create positive change. The Foundation convenes citizens around critical issues, and builds the capacity of our community. For Good. For Ever. For more information about the Community Foundation of Broward, please visit cfbroward.orgor call 954-761-9503.
About AutoNation: AutoNation is transforming the automotive retail industry through bold leadership. We deliver a superior automotive retail experience through our customer-focused sales and service processes. Owning and operating 284 new vehicle franchises, which sell 34 new vehicle brands across 15 states, AutoNation is America's largest automotive retailer, with state-of-the-art operations and the ability to leverage economies of scale that benefit the customer. As an indication of our leadership position in our industry, AutoNation is a component of the S&P 500 Index.
About The Royal Dames of Cancer Research, Inc.: Founded in 1969, The Royal Dames' mission is to raise funds for the study and research of cancer at the Nova Southeastern University's Rumbaugh-Goodwin Institute for Cancer Research, Inc. in Broward County, This not for- profit organization has raised millions of dollars to encourage, aid, enrich and support valuable educational programs and critical cancer
About Nova Southeastern University: Situated on 314 beautiful acres in Ft. Lauderdale, Florida, Nova Southeastern University (NSU) is a dynamic research institution dedicated to providing high-quality educational programs at all levels.  NSU is an independent, not-for-profit institution with approximately 26,000 students at campuses in Fort Lauderdale, Fort Myers, Jacksonville, Miami, Orlando, Palm Beach and Tampa, Florida as well as San Juan, Puerto Rico. NSU awards associate's, bachelor's, master's, specialist, doctoral and first-professional degrees in a wide range of fields. NSU is classified as a research university with "high research activity" by the Carnegie Foundation for the Advancement of Teaching, and it is one of only 37 universities nationwide to also be awarded Carnegie's Community Engagement Classification. For more information, please visit www.nova.edu. Celebrating more than 50 years of academic excellence!
About NSU's Rumbaugh-Goodwin Institute for Cancer Research (RGI): Nova Southeastern University's Rumbaugh-Goodwin Institute for Cancer Research (RGI) main goal is to develop newer cancer therapies that can specifically target tumors, with minimal cellular damage and toxicity to the patient. Together with its industrial, academic, and governmental partners, RGI and its researchers are investigating why cancer resists chemotherapy, how resistance can be overcome, which chemotherapeutic agents most likely will work in an individual, and what causes cancer to spread. For additional information, please visit www.rgicr.nova.edu
Media Contact
Julie Spechler
Director, Public Affairs
Nova Southeastern University
954-262-5348 (office)
954-591-3361 (cell)
julies@nova.edu
---
---