NSU Newsroom
SharkBytes
Horizons
This version of NSU News has been archived as of February 28, 2019. To search through archived articles, visit nova.edu/search. To access the new version of NSU News, visit news.nova.edu.
This version of SharkBytes has been archived as of February 28, 2019. To search through archived articles, visit nova.edu/search. To access the new version of SharkBytes, visit sharkbytes.nova.edu.
BREAKING NEWS – WINNERS NAMED IN 2018 SHARK RACE
One "Red" Shark and One "Blue" Shark Won
FOR IMMEDIATE RELEASE
 ** BREAKING NEWS ** BREAKING NEWS **
  The DeSantis and Nelson Sharks Have Won NSU's Shark Race to the Governor's Mansion and U.S. Senate
FORT LAUDERDALE/DAVIE, Fla. – The results are in.
With just a few days before the 2018 Midterm Elections, Nova Southeastern University's (NSU) Mako Shark Race results predict that Ron DeSantis will be the state's next governor and Bill Nelson will be reelected to the U.S. Senate.
The final 2018 Shark Race Results are:
DeSantis Shark – logged 371.18 miles
Gillum Shark – logged 8.21 miles
Nelson Shark – logged 785.27 miles
Scott Shark – logged 130.88 miles
The shark tracks and distances traveled during the race can be seen ONLINE.
"Our non-partisan sharks have spoken, um, swum and they have made their predictions," said Mahmood Shivji, Ph.D., the director of NSU's Guy Harvey Research Institute (GHRI). "Our racing mako sharks did a perfect job predicting the presidential elections two years ago, so we'll see what happens come November 6."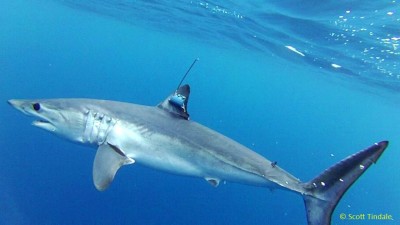 Originally the race was going to end at 6 p.m. Sat., Nov. 3 but organizers decided to call it a day early. While their days in politics are now over, the sharks' satellite tags will continue to provide vital information to ongoing research at NSU's GHRI.
Shivji said that the wild disparity in total miles logged illustrates what he and his colleagues deal with daily when researching sharks. Sometimes the satellite tag just stops working, other times the shark isn't at the surface long enough for the data to upload to the satellite. And the worst case scenario – the shark is caught and killed, with the satellite tag "pinging" from onshore.
"Welcome to nature," Shivji said with a laugh. "When it comes to sharks, we've learned to expect the unexpected, we just never know what we're going to get once we tag and release a shark."
Researchers in NSU's GHRI have been tagging and studying various shark species for many years, with the goal to gather as much data as possible for decision-makers to use in helping protect these apex predators for generations to come. Recent GHRI tracking research showed that mako sharks are overfished and that contributed to new rules to help mako shark populations recover. In addition, other shark research may also have important benefits for human healthcare.
You can follow other tagged sharks and billfish that are part of ongoing research via the GHRI Shark Tracking website – www.nova.edu/sharktracking
Researchers at NSU's Save Our Seas Shark Research Center and GHRI are also sequencing entire genomes of sharks to better understand how sharks rapidly heal from wounds, and to see which genes underlie their potentially higher resistance  to cancer. The goal is that one day these discoveries can have applications to improving human medicine.
Be sure to sign up for NSU's RSS feed so you don't miss any of our news releases, guest editorials and other announcements. Please sign up HERE.
###
About Nova Southeastern University (NSU): Located in beautiful Fort Lauderdale, Florida, NSU is ranked among U.S. News & World Report's Top 200 National Research Universities and is a dynamic, private research university providing high-quality educational and research programs at the undergraduate, graduate, and first-professional degree levels. Established in 1964, NSU now includes 16 colleges, the 215,000-square-foot Center for Collaborative Research, a private JK-12 grade school, the Mailman Segal Center for Human Development with specialists in Autism, the world-class NSU Art Museum Fort Lauderdale, and the Alvin Sherman Library, Research and Information Technology Center, which is Florida's largest public library. NSU has campuses in Fort Lauderdale, Fort Myers, Jacksonville, Miami, Miramar, Orlando, Palm Beach, and Tampa, Florida, as well as San Juan, Puerto Rico, while maintaining a presence online globally. Classified as a research university with "high research activity" by the Carnegie Foundation for the Advancement of Teaching, NSU is one of only 50 universities nationwide to also be awarded Carnegie's Community Engagement Classification, and is also the largest private institution in the United States that meets the U.S. Department of Education's criteria as a Hispanic-serving Institution. For more information, please visit www.nova.edu.
About NSU's Halmos College of Natural Sciences and Oceanography: The college provides high-quality undergraduate (bachelor's degree) and graduate (master's and doctoral degrees and certificates) education programs in a broad range of disciplines, including marine sciences, mathematics, biophysics, and chemistry. Researchers carry out innovative basic and applied research programs in coral reef biology, ecology, and geology; fish biology, ecology, and conservation; shark and billfish ecology; fisheries science; deep-sea organismal biology and ecology; invertebrate and vertebrate genomics, genetics, molecular ecology, and evolution; microbiology; biodiversity; observation and modeling of large-scale ocean circulation, coastal dynamics, and ocean atmosphere coupling; benthic habitat mapping; biodiversity; histology; and calcification. The college's newest building is the state-of-the-art Guy Harvey Oceanographic Center, an 86,000-square-foot structure filled with laboratories, office, seminar rooms, an auditorium and indoor and outdoor running sea water facilities. Please visit cnso.nova.edu for more information.
About NSU's Guy Harvey Research Institute: Established in 1999, the Guy Harvey Research Institute (GHRI) is a collaboration between the renowned marine artist, scientist and explorer, Dr. Guy Harvey, and Nova Southeastern University's Oceanographic Center. The mission of the GHRI is to provide the scientific information necessary to understand, conserve, and effectively manage the world's marine fishes and their ecosystems. The GHRI is one of only a handful of private organizations dedicated exclusively to the science-based conservation of marine fish populations and biodiversity. The research, education and outreach activities of the GHRI are supported by the Guy Harvey Ocean Foundation, AFTCO Inc., extramural research grants, philanthropic donations by private businesses and individuals, and NSU.  Please visit nova.edu/ocean/ghri/index.html for more information.
November 2, 2018
MEDIA CONTACT
Joe Donzelli | Office of Media Relations
Nova Southeastern University
954-262-2159 (office) | 954-661-4571 (cell)
jdonzelli@nova.edu | www.nova.edu | @NSU_Joe
---
---