NSU Newsroom
SharkBytes
Horizons
This version of NSU News has been archived as of February 28, 2019. To search through archived articles, visit nova.edu/search. To access the new version of NSU News, visit news.nova.edu.
This version of SharkBytes has been archived as of February 28, 2019. To search through archived articles, visit nova.edu/search. To access the new version of SharkBytes, visit sharkbytes.nova.edu.
Beyond the LSAT: Nova Southeastern University Law Professor Receives Patent for an Alternative Admission Model Program for Legal Education
FORT LAUDERDALE-DAVIE, Fla. – The decision to obtain a juris doctorate(J.D.) degree requires a considerable investment of time and financial support.For many applicants, that decision can be infused with additional challenges based upon Law School Admission Test (LSAT) scores and undergraduate Grade Point Averages (GPA). The LSAT score and undergraduate GPA have long served as traditional indicators of an applicant's potential to succeed in law school. As a result many have been denied access to law schools across the country because of poor test scores or a low GPA.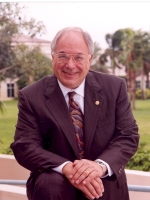 Joseph Harbaugh, LL.M., professor of law and dean emeritus of Nova Southeastern University's (NSU) Shepard Broad Law Center is credited with securing a U.S. patent (US 20140067707 A1) for a computer-based system called AAMPLE®, the Alternative Admissions Model Program in Legal Education.  AAMPLE® serves as an additional method of identifying candidates for admission to an institution's law school.
Harbaugh and several of his colleagues realized that while LSAT scores and GPAs have some value in predicting student success, the indicators had practically no significance in determining longer-term results, such as a student's ability to succeed in law school, pass the bar, or attain professional success. The primary purpose of AAMPLE® is to serve as an admissions predictive function – a tool for evaluating the capabilities of prospective students."We are elated to see this portion of the process through," said Harbaugh. "We believe that dreams are meant to be realized. The AAMPLE program allows those involved in the admissions process, one additional avenue for providing students with the desire and commitment to attend law school, the opportunity to achieve that dream."  
AAMPLE® applicants are enrolled in two law school courses — Introduction to the 4th Amendment and Negotiable Instruments, taught by law school professors. Each course replicates an appropriate portion of an equivalent regular J.D. offering in that subject that is suitable for the abbreviated five week session in which the courses are offered. Applicants invited into the program may choose either a live, on-campus format or an on-line option utilizing distance learning technologies. The patent currently applies only to the online distance education format.
The talent payoff of this approach for NSU's Law Center is reflected in the many success stories associated with those admitted through the AAMPLE® program. Students have or have been editors in chief and executive editors of the Nova Law Review; editors in chief and articles editors of the ILSA Journal of International and Comparative Law; and winners of the upper class moot court competitions. The AAMPLE® program is also offered at various law schools across the nation.
Harbaugh served as dean of NSU's Law Center from 1995 to 2008. He has also served in a wide range of legal education leadership positions, including the Executive Committee of the Association of American Law Schools (AALS), the Council of the American Bar Association (ABA) Section on Legal Education and Admissions to the Bar, as a member and former chair of the Board of Directors of Access Group, Inc., legal education's non-profit student loan program, and as the AALS representative in the ABA House of Delegates for 19 years.
Harbaugh was honored for securing this patent by NSU President George L. Hanbury II, Ph.D., during the President's Faculty Research & Development Grants Award Ceremony held on May 13. 
 -30-
About the Shepard Broad Law Center: Nova Southeastern University's Law Center offers a rigorous traditional academic program in three-year day and four-year evening versions. NSU Law prides itself on preparing graduates to make a smooth transition from the classroom to the courtroom or boardroom. Lawyering Skills and Values (LSV)-Every student completes a four-semester LSV sequence that combines traditional legal reasoning, writing, and research with an introduction to lawyer interviewing, counseling, negotiating, mediating, advocating, and other critical skills in a simulated law firm experience. For more information please visit http://www.nsulaw.nova.edu/
 About Nova Southeastern University: Situated on 314 beautiful acres in Ft. Lauderdale, Florida, Nova Southeastern University (NSU) is a dynamic fully accredited research institution dedicated to providing high-quality educational programs at all levels.  NSU is a not-for-profit independent institution with 27,000 students. NSU awards associate's, bachelor's, master's, specialist, doctoral and first-professional degrees in a wide range of fields. NSU is classified as a research university with "high research activity" by the Carnegie Foundation for the Advancement of Teaching, and it is one of only 37 universities nationwide to also be awarded Carnegie's Community Engagement Classification. For more information, please visit www.nova.edu.  Celebrating 50 years of academic excellence!
Media Contact:
Felecia Henderson, Ed.D. | Office of Public Affairs
954-262-5315 (office) | 954-383-4695 (cell)
fhenders@nova.edu
---
---