NSU Newsroom
SharkBytes
Horizons
This version of NSU News has been archived as of February 28, 2019. To search through archived articles, visit nova.edu/search. To access the new version of NSU News, visit news.nova.edu.
This version of SharkBytes has been archived as of February 28, 2019. To search through archived articles, visit nova.edu/search. To access the new version of SharkBytes, visit sharkbytes.nova.edu.
Be On the LookOut (B.O.L.O.) for Juvenile Male Mako Shark – Hasn't Been Heard From in About 1 Month
FORT LAUDERDALE-DAVIE, Fla. – It's been nearly a month since we've last heard from one of our tagged sharks, and Nova Southeastern University researchers are a little concerned.
Mako Shark:    1-NSU
First Tagged:   May 31, 2013
Last "Pinged": July 10, 2014
Last Location: Between Massachusetts and Nova Scotia
Places Visited: Northeast Atlantic, Mid-Atlantic Ridge, South America, Coasts of N. Carolina, Maryland, New York
NSU researchers think of the sharks they've tagged as members of their family. And, like all good parents, when they haven't heard from one of their own in a while, they get a little worried.
That's exactly what's happened with 1-NSU, a male juvenile shortfin mako shark tagged last year. Ever since he was tagged, this particular shark has shown he's the adventurer of the family, doing things never seen before.
"This shark sure has logged the miles," said Mahmood Shivji, Ph.D., a professor at NSU's Oceanographic Center and the Director of NSU's Guy Harvey Research Institute (GHRI.) "I've been studying sharks for a while now and I've never seen one act quite like this one – his travels are mind-boggling, and especially so because he is a youngster – only about 5 feet in length."
What has Shivji and his fellow scientists at NSU a little troubled is that 1-NSU's satellite tag hasn't "pinged" for nearly a month, after reporting in regularly for just about 14 months.
"We've had some other sharks go a few days without pinging, but 1-NSU has been a champ when it comes to reporting, letting us know where he is in the ocean almost daily until his sudden 'disappearance'," Shivji said. "It could be that the tag battery finally gave out. We're hoping it's not because this amazing shark has been caught, like several of the other makos we were tracking."
If you remember, earlier this year this particular mako shark began a very unusual path nearly due south, almost like he had some place specific to get to, and he had to get there in a hurry. This juvenile mako shark was tagged off Ocean City, Maryland in May, 2013.
And since that time, he has logged around 12,000 miles (which is about average, if you're an automobile) and made it as far south as Venezuela! This is by far the longest distance travel known for any mako.
Shivji and his research team have satellite tagged and tracked several species of sharks – 1-NSU is among 38 makos they have tagged with special satellite-linked devices allowing them to monitor their detailed movements. The research team has a particular interest in mako shark behavior and conservation. In addition to being the Nova Southeastern University mascot, this fast swimming species is also under heavy fishing pressure.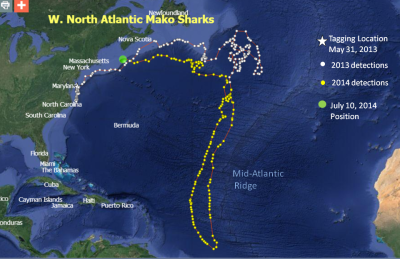 Track of Shortfin Mako Shark 1-NSU
The public can follow 1-NSU and the other tagged sharks in near real-time online (www.ghritracking.org). The interactive tracking Website is an educational outreach component of NSU's GHRI's quest to study shark migration patterns, with the ultimate goal being to better understand and protect them, as some species are threatened or endangered.
The scientists began tagging mako sharks in 2009 to study their migratory patterns and now undertakes expeditions worldwide to study these amazing animals. The researchers have tagged mako sharks as far away as Mexico and New Zealand. In addition to makos, NSU's GHRI and Save Our Seas Shark Research Center scientists are also tracking tiger, oceanic white tip and sand tiger sharks, as well as blue and white marlin.
"After all these years working with sharks, the thing that constantly jumps out is how little we still understand about sharks," Shivji said. "The astonishing behavior of a shark like 1-NSU shows there is so much more for us to learn about these fascinating animals."
###
About Nova Southeastern University: Situated on 314 beautiful acres in Ft. Lauderdale, Florida, Nova Southeastern University (NSU) is a dynamic research institution dedicated to providing high-quality educational programs at all levels.  NSU is a not-for-profit independent institution with 26,000 students. NSU awards associate's, bachelor's, master's, specialist, doctoral and first-professional degrees in a wide range of fields. NSU is classified as a research university with "high research activity" by the Carnegie Foundation for the Advancement of Teaching, and it is one of only 37 universities nationwide to also be awarded Carnegie's Community Engagement Classification. For more information, please visit www.nova.edu. Celebrating 50 years of academic excellence!
About NSU's Oceanographic Center: A world-class facility, the Center provides high-quality graduate education programs (i.e. master's, doctoral, certificate) in a broad range of marine science disciplines. Center researchers carry out innovative, basic and applied marine and research programs in coral reel biology, ecology, and geology; fish biology, ecology, and conservation; shark and billfish ecology; fisheries science; deep sea organismal biology and ecology; invertebrate and vertebrate genomics, genetics, molecular ecology, and evolution; microbiology; biodiversity; observation and modeling of large scale ocean circulation, coastal dynamics, and ocean atmosphere coupling; benthic habitat mapping; biodiversity; histology; and calcification. For more information, please visit http://www.nova.edu/ocean
---
---