NSU Newsroom
SharkBytes
Horizons
This version of NSU News has been archived as of February 28, 2019. To search through archived articles, visit nova.edu/search. To access the new version of NSU News, visit news.nova.edu.
This version of SharkBytes has been archived as of February 28, 2019. To search through archived articles, visit nova.edu/search. To access the new version of SharkBytes, visit sharkbytes.nova.edu.
2019 Catch and Release Scholarship Fishing Tournament Fast Approaching
Tournament Provides Financial Assistance to NSU Marine Sciences Students
FOR IMMEDIATE RELEASE
The NSU Scholarship Fishing Tournament was created as a way to help provide financial assistance to qualified students so they can follow their educational dreams. The proceeds from the tournament help fund scholarships that attract, retain, encourage and support high-achieving marine sciences students.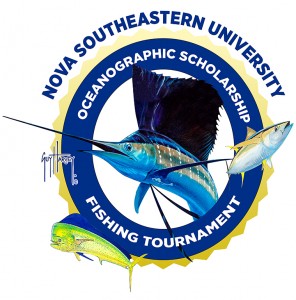 In keeping with the college's dedication to marine conservation, the tournament is a catch and release of billfish and a responsible take of fun fish.
WHO:     Nova Southeastern University (NSU) Halmos College of Natural Sciences and Oceanography, marine research scientists, fishing enthusiasts
WHAT:    NSU Scholarship Fishing Tournament
WHERE:    Atlantic Ocean (boats can leave from any inlet)
Weigh-in held at Pier 66 in Fort Lauderdale
WHEN:                
Captain's Party, 6 p.m. Thur., Jan. 10 at NSU's Ocean Campus, 8000 N. Ocean Drive, third floor, Dania Beach (inside Mizell/Johnson State Park)
Lines-in (tournament start) 7 a.m. Sat., Jan. 12
Weigh-in, 3 p.m. and Awards Party, 5 p.m. Sat., Jan. 12, Pier 66, (Lat 26°6.109′ N / Long 80°7.054′ W) 2301 SE 17th St., Fort Lauderdale
To RSVP or purchase tickets, please call 305-812-2179 or via email (judy@imageworkscorp.com).
For more information, please visit the tournament's website.
Be sure to sign up for NSU's RSS feed so you don't miss any of our news releases, guest editorials and other announcements. Please sign up HERE.
###
About Nova Southeastern University (NSU): Located in beautiful Fort Lauderdale, Florida, NSU is ranked among U.S. News & World Report's Top 200 National Research Universities and is a dynamic, private research university providing high-quality educational and research programs at the undergraduate, graduate, and first-professional degree levels. Established in 1964, NSU now includes 16 colleges, the 215,000-square-foot Center for Collaborative Research, a private JK-12 grade school, the Mailman Segal Center for Human Development with specialists in Autism, the world-class NSU Art Museum Fort Lauderdale, and the Alvin Sherman Library, Research and Information Technology Center, which is Florida's largest public library. NSU has campuses in Fort Lauderdale, Fort Myers, Jacksonville, Miami, Miramar, Orlando, Palm Beach, and Tampa, Florida, as well as San Juan, Puerto Rico, while maintaining a presence online globally. Classified as a research university with "high research activity" by the Carnegie Foundation for the Advancement of Teaching, NSU is one of only 50 universities nationwide to also be awarded Carnegie's Community Engagement Classification, and is also the largest private institution in the United States that meets the U.S. Department of Education's criteria as a Hispanic-serving Institution. For more information, please visit www.nova.edu.
About NSU's Halmos College of Natural Sciences and Oceanography: The college provides high-quality undergraduate (bachelor's degree) and graduate (master's and doctoral degrees and certificates) education programs in a broad range of disciplines, including marine sciences, mathematics, biophysics, and chemistry. Researchers carry out innovative basic and applied research programs in coral reef biology, ecology, and geology; fish biology, ecology, and conservation; shark and billfish ecology; fisheries science; deep-sea organismal biology and ecology; invertebrate and vertebrate genomics, genetics, molecular ecology, and evolution; microbiology; biodiversity; observation and modeling of large-scale ocean circulation, coastal dynamics, and ocean atmosphere coupling; benthic habitat mapping; biodiversity; histology; and calcification. The college's newest building is the state-of-the-art Guy Harvey Oceanographic Center, an 86,000-square-foot structure filled with laboratories; offices; seminar rooms; an auditorium; and indoor and outdoor running sea water facilities. Please visit cnso.nova.edu for more information.
November 20, 2018
MEDIA CONTACT
Joe Donzelli | Office of Media Relations
Nova Southeastern University
954-262-2159 (office) | 954-661-4571 (cell)
jdonzelli@nova.edu | www.nova.edu | @NSU_Joe
---
---